Whether you are buying a dream piece of jewelry for yourself or shopping for a gift for a loved one, you've come to the right place. In this section of Beyond4cs.com, we will reveal the insider tips for buying fine jewelry and diamond engagement rings.
You will also find out about the things to look out for and the best places to buy high quality jewelry at affordable prices. Let's jump right in…
Find Out the Recipient's Style
Choosing a piece of fine jewelry for yourself should be pretty straightforward. Depending on your personal style and lifestyle, you can make a decision on buying something that suits your needs.
If you need recommendations or advice, you can refer to the articles I've written about choosing different styles of rings for different types of finger/hand sizes, finding earring designs to suit different faces and even the meaning behind various shapes of gemstones.
However, when you are buying jewelry for someone else, that's when things will get a little more tricky. You would need to find out the recipient's preferences and get them something that fits their lifestyle.
For example, you probably want to find out how their wardrobe looks like or the type of daily routines the person has in order to select an appropriate type of jewelry for them. If the recipient is someone who is more flashy, a pair of loop earrings would be a better choice than a pair of plain studs.
It's important to get details of your recipient's preference so that you will be able to make better purchase decisions and buy a piece of jewelry that they will like and want to wear.
Setting a Budget
Before you start looking around, you should set a budget that you are willing to spend. It's perfectly fine if you have a rough ballpark figure as that will help you (and the jeweler) narrow down the available options for you. If you are buying an engagement ring, you can use this study as a reference to find out how much to spend.
And here's the thing. You should try to stay within a comfortable budget you can afford regardless of what a salesperson says or tries to upsell you. If a piece of jewelry you like is over your budget, my advice is to delay the purchase and try to save up more money first instead of taking up a layaway plan or go into debt.
The reason I'm saying this is that I've come across a number of readers who spend beyond their means or take up financing plans just to buy an expensive piece of jewelry.
In most cases, the interest and financing fees paid would end up snowballing into a big expense that just doesn't make practical sense.  And worse still, it could end up affecting your credit score.
Specialized Categories for Individual Types of Jewelry
Besides offering a comprehensive library of articles covering various topics, we had also arranged our content into categories to help you get information on a specific type of jewelry. Feel free to explore the guides at your own pace.
There's a ton of knowledge here and I know it can get overwhelming at times. So, if you ever run into any questions, help is just an email or a comment away.
Online Proposal Rings
I am sure most guys get the jitters when buying an expensive item online for the first time. We are here to help you. Check out the list of articles in this section for insights.
Diamond Earrings Tips
Almost every lady would get a pair of diamond earrings during her lifetime. When buying a pair of nice earrings, there are some pointers that differ slightly from choosing a ring.
Choosing Wedding Bands
Wedding bands are symbols of union between a couple in a marriage and are typically less showy. We present to you some helpful tips to finding the right bands for you.
Pendants And Necklaces
Diamond necklaces are beautiful pieces of jewelry that are usually used to complement dressing outfits. Find out how you could pick one for casual to party purposes.
Guide to Loose Diamonds
While there are many benefits of purchasing loose diamonds online, it can be easy for the unwary consumer to get caught unaware. We show you the stuff to take note of.
Fancy Colored Diamonds
Diamonds can come in a range of colors and when their colors hit certain saturation, they are graded as fancy colored diamonds. This makes them a rare and prized possession.
What Are the Things to Look Out For When Shopping For Jewelry?
First and foremost, you need to keep the saying "Let the buyer beware" in mind because a lot of retailers indulge in the same scummy practices. It doesn't help that there is a lack of regulations and enforcements to rein in the way unscrupulous retailers market products.
One of my biggest peeves about the jewelry industry is "large discounts" and "once-in-a-lifetime sales" tactics that retailers use to sucker in consumers. Uneducated shoppers think they are getting big bargains or deals only if they buy on the spot and these stores prey on human nature to induce impulse buying.
In almost every such case, you would end up overpaying for an inferior product than you would in buying a similar item of better quality from a reliable and reputable retailer. What's worse is that there is little or no consumer protection when consumers find out they were ripped off.
The point I'm trying to make here is that bargaining is not the way to buy jewelry nor is finding unrealistic deals that claim to offer high quality jewelry at rubbish prices. The key to shopping safely and paying the correct price for a piece of jewelry lies in your choice of the jeweler.
Reliable jewelers know that the average consumer is not an expert and they don't try to take advantage of your lack of knowledge. Good jewelers will also stand behind their products with an iron-clad FULL money back guarantee (store credits don't count) and make the shopping process completely risk-free for you.
Where Are the Best Places to Buy Jewelry?
When it comes to buying good quality jewelry at competitive prices, you need to shop smart and head to the right places to make a purchase. Depending on the type of jewelry you are looking for, there are different jewelers that specialize in them.
Here's my recommended list of jewelers and the respective products that they are great at. FYI, these are places that I had personally tested and made various jewelry purchases from.
---
Best Places to Buy Colored Gemstones And Birthstone Jewelry
If you are looking for colored gemstone (birthstone) jewelry, the best places to shop for them are James Allen and Blue Nile. This is because of the wide selections they offer and transparent details they offer in their listings.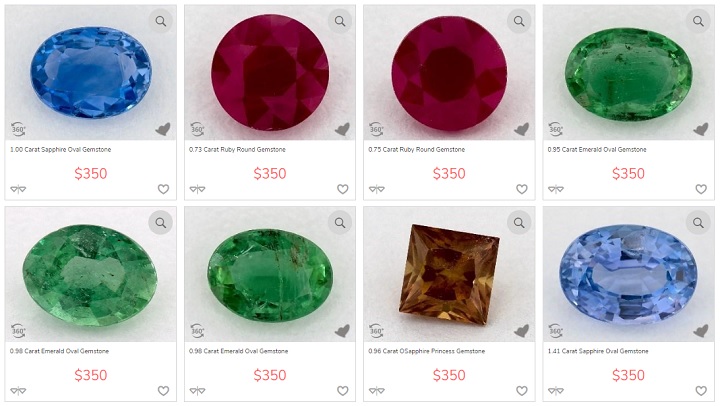 Highly detailed gemstone listings found at James Allen.
---
Best Places to Buy Loose Diamonds And Engagement Rings
The best vendors to buy diamond jewelry from are White Flash, Brian Gavin and James Allen. All 3 vendors hold an indepth inventory of GIA and AGS certified diamonds and they provide excellent craftsmanship in their ring settings too.
A stunning 0.911ct H SI1 diamond engagement ring from White Flash.
---
Best Places to Buy Silver And Pearl Jewelry
If you are looking for fine quality pearls with superior luster and shine, Brian Gavin is a vendor that you should check out. They also offer affordable silver jewelry pieces with plenty of designs for you to choose from.

Naturally colored cultured pearl necklace from Brian Gavin.
---
Where to Buy Tennis Bracelets, Necklaces, Eternity Rings And Bridal Jewelry
When it comes to tennis bracelets or jewelry that features melee diamonds (tiny diamonds), White Flash and Brian Gavin are the undisputed kings in the industry. The super ideal cut melee diamonds they use are much more superior than any other vendors.
An impressive 2.00ctw diamond tennis bracelet made with 59 precisely cut melee diamonds.
---
Where to Buy Anniversary Gifts, Birthdays And Jewelry For Special Occasions
For people who are looking for smaller jewelry gifts for a special occasion like a birthday or Christmas, the best places to buy simple jewelry gifts are Blue Nile and James Allen.
Whether you are searching for a pair of earrings for Mother's Day or looking for a push present to commemorate the birth of a new child, there is plenty of jewelry options to choose from!
To wrap things up, I want to stress that price alone is not a reliable indicator of the integrity or product quality offered by the seller. Big brands like Tiffany and Cartier charge an arm and leg for their products but their products aren't top notch. In fact, there are plenty of mediocre diamonds sold by Cartier at excessively high prices.
Vice versa, just because a piece of jewelry is priced lower than what it would cost in a physical retail store, doesn't make it inferior to those sold by high-end stores. The key is to make decisions and comparisons based on tangible data instead of relying on what a salesperson would say just to close a deal.
Case in point, I bought this Vatche designer diamond ring from White Flash for less than half the price that it would cost for an identical ring (with identical diamond quality) sold in large chain jewelry stores.
Because I made my shopping decisions based on tangible information instead of emotions, I was able to buy a high quality diamond engagement ring at competitive prices while enjoying superior risk-free sales policies at the same time!
More Readings And Tips to Shopping For Jewelry Online
Related Articles