Consumers often confuse cut to be the same as a diamond's shape. They aren't the same thing and it doesn't help that many jewelers use these 2 terms interchangeably.
Strictly speaking, shape refers to the outline a diamond has (e.g. heart and cushion) while cut refers to a combined aspect of a diamond's proportions and finishing (symmetry/polish).
In my opinion, cut is the most important factor among the 4Cs as it determines the brilliance and beauty of the diamond. I recommend that you always place your emphasis on getting the best cut possible.
Why Cut is Always KING?
Cut itself can make a diamond look bigger, improve the face up color and mask inclusions. This means you get a free boost in the other aspects of the 3Cs (color, carat and clarity) just by having a better cut!
You see, a well cut diamond will have better proportions that doesn't cause excessive carat weight to be hidden in its side profile. This makes the diamond appear the right size for its weight compared to another diamond that is cut deeply and faces up smaller.
Having an increased light return will make the diamond face up whiter since more light is reflected back into the eyes of the viewer. Lastly, well cut diamonds will display an intense scintillation and fire which can easily hide inclusions under its sparkle.
Simplified Diagram to Show How Light Transverses Through a Diamond

Did you know that the amazing play of light displayed by a diamond is actually governed by the laws of physics? On a fundamental level, the amount of sparkle and scintillation is dependent on how the light rays are refracted and reflected within the diamond. This is why the precise positioning and alignment of each facet matters since the facets act like tiny mirrors to interact with light.
In a well cut stone, a large percentage of light that enters the diamond gets reflected back into the viewer's eyes. This gives the diamond a bright looking appearance and enhances its luster.
With less ideal cut conditions, light is lost through the sides of the diamond instead of being reflected back into the viewer's eyes. This translates to a less brilliant and darker appearance in the diamond.
Understanding Basic Cut Grading – A Quick Video From GIA
In a typical grading report for a round brilliant diamond, you can find a similar diagram like the example below. On this diagram, an averaged measurement for different parts of the diamond will be indicated.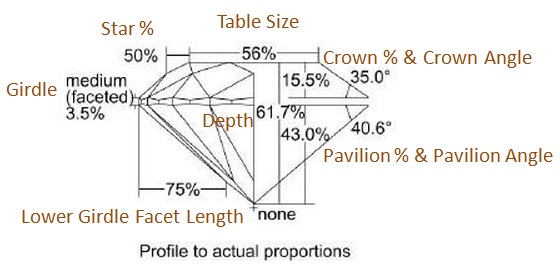 Depending on technical you want to be, you can actually analyze each of these parameters and study the correlations between them. That will be in a slightly more advanced stage I will go into later on. Now, I know most people get scared or turned off when they see a technical diagram like this.
The easy alternative would be to simply use the GIA/AGS cut grading as a filter to select round diamonds. Gemological labs like GIA or AGS take the proportion variations of a diamond into account when assigning a cut grade. If any particular aspect of the cut proportions is an issue, the diamond will be assigned with a lower cut grade accordingly.
That means even if you blindly go along with any GIA triple excellent diamond, it is very unlikely for you to end up with an ugly looking stone. However, if you want to select the cream of the crop among the GIA triple excellent stones, you will need to do some extra work in filtering your choices.
But first, I want to show you visual appearances of the various cut grades by using photographic examples. Head onto the next page and continue reading…
Related Articles