Side by side comparison of different diamond color grades. 
When it comes to choosing a diamond, color is one of the key characteristics that most consumers look at. In fact, there is a common misconception that diamonds with higher color grades display better brilliance and sparkle.
The truth is far from that.
In this section of Beyond4Cs, you will find out what diamond color is and what it isn't. You are also going to discover the insights to saving money when buying an engagement ring and how to choose the best color grade based on your needs.
Let's get started!
What is Diamond Color?
In nature, diamonds are found in almost every color and hue you can possibly imagine; grey, white, yellow, red, green, pink and brown. Contrary to popular belief, it is actually very rare to find a diamond that doesn't have any color at all.
When it comes to grading color, GIA had devised a system of describing diamonds in the normal range with letters from D (colorless) to Z (light brown or yellow). If the intensity of color in a diamond is stronger than a Z, then the fancy color grading system is utilized instead.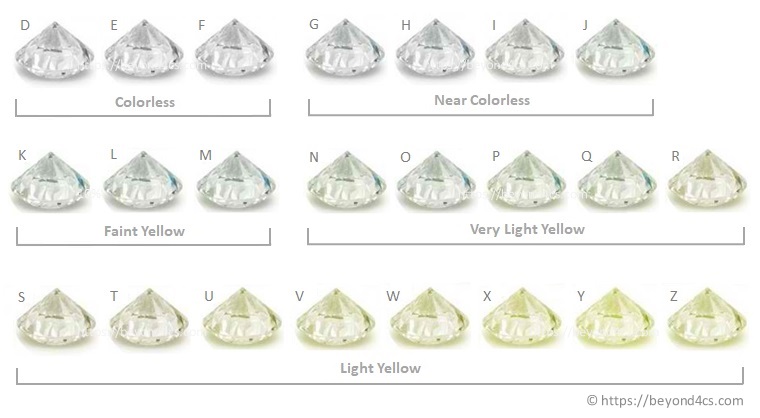 Diamond color scale chart depicting diamonds with ratings from D-Z.
How is Diamond Color Graded And Why It Matters?
Almost every diamond sold in the market today is rated using the GIA color scale, regardless of whether it is graded by the GIA or not.
During the grading process, the loose stone is flipped over by a trained gemologist and comparisons are made against a known set of masterstones. When the diamond is viewed faced down, the color differences will be the most obvious.
Notice that the color near the tip of the cone is more saturated and shows up easily?
Looking at the diamond in this manner also reduces the distractions caused by internal and surface reflecting facets. Finally, for accurate grading to take place, it is always done in a controlled environment with neutral lighting to ensure consistency.
In real life, the diamond is mounted face up in a setting and it would be extremely difficult for untrained eyes to pick up subtle differences in color. I will discuss this in detail on later pages and show you how to buy diamonds that face up white without breaking the bank.
Diamond Colors According to the Diamond Color Scale Chart
There are five main categories on the GIA diamond chart and color grades that range from completely colorless to lightly tinted. D color diamonds are extremely rare and the "whitest" grade that money can buy.
As you go down the color scale, the color tint becomes more noticeable. Let's take a more indepth look at some of the most popular color categories you will come across when shopping for an engagement ring.
If you are interested in a particular color grade, feel free to click on the corresponding link to read a detailed write-up about the color rating.
Colorless Diamonds (D, E, and F)
The colorless category is made up of 3 grades: D, E and F.
To the naked eye, all 3 color grades appear icy-white and look identical. As a trained diamond grader with years of experience, even I cannot distinguish between a D or F color diamond outside of lab conditions.
Due to their white appearances, they are usually set in platinum or white gold instead of yellow gold or rose gold. This is because colored settings would reflect color and negate the diamond's colorless effect.
Near Colorless Diamonds (G, H, I and J)
The near-colorless category is made up of 4 grades: G, H, I and J.
Near colorless diamonds contain traces of color in their body when they are viewed face down. Once the diamond is mounted on a ring setting, the faint hue is extremely difficult to detect for a layman.
Near colorless diamonds are the most popular range of selections when people shop for engagement rings because they are much more affordable and offer good value for money.
G-J diamonds are suitable for both platinum and white gold settings and face up white if they are well cut. They are also very versatile and can be paired with yellow gold or rose gold as well.
Faint Color Diamonds (K, L, and M)
The faint color category is made up of 3 grades: K, L and M.
Faint color diamonds show a hint of color that can be noticeable to the naked eye in the face-up position. For people who like a warmer appearance or want to buy an antique style ring, K-M diamonds offer fantastic value for money while complementing the appearance you are looking for.
K-M diamonds are usually used in vintage style settings and yellow gold ring designs. Due to their perceptible color tint, they cost significantly less compared to the price of a colorless diamond.
Why is Diamond Color an Important Consideration?
From a technical perspective, it comes down to the behavior and physics of light when it passes through different mediums. Colored diamonds (e.g. black, brown, gray) can negatively affect light absorption and in turn, affect the sparkle displayed by the diamond.
In lower colored diamonds like those found in the very light or light yellow category, the body tint of the diamond may change the "true color" of its brilliance and fire as light passes through it. This is a subtle effect and isn't easily seen at higher color grades.
That is why white (colorless) diamonds are commonly used in jewelry as they have better reflective qualities compared to brown or dark-colored diamonds. Of course, the exceptions to this rule are the extremely rare and highly sought after colors of pink, red, blue and orange.
The other reason why diamond color matters when consumers shop for engagement rings is largely a psychological one.
In many societies, there is a stigma that lower colored diamonds are poor quality and "ugly". In fact, paying a premium for colorless diamonds gives the recipient bragging rights and allows them to show off their societal status.
So, how should you choose a color for your diamond? Just how important is this factor when making an engagement ring purchase? Are there any preferred colors for specific jewelry applications? I know you probably have more questions in your mind now.
Keep on reading to find out more…
Related Articles