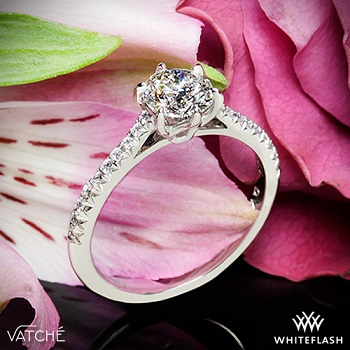 A diamond ring I recently purchased from White Flash. More details below…
Choosing a diamond has been likened to choosing a life partner: one must tread with care. It's true that most guys sweat over the task of selecting a perfect proposal ring. However, it can be a fun and enjoyable process if you take the correct approach.
First and foremost, getting educated is the key to choosing diamonds rationally. Now, I am sure most people have heard of the 4 Cs while doing their research or during a casual visit to a jewelry store.
Sadly, the majority of the people who think they fully understand the 4 Cs after an hour's research or via a 5 minutes presentation in a jewelry store are WRONG. Likewise, if you think that you are able to choose a great looking diamond online just by looking at a GIA or AGS certificate, you better keep your fingers crossed when the package arrives.
You see, buying diamonds is easy. Anybody can buy diamonds as long as they have the money to afford it. However, if you want to select the best diamond possible for a given budget, you need to go beyond the 4Cs and start looking at tangible data to make assessments.
A Short Intro of Myself And Why I'm Qualified to Offer You Advice
I'll show you how to pick the best diamond within your budget!
Hi, my name is Paul. I used to be to a research officer in a top government manufacturing research institute. During my 2 years stint of being a researcher, I developed scientific and analytic skills that enable me to examine any given data with a critical viewpoint.
While I wasn't a professional jeweler by trade, I became an avid gem collector by accident. The passion for diamonds ignited when I had to purchase a proposal ring for my girlfriend. And like most guys shopping for an engagement ring, I started out with zero knowledge. I began my diamond buying journey at the local stores and did my own research online.
Very quickly, the desire for knowledge grew. Before long, I found myself immersed in gemological textbooks purchased from GIA and even took up professional courses to enhance my knowledge.
In early 2013, I completed GIA's Graduate Diamonds diploma program and topped the class in the practical examination module. This came as a surprise to many people since the course was attended by professionals who had years of experience in the trade.
Now, I'm not telling you all this to brag about my accomplishments. Instead, the point I want to bring across is that I have the credentials and background knowledge to offer advice from both gemological and consumer perspectives.
Buying a Beautiful Diamond Engagement Ring Isn't Hard
Over the years, I've bought a number of diamond rings for my wife and also helped several close friends/relatives with their engagement ring purchases. If you are interested to see the details of the rings up close, check out the videos below.
Whenever I examine diamonds, my analytical skills would be put to use by questioning and dissecting the information that is presented to me. There is really so much more that jewelers never reveal to you when it comes to making such an important purchase.
It doesn't matter if you had never stepped foot into a jewelry store before or whether you had some prior experience in purchasing jewelry. The information that I am going to share with you on the following pages will definitely be an eye opener.
The Essential 4Cs – How to Choose a Diamond
Before I continue, you will first need to have a basic grasp of the 4Cs in order to understand some concepts found on later pages. If you have no idea what the 4Cs are, click on the links below and read up on the corresponding topics before returning here.
While the basic definitions of the 4 Cs are pretty straightforward and clearly indicated in a diamond's grading report, most consumers fail to realize one thing:
The grading report alone Does Not tell you the full story of a diamond's physical beauty without performing further analysis using tangible data. So, how do you bring all of these factors together and utilize them when choosing a diamond?
The good news is that it isn't rocket science. I'm going to arm you with the necessary knowledge to help you make the best of your diamond ring shopping experience.
Related Articles