My wife wearing a princess cut pave diamond engagement ring ($2,000).
The princess cut is the 2nd most popular shape after the round diamond. It was first introduced to the world in the 1960s by a gentleman from London named Arpad Nagy. Back then, the princess cut was derived as a variation of another cutting style called the "profile cut".
A. Nagy wanted to create a cut that could make efficient use of rough stone with less wastage and one that could emulate the brilliance and fire of a brilliant cutting style. Within a short span of a few years, leading cutters poured in huge research efforts to perfect the design and evolved it into what we call today as the square modified brilliant.
With a market that is over-saturated with rounds, the princess cut offers a unique looking option for people who would like to stand out. In this write up, you will discover the insider tips to choosing a bright, sparkly diamond and find out how you can save money when buying your engagement ring.
In fact, I'm also going to reveal full details of how I bought a gorgeous looking pave engagement ring and show you how an ideal cut princess diamond looks like in real life. Let's get started…
Here is a list of topics we will be covering:
Recommended Proportions for Princess Cut Diamonds
Unlike round diamonds, princess cut diamonds have different facet patterns and do not have an assigned cut grade in GIA's grading reports. This makes it hard for an inexperienced shopper to assess a princess cut diamond's light performance.
However, there are some proportion ranges that you can use as a guideline to select well-cut diamonds. This is compiled based on my experience in dealing with super ideal cut princess diamonds and you can check it out below:
Excellent
Very Good
Good
Fair/Poor
Table %
63% – 69%
57% – 75%
53% – 82%
Outside Ranges
Depth %
69% – 76%
60% – 78%
58% – 80%
Outside Ranges
Polish/Symmetry
Excellent – Very Good
Good
Outside Ranges
Length to Width (Square)
1.00 – 1.02
1.00 – 1.04
1.00 – 1.05
Outside Ranges
Length to Width (Rectangle)
1.5 – 1.75
1.76 – 1.85
1.86 – 1.99
Outside Ranges
Girdle Thickness
Thin – Slightly Thick
V. Thin – Thick
Outside Ranges
Culet Size
None
Very Small
Small
Outside Ranges
* Note: The proportions table should be used as a reference only. You should use tangible data like videos and ASET images to help you make a final decision. Never go below very thin for girdle thickness or you run the risk of chipping the diamond easily.
From experience, princess diamonds require higher depth percentages between 69-76% in order for it to have excellent light return properties. The table size of the princess diamond should not be too large (best range: 63-69%) as it affects fire and colored light dispersion properties.
To give you some idea of what a well cut princess diamond looks like, I've handpicked 2 examples below with top notch light performance and scintillation patterning. Feel free to click on the images to interact with the video listings for yourself…
Length to Width Ratio – Keeping It Square
The princess diamond is traditionally a square cut made of 4 equal sides. In my opinion, the ideal length-to-width ratio should be within the range if 1:1 to 1:1.02. Anything beyond a 1:1.05 would cause the diamond to look "off-square" to the eye.
Here's a reference diagram that compares the outlines of different l/w ratios.
Most people prefer a squarish look instead of a slightly rectangular appearance. However, if you prefer a slightly rectangularish princess cut, that's perfectly fine as well and it is what you like most that matter.
How Much Does a Princess Cut Diamond Cost?
Compared to round diamonds, the prices of princess cut diamonds are generally 25-35% lower because of the higher yield from the rough diamond cutting. This is due to the pyramidal shape of the princess diamond which results in minimal weight loss from an octahedral rough stone during polishing.
Out of all the different fancy shape diamonds, princess cuts are the cheapest per carat and this means you can get a bigger bang for your buck. Below, I've compiled a price comparison table using 1ct princess diamonds with different color and clarity ratings.
Price chart comparison of GIA certified 1ct princess shape diamonds.
From the table above, you can see that the price of a 1 carat princess shaped diamond can range anywhere between $2,500 to $8,000. This price variation is highly dependent on rarity factors like color and clarity.
Here, I want to highlight a common mistake that beginners make when they assume that a D/IF diamond will have better sparkle and brilliance compared to a lower color/clarity diamond.
In fact, if you chose a well cut G/VS2 princess diamond at nearly half the price of a D/IF diamond, you won't be able to see any visual differences in the face up view between these 2 diamonds.
So, if you are a practical person and don't need the symbolic IF clarity rating, then choosing a near colorless and eyeclean diamond will help you save a lot of money!
Recommended Color Grades for Princess Cut Diamonds
Face up appearances of D to K color diamonds graded by GIA.
When it comes to buying diamond jewelry on a budget, the princess cut is a good choice for a balance of beauty and cost. This is because the brilliance and fire exhibited by a well-cut princess can help mask inclusions and hide body color.
As a result, you can go low on color and clarity grades without seeing any differences to the unaided eye. For people who are looking to get a cool, icy white appearance in their diamond ring, I would recommend a G or higher rating.
Here, I do want to point out that the choice of color is entirely subjective and up to personal preferences. If you are buying a yellow gold setting or prefer a warm looking diamond appearance, it is perfectly fine to buy a J or K color diamond. Plus, you get to save money too!
What Are the Best Clarity Grades for Princess Cut Diamonds?
Well cut princess diamonds display good scintillation and brilliance that can help cover up flaws in the diamond. Now, I'm a practical person and I don't see a need to pay the premium for a high clarity grade that doesn't provide any visual benefits to the naked eyes.
I recommend buying diamonds in the SI1 or VS2 clarity range to save money as long as the diamond is eyeclean (inclusions cannot be seen with naked eyes). The caveat here is that you need to purchase from a retailer that provides photos or videos of the actual diamond to help you assess eyecleanliness.
Check out these 2 examples of SI1 diamonds below and click on the images to interact with the video listings. Are you able to quickly tell which is eyeclean and which isn't?
3 Things You Need To Beware Of When Selecting Princess Cut Diamonds
#1 – The 4 Pointed Corners Are Vulnerable Areas
When setting a diamond, the 4 corners of a princess cut diamond are prone to chipping due to the lower mechanical strength at the points. In general, I would avoid princess cuts with severe inclusions located near the corners because they can create weak points in the crystalline structure and cause durability issues…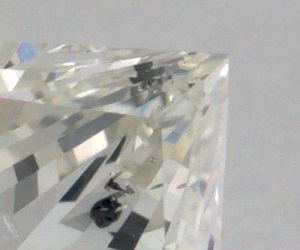 This I1 princess cut has a crystal inclusion that poses a significant danger for durability.
---
#2 – Beware of Weight Retention Tricks Employed by Cutters
In the profit-driven industry of diamond cutting, the majority of polished diamonds are cut to preserve the maximum weight from the rough. This is usually done at the expense of cut quality and better sparkle.
In princess cut diamonds, the tell-tale signs of diamonds cut with weight retention techniques are table percentages near or higher than 80% and very thick – extremely thick girdles.
This hideous looking diamond has uneven-sides and an enormous table size of 83%.
The problem I personally have with such diamonds is that their optical performance had been compromised for higher carat weight. For example, having a table size that is too large will result in a significant reduction of fire.
Excessively thick girdles are also something I would avoid because they lock in carat weight at the girdle area which can't be seen once the diamond is mounted. This means that you get a significantly smaller looking diamond despite paying more for carat weight!
Arrow depicting weight hidden in profile view with an extremely thick girdle.
---
#3 – Poor Outlines And Shape Appeal Issues You Should Avoid
Did you know that princesses can come in all sorts of shapes and outlines?
Sadly, the market is flooded with a lot of badly cut diamonds with poor visual appeal and light performance. Below are some of "bad" examples of shapes and outlines that princess cuts can come in.
One of the most common mistakes people make when buying fancy cuts is to buy sight unseen or based solely on a grading report.
This is because the grading report alone will never tell you how the diamond looks like in real life. To avoid such problems, I highly recommend that you work with vendors that offer visualization technologies so that you know what you are getting.
How I Bought a Beautiful Pave Princess Cut Diamond Ring
I've recently purchased a princess cut pave diamond engagement ring from James Allen simply by following the guidelines I stated above.
With a budget of $2,000, I was able to cherry pick the best diamond for light performance using the video listings and ASET data found in the AGS grading report.
Here are the full details of the ring I put together by combining the loose diamond and ring setting design:
If you do some simple math, the cost of the engagement ring totals up to $2,010 and that's a really affordable price! And the thing is, the craftsmanship of the ring is superb and it offers great value for money.
In fact, I also did a review of the ring and you can check out some of the close up pictures of their workmanship below.
Overview of the engagement ring in a cherry red ring box.
Close up view of prongs that are neatly placed.
Finishing of the ring is superb even in inner surfaces.
Pave is highly streamlined and neatly placed to perfection.
I've also included a video review of the pave ring that also shows how the princess cut diamond performs in real life. Watch it in full below:
Best Engagement Ring Settings For Princess Cut Diamonds
The right setting can maximize the aesthetic beauty of the engagement ring and also provides security to protect the princess cut diamond. Here are some of my favorite designs and I hope it can offer some ideas to help you to find your dream ring.
This channel set design features 5 carefully matched square cut melees to accentuate the center stone.
---
A contemporary design that features a single row of halo diamonds and a V-bar open undergallery.
---
Breathtaking and full of sparkle, this trio diamond ring design is elegant and stylish to look at.
---
This beautiful 4 prong setting has sleek and smooth looking shanks that give off a classy vibe.
---
This 4 prong v-tip head provides superb protection and doesn't overwhelm the center stone's appearance.
---

This classy 3 stone trellis engagement ring features intertwining prongs that hold the diamonds in place.
Summary And Recap: Best Places to Buy a Princess Cut Diamond Ring
To recap, here are my recommended guidelines for buying a princess cut diamond:
Depth: 69% to 76%
Table: 63% to 69%
Polish/Symmetry: Very Good or Excellent
Length to Width Ratio: Within a range of 1.00 to 1.02
Color: G or better
Clarity: SI1 or better
As I said earlier, these proportions and parameters should only serve as a guideline to help you narrow down your selections. In order to make an educated purchase decision, you will need to rely on tangible data like videos and ASET images.
That is why a reliable vendor is so crucial when it comes to buying a diamond ring. The best places to shop for princess cut diamonds are James Allen, White Flash and Brian Gavin as they provide HD videos and cut performance data to help you make the educated decisions.
These vendors also offer superb craftsmanship on their rings and have highly competitive prices. On top of that, they are customer orientated and have generous policies that ensure you shop 100% risk-free.
I hope this article has given you useful insights and if you have any questions or require help to pick out a diamond, drop me an email or leave a comment below. Good luck!
Related Articles