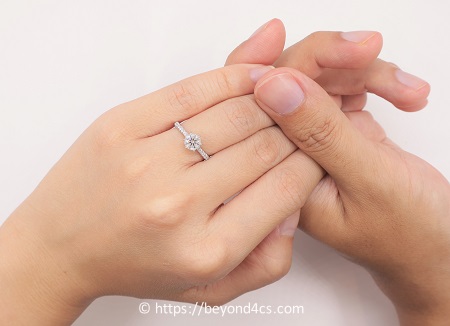 I bought this stunning 0.60 carat diamond engagement ring for less than $4,000.
When it comes to buying a diamond engagement ring, the one carat mark is the most popular size that consumers are shopping for. But what if you are on a tighter budget and still want something that looks respectable in size?
Well, you've come to the right place. In this write up, I'm going to reveal the insider tips to buying a 0.60 carat diamond ring and the best places to shop for high quality craftsmanship.
In fact, I'm going to show you exactly how I bought a fantastic looking pave engagement ring with a budget of $4000 and how you can get yours without breaking the bank.
Let's dive right in…
Here is a list of topics we will be covering:
Pricing Guide: How Much is a 0.60 Carat Diamond?
When it comes to the cost of a 0.6ct diamond, prices will vary depending on a multitude of factors. If I were to give a ballpark figure on the price of a 0.6 carat diamond engagement ring (loose diamond + simple setting), you could expect to pay anywhere between $2,000 to $4000.
To give you a better idea of how prices can range between different specifications, check out the following chart.
0.60 carat diamond price chart from Blue Nile for round brilliant cut.
Now, one of the biggest misconception people have about diamonds is that the price of a diamond is directly proportionate to its carat size. Well, this isn't entirely true because a diamond's value is affected by many other variables such as color, clarity, cut, fluorescence and etc.
But let's assume that all other factors are completely identical and I want you to make a guess. Do you think that a 0.60 carat F VS2 diamond graded by GIA would cost 60% the price of a 1 carat F VS2 diamond (i.e. prices increase linearly with size)?
If you guessed no, you are right! The price of a diamond actually increases exponentially with carat size instead of linearly! Just to give you some perspective of the disparity in value, here are 2 real life diamond examples and their costs.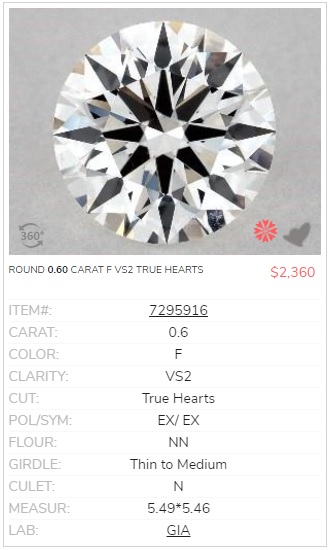 As you can see, the 0.60 carat diamond only cost roughly 25% the price of the 1 carat diamond and is significantly cheaper! So, if you are shopping on a tight budget, the best way to lower your costs would be to go down in carat size.
How Big Does a 0.60 Carat Diamond Ring Look?
Depending on the shape and cutting style of the diamond, the physical face up view of the diamond would differ. For round cut diamonds, a 0.60 carat ideal cut diamond would be roughly 5.4mm by 5.4mm in size.
Here's how a 0.622 carat diamond would look like when worn on a US size 4.5 finger (fyi, it's the ring I bought). In my opinion, I think the diamond ring provides good finger coverage without being overpowering.
For fancy shape diamonds with elongated outlines like pears, ovals or marquises, they would have larger face up sizes. I've also compiled a couple of other pictures to give you an idea of how 0.60ct marquise and oval shaped diamond rings would look like when worn on a size 4 finger.
Practical Guidelines to Buying a 0.6 Carat Engagement Ring
The jewelry industry often markets diamonds with higher color and clarity as being "better" in quality to drive up demand for more expensive diamonds. If you had been shopping around for a diamond, you probably come across jewelers who claim that colorless (D-F) stones with higher clarity ratings (e.g. VVS or IF)  would sparkle more.
Well, the truth is far from that and this is just a marketing gimmick to get you to spend more or to dump whatever inventory they currently have in-store onto you. The fact is, with smaller sized diamonds ranging from 0.5ct – 1.00ct, inclusions and body color don't show up easily to the naked eyes.
Watch the video comparison I made below and see if you can tell any obvious differences between the diamonds. And just so you know, the D diamond ring has a VVS1 clarity whereas the other rings have much lower clarity grades in the VS and SI ranges.
If you want to save money and don't require a D/IF symbolic grading for your diamond, you can easily go down to G or H colors to get a diamond ring that looks icy white. Likewise, you can do the same for clarity grades as long as the diamond is eyeclean.
As for cut, it is an aspect that you should never compromise if you want a bright, lively looking diamond. You should always strive to buy a diamond with the best cut quality you can find.
And lastly, the grading report is an important document that provides you with material information on what you are buying. You need to understand that grading reports aren't equal and I only recommend reliable labs like GIA or AGS only.
With all that said, here are my recommended guidelines when you are shopping for a 0.60ct diamond ring:
Clarity: SI1 or better (eyeclean is good enough)
Color: H or better (for the diamond to face up white)
Cut: Ideal / Excellent (review scope data for light performance)
Grading Report: Only GIA or AGS (for accurate and reliable grading)
Shopping Tips For a 0.6 Carat Ring (And How to Make it Look Bigger)
From experience, most people who are shopping for a 0.6 carat ring often have a tight budget to work with. I also know a lot of people have a desire for a bigger looking diamond ring without blowing their budget.
But how can this be done realistically? Well, let me show you 2 ways in which you do achieve a larger looking diamond ring with the clever use of setting designs.
Tip #1 – Use a Halo Ring Design to Upsize Your 0.6ct Diamond
Halo diamond ring designs will give you more bang for your buck and feature a center diamond which is outlined by a row of tiny diamonds (melees). When the halo is crafted well and seen from a distance, it creates an illusion that the diamond is a lot larger than it really is.
Here's a beautiful halo ring design I purchased from Blue Nile previously and you can check out the review I made of the ring here. I've also included a Youtube video below that you should watch to see the ring's craftsmanship.
Halo ring settings are the most cost-effective designs to create a large looking ring.
Tip #2 – Use a Thinner Shank Ring Design to Accentuate the Center Stone
With thinner or tapered shanks, the ring setting can help create a leading line towards the center diamond and accentuate the size of the center stone. For smaller sized diamonds, I recommend rings with shank thicknesses of 1.8mm – 2.2mm to create this effect.
This petite Vatche ring is an elegant design which helps draws attention towards the diamond.
How I Bought a Beautiful 0.60ct Diamond Ring For Less Than $4,000
Recently, I bought an engagement from White Flash with a budget of four thousand dollars and the shopping experience was fantastic. Let me quickly share the shopping process with you on how I did it.
First of all, a pave ring design was selected out of 100s of available choices. Once the cost of the ring was set aside, the remaining budget was utilized for a super ideal cut diamond. After payment was made via wire transfer, the ring was completed and delivered securely via FedEx.
Here are the details of the ring setting and loose diamond:
---
Besides superb customer support and risk-free sales policies, White Flash also captures glamor photos of your engagement ring after they are completed. This is a really nice gesture as it provides you with professionally taken photos for keepsake purposes or for sharing on your social media.
Check out the spectacular pictures of the ring I purchased below: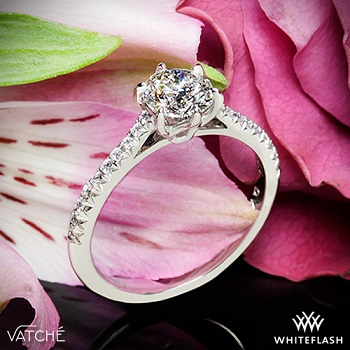 The pictures were provided by White Flash at no additional charges!
For people who are curious to know how the Vatche diamond ring looks like in real life, you are in for a treat. I've recorded two videos that showcase the diamond's sparkle and workmanship quality. So, make sure you watch them in full below!
---
In my opinion, the workmanship of the diamond ring is superb and the attention to details show up in the appearance of the ring. If you want to see indepth photographs of the ring details, read my full review of Vatche to find out more.
Summary: Let's Wrap Things Up And Recap
I hope this write up has offered useful tips and guidance for you. As you can see, a great looking diamond ring doesn't have to cost a bomb as long as you shop with practicality and tangible data.
Even though a 0.60 carat diamond ring may not sound like a big deal, it can certainly pack a punch if you choose your diamond wisely. The key to buying a diamond ring is to place your emphasis on cut quality and to shop at a reliable vendor.
To recap, you shouldn't get too hung up on color or clarity grades as the differences between the ratings are subtle. As a shortcut to narrow down on your diamond choices, here are my recommended guidelines:
Clarity: SI1 or better (eyeclean is good enough)
Color: H or better (for the diamond to face up white)
Cut: Ideal / Excellent (review scope data for light performance)
Grading Report: Only GIA or AGS (for accurate and reliable grading)
Lastly, if you want a larger looking ring without the expensive costs, consider getting settings with petite shanks or halo designs.
Before you go, I want to hear from you: what are your preferences when buying a 0.6ct diamond? Would you need high color/clarity ratings or would you be fine with lower grades? What kind of ring designs are you specifically looking for?
Leave a comment below and let me know! As always, if you have any questions, feel free to ask them in the comment section below or drop me an email. I would be glad to help.
Related Articles