So, you are finally ready to propose and you are thinking about buying a cathedral style engagement ring. With so many different designs in the market, how do you know which is the right one for her?
Or maybe, you just want a little more information to help you make your final decision.
In this article, we will look into the pros and cons of buying a cathedral setting and reveal some extra tips to help you out. You will also get to see some of the most beautiful ring designs in the market.
Let's get started…
What is a Cathedral Setting?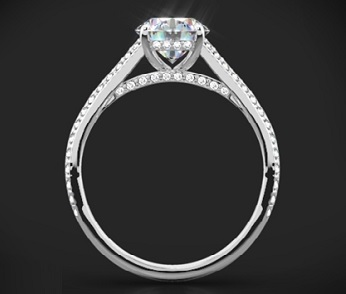 As the name suggests, the cathedral engagement ring setting is inspired by the grandeur and elegance of an old cathedral's architecture. These settings feature "arches" in the shank which is reminiscence of support arches of a church's ceiling.
Interestingly, modern day designers have incorporated the design elements into beautiful rings with variations to the arches, shanks and shoulders. This has resulted in a myriad of cathedral engagement ring designs for consumers to choose from.
We will take a look at some of them in detail later…
Pros And Cons of Cathedral Rings vs Other Types of Settings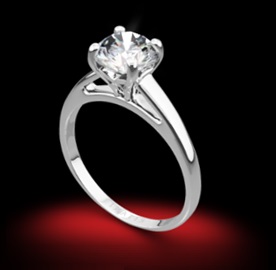 Comparison of classic solitaire vs cathedral vs split shank ring settings…
Pros
◾ More protection to the center stone compared to the typical 4/6 prong ring.
◾ Slight tweaks in design elements can change the feel of a ring from petite to elegance to vintage looking.
◾ For people who love details as the gallery and underside of the ring can incorporate surprise features.
◾ The center stone is typically set higher and the elevated position emphasizes the diamond's size.
◾ Goes well with different types of diamond shapes like round, princess, cushion and emerald cuts.
Cons
◾ Requires more effort to maintain during cleaning due to the gaps and niches in the ring design.
◾ Cathedral settings tend to sit higher on the finger and may cause it to snag into other objects.
◾ Improper arch designs with large gems can lead to disproportionate appearances.
Is the Cathedral Design Better Than Other Types of Settings?
Cathedral setting vs prong setting side profile differences.
Well, it really depends on the wearer and the kind of preferences she has. If the recipient is someone who is rough with their hands or requires the constant wearing of gloves, I would recommend going for a simple solitaire or bezel setting instead.
On the other hand, if the recipient wants a flashy looking ring or loves subtle details, a cathedral setting can help achieve the look they are after.
How Much Does a Cathedral Setting Engagement Ring Cost?
Another common question I receive from readers relates to cost and pricing. Whether you are interested in a cathedral setting or other types of ring design styles, it really depends on details and from whom you buy from.
Obviously, if you walked into Cartier or Tiffany & Co, you can expect to pay a huge premium on a setting of similar quality and design compared to buying from a non-branded establishment.
When it comes to settings, the bulk of the cost originates from workmanship overheads. For more intricate cathedral engagement rings, the cost can be exponentially higher than a simple 4 prong version of the design. So, it really depends!
Our Favorite Cathedral Solitaire Engagement Ring Settings
Sometimes, less is more. For people who are looking for minimalistic appearances and budget friendly options, the solitaire cathedral ring style would be right up your alley.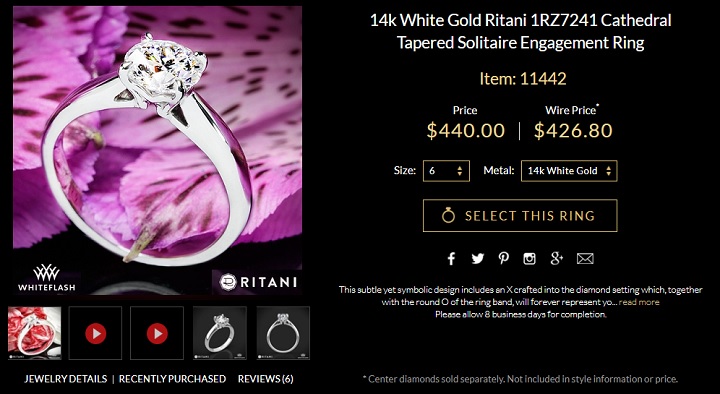 Above is one of my favorite solitaire cathedral setting featuring a tapered design by Ritani. The symbolic X (crafted into the setting) and O (ring band) represents the first kiss and embrace with your partner.
---
This stunning solitaire cathedral ring setting is a masterpiece created by Verragio. The elegant curves and gallery are a sight to behold together with the Verragio three prong crest under the basket.
---
Best Pave Cathedral Setting Ring Designs
I must confess that I am bias towards pave settings and have purchased a number of such rings for my wife. The rationale is simple. Pave rings are very cost efficient. By paying just a little more, you receive a significant increase in the ring's sparkle factor.
The Serendipity by White Flash is a classic design that appeals to many women. It utilizes a shared prong bead set pave to add extra bling on the ring. Also, the open cathedral is a remarkable sight when the ring is viewed from the sides.
---
This classic and elegant looking cathedral diamond ring showcases a french-set pave on its shank. Unlike other mass produced settings, White Flash is extremely strict in upholding quality and ensures that the pave is made up of super ideal cut melee diamonds.
On top of that, the six-prong head offers additional security to hold the center stone safely in place and allows light to interact with the diamond seamlessly.
---
Unique And Special Cathedral Setting Engagement Ring Designs
For people who are searching for uncommon designs or specially crafted rings, you may want to consider some of these beautiful options to help you stand out from the crowd.
This ring from JamesAllen.com makes use of a different mounting concept by alternating round and baguette shape diamonds in the channel of the shank. This variation in scintillation patterning adds another dimension to the ring's overall appearance.
---
This diamond ring literally is the star of the show when it comes to being flashy and being full of brilliance. Surrounded in a halo of star burst melees, this star shaped engagement ring will make heads turn.
Vintage Style Cathedral Setting Engagement Ring Designs
Vintage inspired rings have gained alot of popularity in recent years due to changing fashion trends and celebrity influences. If you are looking for a vintage style cathedral ring, the following designs from James Allen will interest you…
Pavé arches that are lined with milgrain gives this rose gold ring a regal quality and a touch of vintage elegance. If you pair this ring with a matching thin wedding band, it can bring out the full flavor of its vintage appeal.
---
Featuring a classic basket and tapered shoulders, this vintage solitaire ring design by Martin Flyer features hand-engraved motifs on the shank and several pave set melee diamonds for extra bling.
---
Designer Cathedral Solitaire Engagement Ring Settings
If you are looking for one-of-a-kind designs, a designer diamond ring may just be what you need. While they tend to be more expensive because of brand premiums, designer rings often feature trademarked elements which cannot be replicated easily.
Here are a couple of cathedral ring designs from 2 of my favorite brands.
The Vatche "Euphoria" features melee diamonds around the ring shank and basket to create a dazzling display of sparkle from all directions.
---
This cathedral diamond engagement ring features lavish details and spectacularly handcrafted shanks. It is a combination of high end design and traditional workmanship at its best. From the photograph above, Verragio's trademark crown shaped bezel can easily be seen in the profile view.
---
Conclusion – Is a Cathedral Ring Style a Right Fit for You?
I hope you have a better idea of what cathedral settings are and understand how the different variations in designs can affect the outlook of the ring.
We've also looked at ring settings across various budgets and how you can make a style uniquely yours. If you have a favorite ring design that you are interested in, please leave a comment below and let me know your thoughts. I absolutely love to hear from readers!
At the end of the day, you will have to make a decision based on your own circumstances and the recipient's preferences. Take your time to search and browse through different options before you make a decision.
You should bear in mind that the setting is only part of the equation when buying an engagement ring. The quality and choice of center stone is equally as important and you should do your due diligence before committing to a purchase.
Have fun in your search and enjoy the shopping process!
Related Articles