Looking for a huge, flashy diamond? 
So, you have decided to propose and make the purchase of a diamond engagement ring. Congratulations!
If you are looking to up the wow factor when proposing and have some cash to spare, a large diamond may be something you are thinking about. And the good news is, you will learn practical tips to make an educated purchase in this writeup.
First, let's consider some important things to focus on when shopping for a big diamond engagement ring.
What Carat Size Is Considered Large?
This is a question that I get asked frequently. It really depends on your own definitions how you view the term "big". Your perception of what constitutes a big engagement ring can vary depending on your lifestyle and financial situation.
For the majority of readers, you probably know that 1 carat is the most popular size that most women desire to have. However, we would not classify one carat as a huge diamond.
By our book, anything upwards of 1.5ct, like 2 or 3 carats, would be considered quite large. Once you get up to 5 carats and higher, these diamonds are extremely large!
On this note, I know some people will get overboard and assume that a bigger diamond is always better for visual appearances or making an "impact". I call this phenomenon "carat size overkill".

Excessively large diamond engagement ring on hand (in left image).
When diamonds get too large, they can overwhelm and skew the overall appearance of a diamond ring (especially on a thin finger). In the above illustration, the image on the right is actually more appealing as it has a good finger size to ring ratio.
With that in mind, let's reveal some of the most important tips to take note of when you go shopping…
Tip #1: Buy Only GIA or AGS Certified
When purchasing a large sized diamond, a grading report from a reliable lab like GIA or AGS  is mandatory. These are the only 2 trustworthy gemological laboratories in the world that grade diamonds consistently with the highest standards.
Here's an analogy: How would you like to buy what you thought was a Porsche and the car turns out to be a Lincoln? You will get ripped off and overpay for an inferior diamond with in-house grading certificates or any other labs.
When making such a significant purchase, you need to know that the material qualities of the diamond are accurately represented and legitimate! I will reiterate – NEVER buy a diamond that isn't graded by GIA or AGS.
Tip #2: Go Online For Better Quality And Selections
Yes, you heard that right.
The #1 reason that you need to ditch shopping in local stores and head online is that you get better selections and quality. Now, I know some people will be instantly screaming: "Are you crazy to even suggest buying a huge size diamond ring online?", "It's ridiculous to buy a diamond without seeing it!" or "How do I know the quality of the diamond if I don't see the ring?"
Let me tell you that the joke's on people who have misguided beliefs of shopping for big engagement rings in a brick and mortar store.
In real life, here's what's going to happen when you walk into a store asking to see a 3 carat diamond ring (or any large size diamond). Unless all the stars aligned in your favor on that particular day, you won't find any diamonds available.
And even if in the off-chance that you do, the chances are stacked against you finding a well cut diamond with optimal performance.
Don't believe me? All you need to do is to pay a visit to your local store and verify this for yourself. In fact, I encourage you to do so to experience things first-hand. Do share your experience of shopping for huge diamond ring in the comment section below.
Now, what happens when the jeweler doesn't have any stones in store for you to view? They will go ONLINE to look at their database and blindly make recommendations on diamonds they had NEVER seen before themselves.
Next, the store will ask for a deposit to call in a diamond if you want to see it in person. The deposit is usually non-refundable due to shipping and insurance charges. It also locks you up with making a purchase from them eventually.
My reaction when people commit this mistake and need my help to fix things.
Get this, the jeweler is shopping ONLINE on your behalf and often, without even seeing details of the diamond. Instead of you having control when you buy online yourself, you are now asking someone else with a conflict of interest to perform the shopping on your behalf at YOUR RISK.
If you asked me, I would say it is outright foolish and you actually deserve to get ripped off if you knowingly shop at a traditional retailer in this manner.
In contrast, shopping online with reliable vendors enables you to find the best possible diamond for your budget. However, that's not the main reason why I advocate heading to the Internet.
Contrary to what you think, buying a diamond online is way more TRANSPARENT than you think. Plus, you get to browse in peace without the pressure of a pushy sales staff, enjoy better prices and sales policies (30 day money back guarantee which is non-existent in traditional stores).
Let me show you what I mean about how online vendors go out of their way to offer indepth data with a random 2.5 carat diamond listing below…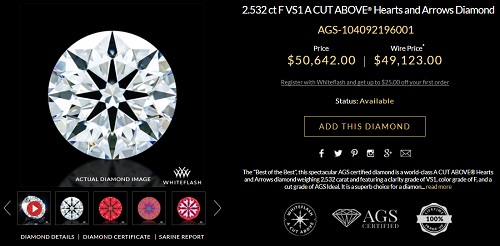 Besides offering you magnified images to scrutinize details, White Flash also offers light performance metrics like ASET, Idealscope and H&A images so that you can easily analyze a diamond's optical performance.
And that's not all, they even have a HD video of the diamond to let you see exactly what you are buying. In contrast, indepth information like these are virtually NON-EXISTENT with traditional retailers.
Tip #3 – Recommended Diamond Specs for Big Engagement Rings
One of the key things to bear in mind when shopping for a large size diamond is that the bigger the diamond, the more important material properties like clarity and color become.
This is because the diamond's size amplifies deficiencies like cut quality, body tint and inclusions; making it easier for people to spot a poor quality gem.
For your reference, here are our recommended guidelines when you go shopping for a big engagement ring…
Color: G or better.
Clarity: VS2 or better.
Cut: GIA 3Ex or AGS000 as baseline to start cherry picking.
With large size diamonds, you would need to go higher in clarity compared to smaller diamonds. We recommend at least a VS2 or better clarity as this will generally result in eyeclean diamonds; where you will not be able to see inclusions with your naked eyes.
As for color, this is largely subjective. As a rule of the thumb, a G or better color will ensure the diamond faces up icy white. If you are OK with diamonds showing a tint of body color, going down to J or K colors will massively reduce the cost of a large diamond.
Cut quality is the most important aspect of choosing a diamond that you must not compromise under any circumstances. A diamond with better cut quality will look more beautiful and display better sparkle compared to another one that has mediocre cut quality.
Tip #4: Managing Budget And Prices For Big Diamond Rings
Deciding to purchase the ring is one thing, paying for it is another. How much can you expect to spend when buying a huge diamond ring? This can range up and down considerably depending on where you buy, the cut quality, and other material aspects like color, clarity of the diamond.
If you wish to purchase a diamond of exceptional material quality with no inclusions (i.e. D/IF), you could easily pay upwards of $50,000 (2ct) to $500,000 (5ct) and possibly higher with extremely large carat sizes.
If this amount of money sounds ridiculous, don't panic.
Due to rarity factors like color, carat and clarity, the prices of diamonds increase on an exponential manner with size. However, if you were to buy a well cut diamond with slightly lower color and clarity, you will save a lot of money.
Here's a case in point about cut quality being the most important rather than color or clarity ratings. From a practical perspective, let me tell you that the D/FL diamond is NOT as sparkly or lively as the F/VVS2 diamond because of differences in cut quality.
Yet, in terms of prices, the F VVS2 is less expensive and the much much much better buy.
And it is only by shopping online that you can easily see differences due to the availability of tangible data. Click on both listings above and compare the ASET images for yourself.
You will see that the light leakage in the D/FL diamond is very obvious and the best thing is, this can easily be analyzed even if you are a layperson.
Tip# 5: Consider allowing her to see the ring before purchase
I know it is kind of a tradition for your fiancé to not see the ring before the proposal! And if you are going to make that significant of a purchase, it is imperative that it be something she likes and will want to wear forever. Otherwise, your time and money could come back to haunt you.
If you absolutely want her to be surprised, get help from her best friend or sister. She should have a good idea of what your wife to be will want to wear, and will probably be very honest with you. Checking in with the best friend has its advantages!
While a fiancé may be worried about hurting your feelings or being picky, the best friend is likely to be straightforward and unconcerned about lying to you. Long and short of it is, if you are at all worried about making the selection alone, seek the opinion of someone close to your recipient!
Shopping for a Big Engagement Ring With Confidence
The purchase of a large size diamond is an important one and should never to be taken lightly. After all, it is going to be a significant sum of money for a single purchase.
Remember to start by determining your price range and finding out the preferences of your recipient. Next, start your search way ahead of time before any deadlines draw near.
Then, head to the better online stores and utilize tangible data to help you make an educated purchase. All these factors combine to make an excellent purchase that you won't regret and your fiancé will love!
Lastly, I would love to hear your thoughts on how big of a carat size would you actually consider to be big? If you are shopping for a diamond engagement ring, how large of a budget would you set aside? Leave a comment below!
Related Articles