We live in truly exciting times.
Advancements in technologies have enabled man to create diamonds in the labs at a tiny fraction of the time required by Mother Nature to do so.
Over decades of scientific research and continuous pushing of manufacturing boundaries, scientists are now able to create gem quality diamonds on a large scale basis to meet demands in the jewelry industry.
Now, I want to emphasize that lab grown diamonds have identical properties to traditionally mined diamonds. They are composed of the same material, require the same cutting/polishing process and exhibit similar physical/chemical properties to diamonds mined from the Earth.
Yep, that's right and it gets even better.
Lab created diamonds can be made to the same level of clarity, color and brilliance as naturally mined stones. In fact, these man-made diamonds are almost indistinguishable unless they are subjected to specialized testing equipment like spectrometers and X-rays.
Benefits Of Buying Lab Grown Diamonds
For the consumer, there are 2 major benefits of buying lab created diamonds.
First of all, they leave minimal ecological footprints in the environment and are guaranteed to be conflict-free. This is because they are made in controlled laboratory conditions instead of being mined from the Earth with human-labor.
Secondly, you can easily save hundreds to thousands of dollars because of their significantly lower costs (about 20-30% less) compared to traditionally mined diamonds. This is good news for people with tight budgets as lab grown diamonds can help you get a better bang for your buck!
Downsides Of Buying Artificial Man-Made Diamonds
I'll be completely honest here. It isn't all sunshine and rainbows when it comes to buying man-made diamonds as there are certain downsides inherent of the current synthetic market.
First of all, diamonds are bad investments and don't hold value well. I've written a comprehensive article about the fallacies of buying natural diamonds as investments. If this weren't bad enough, you need to understand that the resale market for lab grown diamond is even worse.
To put it bluntly, artificial man-made diamonds have NO resale value and the secondary market for them is NON-EXISTENT. On top of that, the prices of artificial diamonds are projected to fall significantly when the manufacturers get better economics of scale and process optimization.
This means that the same diamond you purchased today is likely to cost less in near future.
The other disadvantage of buying a lab grown diamond is that the current supply of loose stones are extremely small compared to the natural diamond market. As a shopper, this means less vendors who deal with synthetic goods and a much smaller inventory to choose from to find your perfect diamond.
The third downside with lab cultivated diamonds is that the huge majority of them are cut to mediocre standards. If you want to find a truly well cut diamond, finding one is akin to searching for a needle in a haystack.
While there may be some disadvantages of buying a lab grown diamond, these issues can be mitigated by shopping smart and relying on tangible data for educated purchases.
And for most people who never plan on selling their engagement rings because of sentimental value, there's nothing to worry about resale prices to begin with. Just buy the ring and enjoy wearing it (much like buying a car)!
Review of a Lab Created Diamond Purchased from BrilliantEarth.com
In writing this article, I bought a loose 0.31 carats G color SI1 clarity lab grown diamond together with a diamond ring for a review.
I also want to show you what you can expect to receive when you make a purchase from BrilliantEarth.com.
Delivery was made securely via FedEx shipping.
Teal colored envelope containing invoices, certificates and other paperwork.
Pure white colored box with Brilliant Earth's logo embossed on the front cover.
Jewelry purchase is snugly fitted and packed during shipping.
Extracting the contents and taking a closer look at them.
Taking a Peek Into The Various Components of the Parcel
Complete DIY jewelry cleaning kit in a plastic container.
Brilliant Earth's Certificate of Origin and information booklet.
Opening The Beautifully Handcrafted Wooden Ring Box
Brilliant Earth's signature wooden ring box is hand-made in New Zealand.
IGI grading report and ring box with loose diamond.
The loose man-made diamond is encapsulated in a transparent metal container.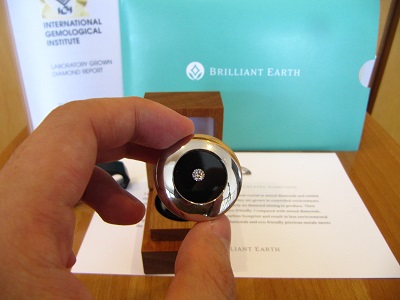 Picking up the metal container from the ring box.
Close Up Examination Of The Lab Created Diamond
Picking up the loose diamond with a pair of tweezers.
Loose round brilliant synthetic diamond at 10X magnification.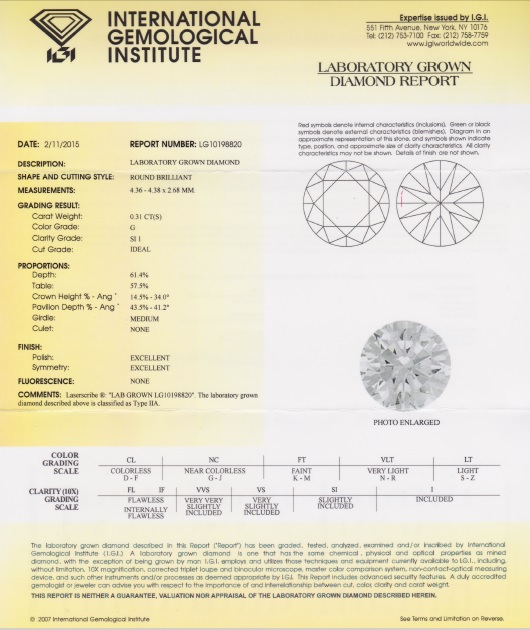 Full IGI report: Lab grown diamonds are clearly indicated with a laser inscription on the girdle.
Analysis of Synthetic Diamond's Cut And Optical Performance
Idealscope image indicating some light leakage under the table.
ASET image indicates a diamond with decent light return.
Inspecting the diamond under a Hearts And Arrows viewer.
Hearts patterning revealing some defects in optical symmetry.
Video of 0.31 Carat G Color SI1 Clarity Lab Diamond
Where From Here? Should You Buy Man-Made Diamonds?
A lab grown diamond is the real thing.
As you can see from the video above, it can be just as beautiful as a mined diamond if the stone is cut to correct proportions. At the end of the day, it is all about your preferences.
If you are someone who wants to purchase an engagement ring that is produced in a socially and environmentally-friendly manner, man made diamonds offer a meaningful way to help you do that.
Related Articles