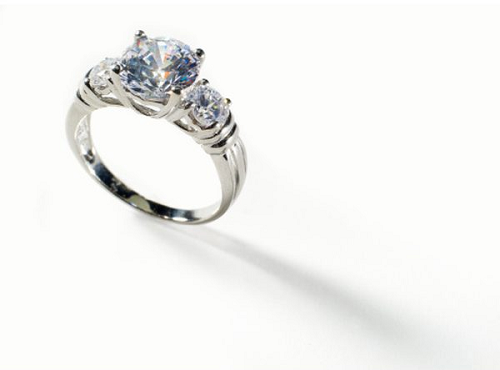 Casting a shadow of doubt over your jeweler's integrity?
Whether you are buying jewelry for an anniversary gift or an engagement proposal, how do you protect yourself from diamond switching scams and ensure that you are receiving the correct goods at the point of sale?
The same goes for bringing your jewelry for a routine cleaning or maintenance checks at your local retailer. What are the things you can do to prevent diamond swapping and ensure the safety of your jewelry in the salesperson's hands?
In this article, I'm going to show you what to look out for and guidelines to protect yourself when dealing with a jeweler; especially one that you aren't familiar with yet. 
First of All, When Does Diamond Switching Occur?
In most cases, diamond switching occurs when you leave your diamond unattended with an unethical sales associate or a jeweler without taking proper precautions.
Did you know that a high valued diamond can be swapped out in less time it takes for a simple cleaning routine? Usually, diamonds are swapped with high quality CZ stones because they look identical to the real thing to the untrained eyes.
Some scams are so good that most victims don't detect anything suspicious until months or years later. And by that time, it is too late to make any accusations or get any recourse!
In fact, once you walk out of the store without checking or doing your due diligence, the jeweler will have complete deniability.
The Classic Bait And Switch Scam
One other common scam is the bait and switch that deceptive jewelers use to con unsuspecting shoppers.
What happens here is that the jeweler would attempt to show you a great looking diamond and make you think it is the stone you are getting. Once you decide to buy it, they switch out the ring to a lesser quality one without your knowledge.
A loose diamond can be switched right after you picked it out and when it is to be mounted onto a setting. For example, you may be required to leave the stone overnight or over a period of days with the jeweler for them to complete their work.
With more time to work with the stone, it's easier for unscrupulous jewelers to make the switch.
Most Jewelers Don't Want Your Stone Anyway…
I would say that the majority of jewelers in the industry are trustworthy and won't risk jeopardizing their reputation for a small gain. Even for a diamond that is valued at $50,000, it doesn't make good business sense to commit a crime for such a small amount of money.
The thing is, honest mistakes may sometimes occur in the workshop. For example, when a piece of jewelry is brought in for a repair or a change of setting, there can be genuine cases of mix-ups in the workshop.
In order to prevent such an issue and any misunderstandings from occurring, you should always request the jeweler to plot your diamond on a receipt before leaving it in their hands.
Basically, this involves the jeweler mapping out the locations and types of inclusions clearly on a piece of paper. A copy of this plot is then kept by both you and the jeweler for identification purposes when you return for collection.
If your diamond has a grading report and laser inscription number, this process will be very straightforward.
A receipt with the plotted diagram helps protect both parties involved.
If the person-in-charge refuses to plot the diagrams or don't want to take responsibility for the ring, simply take your business to another jeweler who does. There's no point in exposing your jewelry to any unnecessary risks.
What to Look Out For When Buying in a Physical Store?
We live in the age of Internet technology and it is easy to get information about a jeweler's reputation at the click of a few mouse buttons.
This is your "first line of defense". If there had been any scams or concerns raised by previous customers, this information will most likely be documented on sites like the Better Business Bureau or the Federal Trade Commission.
Next, jewelers should be willing to provide information like grading reports and have the necessary equipment for you to verify the diamond prior to completing a sales transaction. If they refuse to do this or make excuses, this is a huge red flag that tells you something is amiss.
Also, you should be extremely wary of businesses that require cash payments upfront without any form of written guarantees. My advice is not to take such risks because it is very difficult to track cash payments. Instead, you might want to consider using a credit card for payment as it leaves a paper trail and offers some degree of consumer protection.
Knowing Your Diamond Inside Out Helps!
Inclusions are like fingerprints and they are unique in every diamond.
Did you know professional appraisers can take up to a few hours to grade and appraise the value of a diamond depending on their experience and the nature of the jewelry? If their examination process can be so detailed and thorough, yours should be as well.
When you are faced with the scenario of leaving your diamond unattended for routine cleaning or re-sizing work, make sure you view your diamond through a loupe. Check for details like unique inclusions or marks on your diamond.
You can use the reference list here to help you identify your diamond's inclusions.
Make a note of this and let the other party re-confirm the details you had seen before coming to a common agreement. This will let the other party know that you are paying attention to every detail and serves as a caution for them not to mess around.
If there is a laser inscription on the diamond, make it known to the other party too. It can be used as a quick and easy way of identifying the diamond.
Before you leave the shop with your jewelry, make sure you re-verify the details during the pickup. If you notice that something is off, make sure you raise any disputes immediately.
Stay Vigilant, It Never Hurts to be Cautious
With all that said, diamond switching scams don't happen as frequently as you think they might. When it does occur, it is because the unwary customer didn't use common sense when choosing a jeweler.
Hopefully, you will keep these tips in mind when you are shopping for your jewelry or taking them for a servicing job. Remember, having proper documentation will help avoid unnecessary trouble in the event of a dispute.
Related Articles