Disclosure: Please note we may generate revenue through the links/ads on this page and throughout this site. That said, we do NOT accept paid reviews and take great pride in providing honest opinions and objective information on products/services. Put simply, if a product isn't good enough for us to personally buy, we won't recommend it.
Brian Gavin is a 5th generation diamond cutter who is well known for his signature lines of ideal cut diamonds. With humble roots from learning the craft in his family business, Brian Gavin went on to develop the science and perfected the art of creating diamonds with unprecedented performance & sparkle.
In the early 2000s, Brian Gavin was also a pivotal figure in establishing and promoting the standards for hearts and arrows grading. Till date, this set of standards is still widely adopted in the industry.
Since the launch of his business, Brian Gavin has developed a series of super ideal cut diamonds in popular shapes like the round brilliant, princess cut and cushion cut.
And there are still no signs of him slowing down!
What's really exciting is that Brian Gavin is continuously pushing boundaries by developing new cutting techniques and crafting diamonds optimized for visual performance.
Brian Gavin Diamonds Review – List of Product Lines
In order for us write an indepth review of BrianGavinDiamonds.com, we had to break down the analysis for their individual product lines. If you are in the market for a specific diamond shape or product, feel free to jump directly to the section that interest you.
Brian Gavin Signature Hearts And Arrows – When a 57 facet round brilliant cut is cut to ideal proportions and high precision, a crisp hearts and arrows patterning can be observed in the face-up and pavilion views. We perform an analysis on Brian Gavin's signature H&A diamonds to see how they fare.
Brian Gavin Black – The pinnacle of Brian Gavin's diamond cutting career. The Brian Gavin Black diamonds have ancillary angles (star, upper girdle and lower girdle) that are engineered for extreme light performance.
Brian Gavin Cape – Brian Gavin created this specifically for people who want to buy large diamonds without the high costs of owning one. This signature line features ideal cut diamonds in the M-R color range which offers better bang for your buck.
Brian Gavin Blue – The Blue diamond line is your opportunity to buy an ideal cut diamond at a discount because of unwarranted paranoia in the industry. Specially curated by Brian Gavin, the blue fluorescence found in these diamonds is not only a cool feature but also helps to make a diamond whiter!
Brian Gavin Ideal Cut Princess – Princess cuts are the 2nd most popular diamond shapes in the market. In his signature princess diamonds, Brian Gavin utilizes a 3-chevron configuration to create a perfect balance between brilliance and sparkle.
Brian Gavin Cushion Cut Hearts And Arrows – Brian Gavin has basically incorporated the best aspects of round brilliant faceting into his patented cushion cut diamonds. When it comes to cushion cut diamonds, I can tell you that there aren't many in the world that can match the light performance exhibited by these stones.
Ring Setting Quality And Custom Designs – Aside from high performance diamonds, Brian Gavin also has more than 30 years of experience in custom engagement ring designs. We will take a look at the level of craftsmanship and quality you can expect from his settings.
A stunning petite invisible halo ring setting from BGD.
Why You'll Love Shopping at Brian Gavin Diamonds
As an engineer by training, I'm taught to look at facts and hard tangible data when performing assessments instead of blindly believing claims. That's how I personally buy diamonds and I advocate that you do the same as well. Remember, you should never buy blind!
Unlike many other online vendors that base their entire business around a virtual inventory (don't own the diamonds nor seen them in person), Brian Gavin owns and curates his inventory with strict quality control measures.
For the discerning shopper, BrianGavinDiamonds.com makes it easy for you to perform a thorough analysis of their diamonds. From determining eye-cleanliness to assessing performance, a complete set of data is provided in a concise manner.
From a typical listing, you get to see the actual diamond under normal office lighting (fluorescent) and how it interacts with intense lighting conditions (shopping mall and sunlight).
I've made some screenshots below and I strongly encourage you to click on the listing to interact with the videos yourself. Once you do so, you will realize how intuitive the website is and with a little effort, you can scrutinize details of the diamond.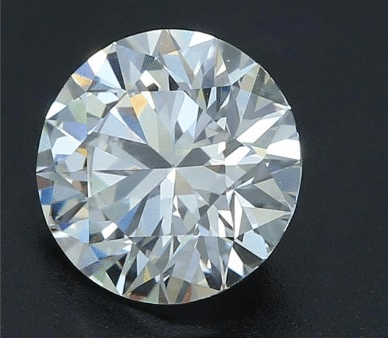 Brilliance Video
Sparkle Video
When it comes to analyzing light performance, Brian Gavin provides ASET, Idealscope and hearts patterning images for their H&A diamonds. This makes it straightforward for the discerning consumer to know exactly what they are buying.
Are There Any Complaints or Stuff I Don't Like in This Review?
If there's one thing I could legibly complain about, it is the small inventory size that Brian Gavin has at any point in time. You see, Brian Gavin's diamonds are top notch in cut quality and there's a limited supply of them to meet strong consumer demand.
Because of their popularity and the rate they move off the inventory, it can sometimes be difficult to find a diamond within a certain set of specifications. For example, if you are looking for a 1 carat D/IF diamond due to symbolic reasons or a 1.2 carat G/VS2 to get better value for money, you may have a hard time tracking one down.
To deal with this issue, Brian Gavin has launched an Advance Selection range where you have the option to "pre-order" a diamond with guaranteed light performance (AGS 000), color, clarity and minimum carat size. This effectively widens the range of diamonds available for purchase.
And if you still can't find a diamond based on your specifications, the custom-cut diamond program would be something you may want to consider. Now, don't let the term "custom cut" scare you away from starting a project with Brian Gavin.
There are no additional costs compared to another diamond that you can buy directly off the inventory. The difference is that the return policies are slightly different and the lead time may take up to 1 month for delivery.
If you find a diamond that fits exactly what you are looking for, DON'T PROCRASTINATE. Otherwise, you will end up disappointed when someone else purchases it. If you do need some time to think about the purchase, get in touch with their support via live chat or email to place the diamond on hold.
A Review of BrianGavinDiamonds.com's Policies And Sales Support
Shipping – BGD offers a complimentary secure shipping via Fedex to locations in the US. For international shoppers, BGD ships via Fedex Priority International and the cost would be dependent on factors like jewelry value and location.
Return Policy – As with many online retailers, Brian Gavin Diamonds also offers a 15-day inspection and return period for consumers to enjoy a risk-free purchase.
Upgrades – BrianGavinDiamonds.com offers a lifetime upgrade program for all their signature hearts and arrows diamonds and Blue diamonds. Typically, you can apply the original purchase price (100% for H&A and 95% for Blue) and pay for the difference for the new stone.
Buyback Policy – BGD offers a 1 year buy back program on their signature hearts and arrows and Blue diamonds. For whatever personal reasons that you need to sell off your diamond jewelry, you can receive 70% of the original price that was paid for the item.
Financing – If you are looking for financing options towards your engagement ring purchase, you would be pleased to know that Brian Gavin Diamonds has a partnership with Affirm Financing. You can find out more about the various types of plans available on this webpage.
A Quick Summary of Our Review of Brian Gavin Diamonds
Brian Gavin is a living legend in the industry and has left his mark by setting the standards for super ideal cut diamonds. If you are looking for a lively diamond engagement ring with the best sparkle and scintillation (who isn't), cut quality is the single most important aspect you need to prioritize.
And with Brian Gavin, you are truly getting the best of the best cut quality that you can't find anywhere else. Period.
Next, we dig beneath the surface and performed an in-depth analysis of diamonds that were picked randomly from their signature hearts and arrows. That's where things start to get interesting in our review of Brian Gavin Diamonds. So, grab a cup of coffee, sit back and read on to find out more…
Related Articles
BrianGavinDiamonds.com
Receives the Best Rating of

5

/

5

– Reviewed by

Paul Gian