Not many vendors possess the capability to offer a customizable ring design service based on your exact specifications. With Brian Gavin's expertise, it's like a match made in heaven because you get high quality diamond cutting and exquisite ring creation together.
I know many people have the mindset that buying a custom-made ring is a difficult process. However, that isn't the case when you are working together with Brian Gavin.
The team at BrianGavinDiamonds.com has great communication skills and they understand that each person's aspiration of a customized jewelry is different. This "telepathic empathy" makes the collaboration process very enjoyable.
As you get more involved in the process of turning your ideas into reality, it adds more symbolism and meaning to the piece of jewelry for a loved one.
Check out this video to get an overview of how this happens…
Why And When Should You Choose a Customized Ring Design?
A lot of consumers have the misconception that they need to buy a customized setting in order to achieve what they want in a ring design. This isn't true. From experience, I can tell you that the majority of ideas you can think of will already exist in current designs.
If you are looking to get a ring custom made, my advice is to browse through available designs first. And even if you can't find something you like, chances are you will come across designs that are similar to the concepts you have in mind.
With a ready made design, it will help facilitate minor customization work that is required or open up the possibility of creating something unique from an existing design.
On the other hand, if you are specifically looking for design elements that cannot be achieved from the current offerings, it now makes sense to take on a custom project. Let me show you an example to illustrate this…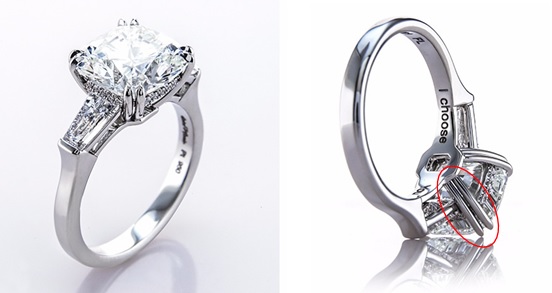 Design elements like the clean looking prongs (circled in red) cannot be reproduced by traditional casting methods. The prongs have to be hand-drawn and fabricated by a skilled craftsman to achieve this type of appearance.
What Can You Expect From Brian Gavin's Custom Work?
The quality of craftsmanship in BGD's customized rings is impeccable and you can expect to see attention being paid even to the finest details. Check out some of the breathtaking custom designs that came out of his workshop recently. If you are interested in more details, simply click on the thumbnails…
To get more details on creating your own ring and customized setting, click here.
Designer Cut Diamonds to For a Unique Look
If you want a twist of originality in your jewelry, Brian Gavin also offers customized diamond cuts which can help you achieve a unique look. Being an experienced 5th generation cutter and the pioneer of establishing grading systems for Hearts & Arrows diamonds, he's the guy to go for help.
Oh, you are not sure what you want yet? Give BGD a call and discuss through your options with their friendly support.
Check out the video below to get an overview of the process…
Conclusion of Our Review on BrianGavinDiamonds.com
All in all, we actually see that Brian Gavin Diamonds distributes a wide range of high quality diamonds. The diamonds in their signature inventory are all certified and meet the strictest standards of an ideal cut diamond.
To be honest, I didn't expect Brian Gavin's signature diamonds to be so consistent in quality when I did my analysis of their signature series. But there's a reason behind the top notch quality. Brian physically examines each of the diamonds in order to maintain the quality of their diamonds.
When he does this, he is putting his reputation into each and every single one of these stones.
Check Out What Others Have to Say About Them
Related Articles