Note: This review of Blue Nile has been updated to include my personal experience of buying a 1 carat halo engagement ring from them. To find out more details about the purchase, make sure you read the entire review!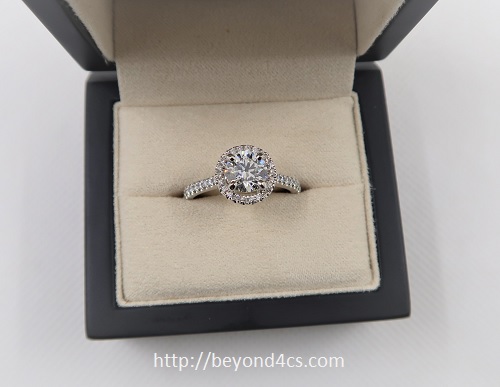 My recent 1 ct halo engagement ring purchase from BlueNile.com
Blue Nile is arguably the largest online diamond retailer. Founded 12 years ago, BlueNile has since established a reputation for great customer service and support. This success was also largely built on the better prices they could offer over the typical mom and pop store.
The company understands that a great majority of jewelry shoppers do not have much knowledge about jewelry in general. With this in mind, they go to lengths to ensure a potential customer is given sufficient information to weigh on a potential purchase.
This enables the consumer to make up his/her own mind and select a piece of jewelry of sound quality that is within their budget.
Product Range and Prices At BlueNile.com
Loose diamonds are the core products at BlueNile.com and they form the bulk of the jewelry sold at their website. In fact, they have the largest online inventory of diamonds compared to anyone else in the world.
With over 180,000 diamonds available in different shapes and sizes, BlueNile.com caters to different people with different budgets.
Besides that, they also offer a wide range of pearls and gemstone jewelry sold in platinum, sterling silver, and gold.
When it comes to ring mountings, the options available seem almost endless. Whether you're shopping for a wedding band, engagement ring or anniversary gift, Blue Nile's immense collection can meet almost every customer's taste in jewelry.
For example, if you're shopping for a ring or pendant, you can use the company's 'Build Your Own' tool to design your own setting. Besides a wide range of designs to choose from, you can also select the metal type of your own preferences from 3 options of white gold, gold and platinum.
When it comes to style, the selection of jewelry doesn't disappoint. Even though they might not have licensing deals with brand names or settings made by well known designers, their alternatives to the classic ring are particularly pleasing.
Jewelry, especially diamond jewelry, is usually a reserve for higher end shoppers. However, budget buyers are well catered for as well. Prices for gemstone jewelry start for as low as $50 while those for loose and mounted diamonds tend to go up in the higher digits.
For the purpose of this review on BlueNile.com, we will limit our focus on diamond related jewelry.
Blue Nile's Website And Features
You will not find complex graphics or glittery flash animations on their website. Instead, what you'll find is a simple and functional interface with a straightforward search feature. Whether it is an engagement ring or something simpler to spoil yourself with, you can easily refine your search to locate exactly what you need.
There's also an exhaustive collection of content in the form of informative articles. For a first time shopper, the FAQ section contains almost every answer and article to commonly asked questions. For instance, you could easily read up on how to shop for different types of jewelry, learn how jewelry is graded, find tips on reading grading reports, etc.
A Review of BlueNile's Security And Customer Support
All personal and credit card information is processed through a secure server and the company will not disclose any of your information to third parties. Customers who are uneasy with giving their credit card information can opt to pay through PayPal or Google Checkout.
The Seattle based company does offer a 30-day money back guarantee which is pretty much the industry standard nowadays. In case you're not pleased with what you had purchased, returning it isn't too much of a hassle. Like most other reputable stores, all purchases are shipped securely via logistic companies like FedEx & UPS.
Customer support is offered 24/7 through phone, email, or live chat. On top of that, customers also have an option to add a custom message with a gift order. I personally think this is a nice value added service and adds a personal touch which is useful for many occasions.
Shopping at BlueNile.com the Smart Way
When I personally buy diamonds, I look out for tangible data to evaluate my options and never rely solely on what a salesperson tells me. Here at Beyond4cs.com, I advocate that you do the same as well. After all, it's your hard earned money and the cost of an engagement ring is pretty significant.
Great return policies like those offered by BlueNile (30-day no questions asked refund) allow you to fall back on them if the need arises. That said, while return policies are good to have for the shopper, I never want to utlize them because it's just unnecessary hassle to return a purchase.
Basically, I want to ensure I get it right the first time and I'm pretty sure you feel the same way. When shopping at BlueNile, I recommend that you only consider diamonds that have a video listing.
You can easily filter the listings by checking the box as seen below…
Video listings will enable you to see exactly what you are buying!
An example of a video listing that reveals indepth details about the diamond.
On the following pages, we will take a critical look and perform an unbiased analysis of BlueNile.com's signature Astor diamonds. You will also get detailed information about the engagement ring I purchased from them. Lastly, I will be reviewing the craftsmanship standards of the settings they make.
If you are contemplating a purchase from BlueNile, you definitely want to continue reading…
Related Articles
BlueNile.com
Receives a Good Rating of

4

/

5

– Reviewed by

Paul Gian