Disclosure: Please note we may generate revenue through the links/ads on this page and throughout this site. That said, we do NOT accept paid reviews and take great pride in providing honest opinions and objective information on products/services. Put simply, if a product isn't good enough for us to personally buy, we won't recommend it.
Over the years, I had reviewed hundreds of jewelry companies and I have yet to come across a vendor who markets themselves as a source of ethical and eco-friendly jewelry. Well, that changed when I came across BrilliantEarth.com and decided to do an indepth review of their services.
A Brief Overview Of BrilliantEarth.com
Brilliant Earth is founded in 2005 and based in San Francisco. Compared to well-established online vendors like BlueNile or James Allen, they can be considered a new kid on the block.
With well-placed marketing campaigns (that was done with the help of professionals from https://ful.io/ site) and eco-products to differentiate themselves from their competitors. Brilliant Earth brands itself as a company with a noble cause in the jewelry industry.
They pledge to donate 5% of their profits to help communities who were victims of unfair diamond mining operations and support the development of a fair trade gold system; both of which are applaudable practices.
In this review of Brilliant Earth, we are going to take a deeper look into the business and show you our first-hand experience of ordering diamond jewelry from BrillantEarth.com.
A Review of Brilliant Earth's Policies
Unlike many other online retailers, BrilliantEarth.com offers free two-way FedEx shipping for customers based in US, Canada and Australia. This is a really nice gesture as it covers any costs you may incur in the event of a return within 30 days.
For customers based in US, BrilliantEarth provides an option for you to enjoy interest-free installments. Besides that, they also offer flexible financing plans like layaway plans and payments via multiple credit cards. For people who are making large purchases, these options are particularly useful to help pay for the item.
Brilliant Earth also provides 2 types of lifetime guarantees. Firstly, they offer a lifetime upgrade on all diamond purchases which gives you the option to do a trade up in the future.
Do note that there are certain terms and conditions which are applicable here. For example, the new diamond must be at least 50% higher in value and the diamond being traded-in must be in good condition.
The second aspect of their lifetime guarantee covers manufacturing defects for all their purchase. If your jewelry is found to be damaged due to manufacturing issues, you can get it repaired for free.
Brilliant Earth's Main Selling Point – Ethically Sourced Jewelry
I know some readers may not take this the right way, but I am going to be brutally honest here.
If you are really serious about being "socially responsible" and want to minimize the impact of diamond mining on the environment, you probably want to think twice before buying engagement rings made with naturally mined diamonds.
Instead, you might want to explore other options like buying cubic zirconium jewelry or synthetic diamonds that are made in the lab. That way, you will have a 100% assurance that you won't purchase unethical diamonds and also minimize your "environmental footprint" caused by mining activities.
In this aspect, I think Brilliant Earth really shines compared to other online vendors. They are one of the largest online suppliers of lab grown diamonds in the United States and they offer an extensive inventory of Canadian diamonds – a country with extremely strict environmental laws for the mining industry.
Lastly, because Brilliant Earth is committed to eco-friendly practices, their packaging consists of a handcrafted wooden ring box made in New Zealand. In my personal opinion, the ring boxes are among some of the best in the industry (and they smell great too!).
The wooden box looks great and feels good to touch.
Ring box that showcases a loose diamond purchase from BrilliantEarth.com
Brilliant Earth's Search Interface And Loose Diamond Browsing Features
To begin with, let's take a look at the search tool for buying loose diamonds. Like many other online vendors, their user interface is pretty standardized and you can narrow down selections based on your budget or other 4Cs requirements.
A screenshot of Brilliant Earth's diamond search interface.
For shoppers who are interested in buying round diamonds at Brilliant Earth, here are some tips to help you navigate the search interface.
1) Choose the diamond shape, color and carat size accordingly.
2) Shift the bar slider to show only "Ideal" and "Super Ideal" cut.
3) Shift the bar slider to show only "IF" to "VS2" clarity.
4) Weed out diamonds that don't fall with the ideal proportions found in this article.
5) Read our step-by-step guide to buying diamonds and take note of the key pointers.
Note: If you have a special request or need to buy a diamond from a certain origin, you can adjust the filters to include blockchain diamonds or country of origin according to your requirements.
Buying Blind Is a Problem When Shopping Online
I want to be absolutely clear about this. It is in your best interest not to make blind purchases unless you are a habitual risk-taker who won't bat an eyelid about huge expenditures.
Let me tell you why…
First of all, diamonds are not made equal; especially those found in the lower clarity ranges. For example, if you are buying an SI1 diamond, you need to know that some are eye clean and some aren't.
When shopping online, the best way to determine eye cleanliness is to make use of videos and/or magnified images.
Here's an example to illustrate what I mean:
These 2 examples from James Allen clearly illustrate the benefits of having videos. As you can see above, the diamond on the right is eyeclean while the one on the left isn't.
Currently, Brilliant Earth provides 360° HD videos and additional diamond imagery on more than 80% of their listings. They also provide a useful image of the actual diamond size on a size 6 hand. The screenshot below is what you would expect to see in a typical listing:
Videos help you to see exactly what you are buying in real life.
I would recommend checking the "REAL VIEW AVAILABLE" function so that you will not waste time looking through listings without tangible data. This is especially important when it comes to fancy shapes like ovals, pears or emerald cuts because shopping based on numbers alone is a really bad idea.
Unlike round brilliant cuts, there is no way to judge how a fancy shaped diamond will look like or perform unless you have tangible data like magnified photos, videos or ASET images.
Advice For Consumers Shopping For Diamonds at Brilliant Earth
Once you shortlisted and narrowed down some diamond options, it would be a good idea to place a "hold" request for them via "live chat" or customer support.
The rationale behind the "hold" is to guarantee the diamond's availability and to avoid disappointment. This is because diamonds do get snapped up really fast in the online world.
Next, you should place in a request for additional information like magnified images/videos. This will help you visualize the diamond's appearance and allow you to see what you are buying.
An image of an SI1 diamond was sent to me upon request.
Also, it is a good idea to get a physical evaluation performed on your shortlisted diamonds. Depending on where the diamonds are physically located, this may or may not be possible. Finally, when you have the detailed information in hand, it will put you in a better position to make educated decisions.
Review of Petite Twisted Vine Diamond Ring From The Nature Collection
Besides the center diamond, the engagement ring setting plays an equally important role in the ring's overall appearance. Given Brilliant Earth's reputation for being an eco-friendly jeweler, I had high expectations for their nature-inspired ring designs.
And let me tell you, they didn't disappoint.
The settings in their Nature collection blew me away with their carefully designed motifs and curved outlines. More importantly, I wanted to inspect their settings in person in order to see how well they are made. And so, I placed an order for the Petite Twisted Vine setting…
If you had been a long time reader of Beyond4Cs.com, you would know that I'm a no-nonsense guy and I emphasize on product quality when buying jewelry. Fortunately, this is an aspect where Brilliant Earth excels.
When it comes to settings, it is relatively straightforward (even for a layperson) to tell the standards of craftsmanship by looking at details under magnification. Check out the images below…
Under a 10X loupe, I was pleased to find that every single melee stone had been carefully selected and matched. You see, not every jeweler is willing to put in the extra time and effort to perform this step correctly.
Pay attention to the consistent appearances of the melee diamonds.
The prongs holding the accent stones are neatly arranged and made with delicate skills.
In the side profile view of the ring, every single accent diamond is perfectly aligned and set with extreme precision. The standards of their craftsmanship show up in the smooth, continuous curved outline of the ring's shanks.
Review of Brilliant Earth's Reverie Diamond Ring
The Reverie ring is part of Brilliant Earth's Classic collection and features a solitaire design which exudes feminine elegance. The center stone is held securely in place with split claw prongs.
For the purpose of conducting this review, I had a 0.50 carat, F color, SI1 clarity, super-ideal round brilliant cut diamond set in the 18k white gold Reverie ring.
Check out photographs of the actual ring below…
Side profile of the Reverie ring with a 0.50 carat center diamond.
Close up view of split claw prongs.
The Reverie ring features a ribbon-looking shank and sleek curves.
* Note: the ring settings at Brilliant Earth typically take between 2-3 weeks to be created. Compared to other online jewelers, the fabrication process is relatively longer. But, as the saying goes; good things are always worth the wait.
ASET and Idealscope Images Of Brilliant Earth's Super Ideal-Cut
When buying diamonds, I always emphasize that CUT is KING because it directly impacts the amount of sparkle the stone has. For your reference, this is the corresponding GIA grading report for the center stone.
ASET image indicating a bright and brilliant diamond.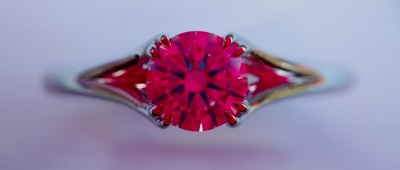 Idealscope image with saturated reds; indicating strong light return.
Based on the images above, both the ASET and Idealscope data indicate a diamond with excellent light performance. For people who want to learn more about interpreting ASET and Idealscope images, you may want to check out the ASET reference charts I compiled here and the reference chart for Idealscope images here.
Conclusion: Our Verdict on Brilliant Earth
I've separately purchased a vintage style engagement ring and reviewed it here.
Overall, Brilliant Earth is a legitimate and trustworthy company to do business with. While they may not offer the lowest prices compared to other online vendors I had reviewed, they do offer certain niche products which aren't readily available elsewhere.
Most notably, Brilliant Earth is one of the largest online providers of lab grown diamonds in the US (no mining footprint). For more details, you can read the blog post I had written here. They are also the go-to place for one-of-a-kind vintage jewelry collection that stands out.
To wrap up the review, if being socially and environmentally responsible is your thing, BrilliantEarth.com is probably the best company where you can shop for quality jewelry with a cause.
Related Articles
Brilliant Earth Receives a Good Rating of 4/5 – Reviewed by Paul Gian