I get it. Buying a diamond ring can be a hard and stressful undertaking for a guy.
But if you are shopping for an engagement ring, should you buy online or from a physical retail store?
Contrary to what you may think, buying a diamond online is far safer and offer many more benefits than buying from a retail store.
In this comprehensive guide, we will answer frequently asked questions about online jewelry shopping and offer insights into why physical stores cannot compete with online retailers.
We will also reveal the things to look out for when buying an engagement ring and reveal the best places to shop for high quality diamond jewelry.
Let's jump right in…
Is It Safe to Buy a Diamond Ring Online?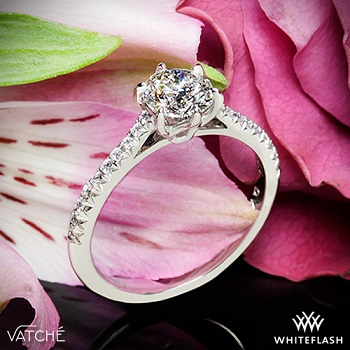 This is a stunning engagement ring I recently purchased online. 
Absolutely! But only if you buy from a reputable vendor.
Now, the high cost of an engagement ring can make some people nervous about buying diamonds online and that's perfectly normal.
Just as there are risks to buying a diamond ring in a physical store, there are also risks to shopping online. However, the biggest difference is that these risks can be completely negated with a reliable online vendor.
For example, White Flash and James Allen provide highly detailed videos to help you see exactly what you are buying. On top of that, they provide generous risk-free return policies to give you a safe shopping experience.
Don't believe me? I challenge you to find a physical vendor who would be willing to stand behind their products with a 30 day money back guarantee and even pay for your return shipping (James Allen offers this).
If you are wondering how the shipping works after you place an order, the ring is shipped securely to your doorstep via UPS/Fedex. The shipping is also fully insured to protect both the retailer and you.
Over the years, I've helped thousands of people buy their dream engagement rings online and had even personally purchased a number of diamond rings. Here's a box opening video of a recent purchase I made to show you what to expect.
5 Reasons Why It Is Better to Buy an Engagement Ring Online
#1 Better selections and quality – Due to the expensive costs of owning diamond inventory (e.g. buying diamonds, insurance and storage), most physical retailers can only hold a small number of diamonds at any one time. This severely limits your ability to find something that suits your needs and budget.
You don't have to take me on my words. Try finding something specific like a 0.90 carat F VVS2 GIA certified diamond in a store and see if they have anything with an exact match for you.
By shopping online, there's no need for you to compromise and you can easily cherry pick the best diamond from available options.
James Allen offers more than 270,000 loose diamonds of different shapes, sizes and costs.
---
#2 Better business transparency & shopping experience – Ecommerce and improved Internet technology have revolutionized the diamond industry. In the past, local retailers could easily rip off customers because shoppers had no source and references to compare diamond prices reliably.
Now, you can easily compare prices with the click of a few mouse buttons to get a good idea of how much a diamond with certain specifications is worth. More importantly, there is far better transparency in business practices as good online diamond stores will provide tangible data to help you assess diamonds.
This is completely opposite of what you can expect from a physical retailer where the less you know, the better it is for them.
Where else can you get to scrutinize the tiniest details with ease?
---
#3 Better prices – Internet prices for diamond rings are significantly lower than those found in retail stores because of lower overheads. Without expensive business overheads (e.g. rents) or salespeople, the lower costs of operations are passed onto consumers. You can typically expect to see a 20-40% reduction in prices when shopping online.
In fact, I've performed a number of price comparisons of online retailers versus larger jewelry chain stores like Tiffany, Zales and even Costco. Also, you can find identical looking rings that have better quality center stones than those offered by big brand stores.
#4 Lifetime warranty and upgrade policies – Whether your diamond ring requires servicing or repolishing, reliable vendors are committed to providing long term support for your purchase. For example, White Flash offers generous upgrade policies that allow you to trade up your diamond to another as long as the new diamond is equal or more in value.
You can decide to spend $1 or $1000 more to trade up your diamond to a larger carat diamond or change to a diamond with lower color/clarity if you like. For context, most retail stores would typically require you to spend at least twice of what you bought to be eligible for an upgrade.
#5 No sales pressure from commissioned staff – When shopping online, you can take your time to select and make comparisons in a stress-free environment. This means you don't get pressured into a purchase by a salesperson and get to make decisions rationally.
Best Places to Buy a Diamond Online Safely
Overall, buying a diamond online will help you get better selections and quality instead of buying in a retail store. On top of that, you also get to enjoy better prices and sales policies.
Throughout my years of experience in the industry, I've personally reviewed and purchased from dozens of vendors around the world. So, I know which vendors you can trust and the ones you need to avoid.
---
James Allen is a vendor that revolutionized the online diamond industry with its 360° display technology. Not only do they offer a huge selection of GIA/AGS certified diamonds to choose from, they actually provide an HD video for each listing to help you see exactly what you are buying.
Couple this with the consumer orientated sales policies like risk-free money back guarantees and free return shipping, you know they are a company that fully stands behind their products.
Here's a video of a ring I purchased online at James Allen and if you want to see full details of the review, click this link.
---
White Flash is a jeweler based in Houston, Texas. They are well known for their signature super ideal cut diamonds in both round and princess cut diamonds.
One of the best things about White Flash is that the cut quality of diamonds in their A Cut Above selections are consistently great. And this says a lot about the curation standards and in-house quality checks they have in place.
You can also find a big selection of beautiful designer rings and well-crafted in-house settings at affordable prices. And like any reputable online vendor, White Flash provides a 30 day money back guarantee and a completely risk-free environment to make a purchase.
Here's an upclose video of a Vatche designer ring I purchased from White Flash and if you want to see more details, click this link to read the review I have written.
Related Articles