Finding the perfect engagement ring can be a daunting and nerve-wracking experience for most people. However, the shopping process can be made a lot less stressful if you shop at a reliable store that offers high-quality products at competitive prices.
But, where are the best places to buy a diamond ring?
Well, we've got your back! In this write up, we've curated the best diamond stores where you can find your perfect engagement ring based on your specific needs.
The diamond stores listed here are picked based on several factors: diamond quality, price, selection, customer service, reliability, workmanship and sales policies. They also specialize in certain types of engagement ring products and are the best-in-class for each category.
Let's get right into it…
Here is a list of categories we will be covering:
Best Diamond Store For Lab Diamonds
In recent years, lab diamonds had seen a surge in demand amongst consumers. With this rising popularity, many businesses have started offering lab created diamonds as an alternative to the traditional engagement ring.
But where should you shop for lab diamonds and how do you differentiate between vendors that seemingly offer the "same" goods? Well, the answer lies in using tangible data to help you discern between cut quality and making an educated purchase.
In my opinion, the best diamond store to buy a lab diamond is James Allen. Not only do they offer a huge selection of loose diamonds for you to cherry pick from, but you also get to see exactly how the diamond looks like using their 360° HD video listings.
Having a real-life video of the diamond allows you to determine eyecleanliness with confidence when you shop. In the example above, the inclusions found in the 2 carat lab grown diamond are benign and aren't visible to the unaided eye.
What I really love about James Allen is that they have a curated selection of lab grown diamond classified under their "True Hearts" collection. These are super ideal cut diamonds that are handpicked for their superior light performance and cut precision.
And to be clear, it is extremely hard to find well cut lab diamonds in the market because of the economic and manpower factors involved in polishing them.
Within their True Hearts collection, James Allen really stands out from other vendors in the market because of their broad selections of lab diamonds with the best sparkle and brilliance.
Best Diamond Store For Round Cut Diamonds
Round cut diamonds are the most popular choice for jewelry design and engagement rings because of their versatile shape and sparkle factor. Yet, the sad fact is that the majority of diamonds in the market are cut to sub-par standards because cutters prioritize carat weight over cut quality.
When it comes to buying diamonds that are lively and full of sparkle, White Flash is the best diamond store to shop for them. White Flash specializes in super ideal cut diamonds where they curate diamonds for the ultimate light return and cut precision.
And unlike jewelers who depend on smoke and mirrors (marketing fluff) to pedal their goods, White Flash is one of the most transparent vendors in the market. And how so? Instead of marketing fluff, White Flash provides tangible, scientific data for their diamond listings as proof of superior cut quality.
If you click on the sample listing above, you will find that White Flash provides real-life videos of the actual diamond in 2 different lighting environments to help you visualize what the diamond looks like.
Also, there is a range of scope images that reveal details about the diamond's cut quality. For example, the ASET scope image offers a scientific evaluation of the diamond's light return. The hearts and arrows images will give you insights into the diamond's cut precision.
Besides a big selection of loose diamonds to choose from, White Flash also has 100s of stunning ring designs for you to find the perfect engagement ring. They are also an authorized retailer for many well-known designer brands such as Tacori and Verragio.
I've personally shopped at White Flash on multiple occasions and had documented some of my experiences with them. Click here to read a full-fledge review of White Flash and click here if you want to read my review of a recent engagement ring purchase I made.
Best Place to Buy a Fancy Shaped Diamond Ring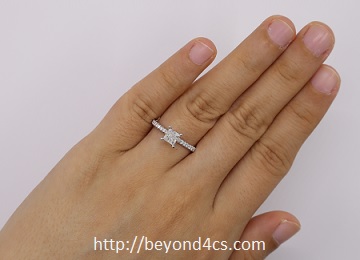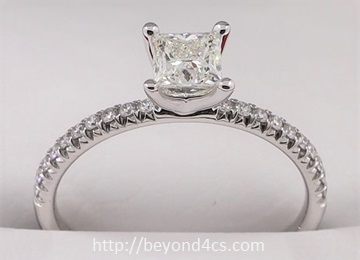 A half-carat princess cut diamond ring I bought for my wife.
Fancy shape diamonds are notoriously hard to shop for because of the lack of tangible information and poor selections offered by jewelers.
Unlike round cut diamonds, fancy shape diamonds lack proper cut grading information in GIA reports and this makes it difficult for the layman to make an objective purchase decision. Also, it doesn't help that most jewelers will attempt to pedal their limited and usually mediocre selections to unwary customers.
Unfortunately, there's no quick and easy way around buying a well cut diamond without some prior knowledge. It is important that you do your research into the particular type of fancy shape diamond you intend to buy.
For example, having good symmetry in a heart-shaped diamond is particularly important because you want the lobes of the diamond to look pleasing to the eye. On the other hand, if you are shopping for an emerald-shaped diamond, the hall of mirrors effect and contrast patterning of the diamond would be of importance.
In my opinion, James Allen is the best diamond store to buy a fancy-shaped ring because their real-life 360° videos allow you to scrutinize details easily. Their in-depth inventory of diamonds across different carat sizes and price points will ensure that you can find something that fits your budget.
As per all my recommendations, I personally walk the talk when I review a business. I've bought a princess-cut diamond ring for under $2,000 and a fantastic-looking cushion cut diamond in a halo setting from James Allen. Feel free to click the corresponding links to find out more about my purchases.
Best Diamond Store For Fluorescent Diamonds
Fluorescent diamonds can make for some of the coolest jewelry you can find in the marketplace. While the trade generally frowns upon diamonds with fluorescence as if it were some kind of "defect", I personally love them for their remarkable effect under UV lighting.
In general, fluorescence does not affect the appearance of a diamond but in some cases, strong fluorescence can cause a diamond to look milky. And to state the obvious, you want to avoid such diamonds.
While it is relatively common to find diamonds with varying degrees of fluorescence (~30% of natural diamonds have fluorescence), it is very difficult to find fluorescent diamonds that are cut for light performance.
And that's where Brian Gavin comes in shining.
Brian Gavin Diamonds is a diamond store based in Texas, USA, that deals with super ideal cut diamonds. One of their niche specialty lies in the collection of fluorescent diamonds that are cut to the best possible standards and carefully curated for non-milky diamonds.
With the Brian Gavin Blue collection, you can rest assured that every fluorescent diamond is bright, sparkly and beautiful. If you are a fan of fluorescence and its cool effects (like I am), you can get a bigger bang for your buck by buying a fluorescent diamond.
Best Retailers For UK or EU Based Consumers
If you are based in the EU or UK, you will realize that shopping for a high-quality ring without having to pay cut-throat prices is an impossible feat in physical stores. Unfortunately, the consumer markets in the EU and UK are much less developed than those found in the United States when it comes to buying diamonds.
Most local diamond stores have mediocre selections to choose from and significantly higher prices because of higher overheads. On top of that, the taxes (VAT) imposed would result in higher costs depending on the price set by the jeweler.
In my opinion, the best diamond store to buy from is Blue Nile if you are a UK or EU citizen. Not only do they offer a wide selection of GIA-certified diamonds, they also have highly competitive prices.
Unlike other online diamond stores, Blue Nile has offices in the UK and EU which allows them to handle tax payments conveniently (instead of having to pay a vendor for a diamond and the courier separately for VAT collection).
Here, I want to address a common misconception that people have when buying a ring from a physical store. Many people foolishly believe that VAT isn't paid or calculated into the price of a diamond ring when buying from a local store. That's not true.
Let me be absolutely clear that there is no way to legally avoid VAT.
Whether you are buying in a physical store or from an online retailer, the VAT will be part of your costs. It's just a matter of whether you see it "bundled" into the final price tag or being transparently broken by a retailer such as Blue Nile.
So, don't be fooled by the misconception that you don't pay VAT when shopping at a local retailer. Somebody is definitely paying for the VAT and I can assure you that the jeweler isn't the one that is footing the bill for you.
Best Diamond Stores to Buy Engagement Rings – A Wrap Up
Now, I know many consumers are price conscious and have unrealistic expectations of what their budget can get them. Very often, making shopping decisions that are driven solely by prices (greed) will lead to undesirable outcomes and overpaying for inferior products.
You should always ensure that you only buy a diamond ring with a reliable grading certificate and rely upon tangible information to assess a diamond.
I believe that it is in your best interest to buy an engagement ring from a reputable store if you want peace of mind and avoid getting ripped off.
At the end of the day, choosing the correct diamond store will simplify and account for more than 70% of the process of getting the perfect diamond ring. This leads to a less stressful and more enjoyable experience of buying something that fits your needs.
I hope this in-depth article has helped you out! If you have any questions or need further help with a second opinion/selection, feel free to get in touch by leaving a comment or emailing me directly. Good luck!
Related Articles