I bought this 0.57ct H SI1 True Hearts diamond engagement ring in 14k white gold.
When it comes to buying a diamond engagement ring, cut quality is KING as it directly affects the amount of sparkle and brilliance it has. In this write up, we will perform a comprehensive review of the True Hearts™ diamond collection offered by James Allen.
So, if you are wondering what a True Hearts diamond is and whether it is worth it to buy one for your engagement ring, you are at the right place. You will also get to see real life videos of how they look like and find out why these diamonds are highly sought after.
Let's jump right in!
What Are True Hearts Diamonds?
The True Heart diamonds represent a top-tier collection of ideally cut diamonds that are carefully curated for internal symmetry and proportions. When diamonds are cut to a high level of precision and workmanship, it enhances the diamond's fire, brilliance and scintillation patterning.
Each True Heart diamond is also accompanied with a grading certificate from one of the top grading laboratories in the world; GIA and AGS. Besides round diamonds (hearts and arrows), the True Hearts selection is also available in princess and cushion cuts.
Review of True Hearts Round Diamonds – How Good Are They?
Since the True Hearts diamonds are marketed for their exceptional cut quality, one of the things that I do when performing an indepth review is to select random diamonds across different price points and specifications.
The rationale behind doing this is to get a good idea of consistency and quality throughout the inventory.
If a large $30,000 diamond in the signature line can stand up to scrutiny for performance and cut quality, I would expect a smaller $1,000 diamond to be cut to similar standards as well.
Here are 3 different diamonds I selected at random for this comparison.
At the time of writing, the diamonds (from left to right) costs $880, $9,550 and $40,470 respectively. One of the most amazing things about James Allen is the clear quality and transparency of their 360° video listings.
Idealscope – Light Return And Optical Symmetry (Arrows) Analysis
In the majority of True Hearts round diamond listings, James Allen provides an idealscope image that allows you to analyze the light return and leakage exhibited by the stone. In a nutshell, this is what the different colors represent:
• Red: indicates light return.
• Black: contrast – important for pattern & scintillation. Black areas should be symmetrical.
• White: light leakage – keep white areas minimal.
To make your own comparisons, feel free to use the reference charts here to determine the performance of the diamond. Besides static light return, the Idealscope images also reveal the cut precision of the diamond (arrow patterning).
Hearts Patterning Image – Optical Precision And Indexing Analysis
Optical symmetry is a result of precision and the cutter's skill in aligning the individual facets of the diamond. In a super ideal cut diamond, the hearts patterning appear symmetrical and consistent.
Now, I want you to look at all 3 hearts patterning images closely and see if you can notice the minute variances in the first 2 diamonds. In both cases, there is a slightly bigger gap between the V and one of the hearts.
Speaking as a perfectionist, these small deviations in precision would be something that can be improved upon if you were looking for the best of the best. The 3rd True Hearts diamond (on the right) would be an exemplary example of a super ideal cut stone.
That said, it is important for you to recognize that these small deviations are NOT noticeable to the naked eye. Even with these slight inconsistencies, these 2 stones are MUCH better than 99% of the inventory in the market and that says a lot.
Review of TrueHearts Engagement Ring Purchased at JamesAllen.com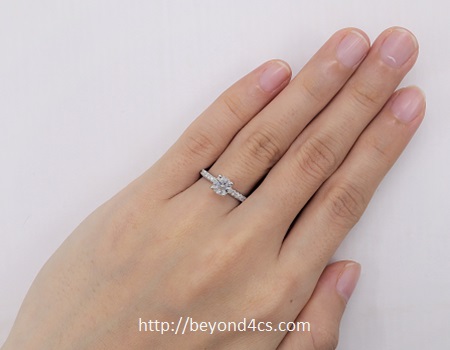 The following diamond ring was recently purchased from James Allen and I handpicked a 0.57ct H SI1 TrueHearts round diamond which was matched with a petite pave setting.
Check out the video below where I personally reviewed the craftsmanship and finishing of the ring.
---
I've also captured Idealscope and ASET images of the diamond engagement ring and it should come as no surprise that they look perfect as the diamond is cut for light performance. You can verify this be comparing it to the ASET reference charts here.
The next video shows you how the True Hearts diamond performs in real life under various types of everyday environment. So, if you are wondering how a True Hearts diamond performs, you are in for a treat.
---
True Hearts Princess Cut Diamond Review
After the round brilliant cut, the second most popular shape for a diamond engagement ring is the princess cut. If you are someone who fancies a square shape engagement ring, the True Hearts princess cut is a fantastic option for ideal light performance and sparkle.
This was a ring I built from scratch on a budget of $2,000. It features a 0.58ct H SI1 TrueHearts princess cut diamond and is paired with a 14k flush fit pave ring setting.
---
Here are the Idealscope and ASET scope images that I've photographed for your reference. Both images show the outstanding light return and performance of the diamond.
If you are interested to see how a TrueHearts princess cut diamond performs in different types of real life environments, watch the video below. It is a perfect benchmark of how a well cut princess diamond should look like.
---
True Hearts Cushion Cut Diamond Review
If you are looking for something different, the cushion cut diamond is a great alternative to the traditional round diamond. The diamonds undergo a stringent selection process which include being certified as an ideal cut by AGS.
Interestingly, one of the things I noticed about the TrueHearts cushion cut is their unique facet patterning. By polishing the facets to this arrangement, it gives the diamond a distinct appearance and contrast patterning.
Facet arrangement extracted from AGS grading report.
If you had been following my work on Beyond4cs.com, you will know that I place a strong emphasis on cut quality and I walk the talk when it comes to reviewing diamonds.
So, I picked out a 0.52ct E color Truehearts cushion cut diamond and built a ring by selecting a halo setting to accentuate the diamond's size. Check out the video below and watch me review the cushion cut diamond's performance.
For your reference, I've captured the idealscope and ASET images. It should come as no surprise that these images reveal very strong light performance about the cushion cut diamond.
My Final Thoughts to Wrap Up This Review
Line up of round, princess and cushion cut True Hearts diamond rings.
When it comes to buying a diamond, Cut is hands down the most important criteria out of the 4Cs. It is the factor that has the biggest impact on a diamond's appearance.
Not only does it help mask body color and makes the diamond appear bigger due to edge to edge brightness, the better sparkle also help mask inclusions. In essence, you are getting "improvements" in the other 3Cs just by focusing on cut. So, don't skimp on cut quality.
In this write up, I've performed an indepth review of the True Hearts diamonds. Having looked the diamonds in person, I can tell you that they are cut to very high standards and I have no qualms about buying them myself.
In fact, you'll be amazed at the visual differences between a True Hearts diamond and a typical off-the-shelf GIA graded diamond when you see them in person.
With that, we have come to the end of this review. Which of the diamond shapes (round, princess or cushion) did you like the most? Feel free to leave a comment below to share your thoughts.
And if you have any questions or need help in picking out a diamond, get in touch with me and I'll do my best to help you out.
Related Articles
True Hearts
Achieves a Good Rating of

4.5

/

5

– Reviewed by

Paul Gian