If you are having problems with visualizing actual diamond sizes in real life, you've come to the right place. We have compiled diamond weight charts for the most popular diamond shapes in the market!
Note: depending on your screen resolution, the actual size seen may vary.
Round Diamond Size Chart
Currently, the standard 57 facets round brilliant cut is the most popular choice of shape. Due its cutting style that's optimized for brilliance and dispersion, round brilliants make up for more than 60% of all diamonds sold in the world.

Now, I want to address a common misconception that people have when shopping for diamonds. Just because a diamond is twice as heavy as another stone, it doesn't mean it will look twice as large as the other.
As you can see above, the size of a 1 carat diamond is approximately 6.5mm (based on the assumption that the stone is cut to ideal proportions). On the other hand, the size of a .5 carat diamond is approximately 5.2mm. Even though the carat weight is 50% of a 1 carat stone, it doesn't face up twice as small!
Likewise, the physical size of a 2 carat diamond (8.2mm diameter) isn't twice as big as that of a 1 carat diamond (6.5mm diameter). Hopefully, this clears up the misunderstanding of carat weight and actual sizes.
Visualizing And Comparing Diamond Sizes on a Hand
James Allen has created a useful graphic illustration to help you see how an engagement ring with varying diamond sizes would look like when worn. Click here to find out more…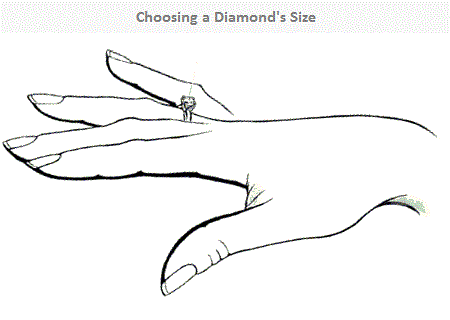 Visualize Fancy Cut Diamond Sizes in MM
For people who are looking up carat size to mm information for fancy cut diamonds, we had also compiled some useful reference data on this page. What I want to highlight here is that the dimensions/diameters shown here are based on "ideal" length to width proportions.
You need to understand that the "best" length to width ratios for fancy shaped diamonds are largely up to personal tastes and there's no right or wrong if you prefer a particular look.
Let me illustrate by using the heart shaped diamond as an example…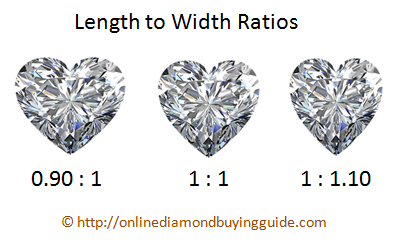 In our charts, the dimensions of a 1 carat heart shaped diamond is indicated as 6.50mm x 6.50mm. This is based on a length to width ratio of 1:1. Most people (including myself) prefer fatter looking stones with length to width ratios of around 0.90:1.
Obviously, the dimensions of a 0.90 l/w ratio heart diamond would no longer be 6.50mm x 6.50mm. In this case, a heart shaped diamond may exhibit dimensions of 6.15mm x 6.80mm and this is perfectly acceptable.
Princess Cut Diamond Size Chart

Oval Diamond Carat Size Chart

Cushion Cut Diamond Size Chart

Marquise Diamond Sizing Chart

Pear Shaped Diamond Size Chart

Emerald Cut Diamond Size Chart

Asscher Diamond Carat Size Chart

Radiant Cut Diamond Size Chart

Heart Shaped Diamond Sizing Chart

How to Use the Diamond Size Chart Correctly?
I want you to get this straight before you commit an expensive mistake when buying diamonds. The carat size to mm chart should only be used for visualization purposes and not as a tool to help you select a diamond.
Warning! Size Isn't Everything.
90% of diamond consumers prioritize carat size as the most important factor when making selections. CUT determines the sparkle of a diamond NOT carat weight. If you don't want to commit the same shopping mistakes others had made, you need to check out this proven method of choosing a diamond with the best sparkle and brilliance.

All in all, the "diamond mm to carat" charts are useful in providing you with a rough idea of how big the stone would look on a finger. To complete the selection process, you need to go beyond the 4Cs that are shown in a grading report.
Finally, did you know that you can decipher some hidden details about a diamond based on its weight alone? On the next page, we will show you how to reverse engineer and perform critical analysis when you go shopping for diamonds.
Related Articles