By now, I was pretty experienced in reading GIA reports as well as identifying any potential problems in a diamond. A GIA report actually contains a wealth of information if you know how to interpret the information correctly. With the dimensions (it should NOT look too big or too small for its carat weight), depth and table values for a heart shaped diamond, you can actually filter out the badly proportioned diamonds.
For a beginner, the best method to determine a diamond's optics is via Idealscope/ASET images. Regardless of shopping in a local store or via the Internet, I strongly encourage you to utilize this information to help you make better decisions.
After spending half a day of browsing through inventories, I came across a diamond that was a potential choice at B2CJewels.com. This time around, I would not make the same mistake twice. I called in immediately and made enquires for the stone. B2CJewels answered my questions with satisfactory responses and the support staff also gave some useful tips on selecting a ring design.
Update Oct 2018*: B2CJewels is no longer a jeweler I would recommend in good faith given the deteriorating customer service and lousy shopping experiences many readers have. 
Making Requests For Additional Diamond Details
Like many other Internet based diamond dealers, B2CJewels provides a virtual listing of their inventory and they do not list additional details beyond a lab report on their website. In my opinion, the minimum pre-requisite for any online purchase has to be a magnified image/video of the diamond.
Hoping that B2CJewels doesn't work the way Blue Nile does, I asked the support staff to provide me with those details. Within an hour's time of contacting their supplier, Kenny (the support staff that I talked to) got back to me with a photograph of the stone via email. (Blue Nile, did you see that? It isn't that difficult after all.)
On this note, an ASET image of the diamond was requested as well. Unfortunately, the supplier didn't have the necessary equipment to capture the image and wasn't able to provide this information. The next best thing to do was to make a request for the diamond's brilliance to be reviewed physically by the supplier.
For the record, I wouldn't have gone along with purchasing this stone without the ASET information had there not been the lack of other alternatives.

It's a lovely well cut heart shaped diamond with very good symmetry.

The GIA report checked out as well: https://www.gia.edu/reportcheck/
Having seen and compared a number of heart shaped diamonds (using photographs against ASET), I knew this diamond was one that had potentially good performance. This time round, I got Kenny to reserve the stone for me by placing it on hold. Thereafter, I went on to do further research on B2CJewels to verify that they are a legitimate company.
At the same time, I continued to widen my search for other diamond options that could be available. To cut a long story short, I finally went back to B2CJewels as they still had the best diamond choice.
For the ring setting, I chose a delicate pave design with a thin shank width of 1.6mm. This thin shank was chosen on purpose as it would make the diamond appear larger than it is. The other benefit of a thin shank is that the finger won't look too bulky when a wedding band is worn together with the engagement ring.
Which Type of Ring to Choose – White Gold or Platinum?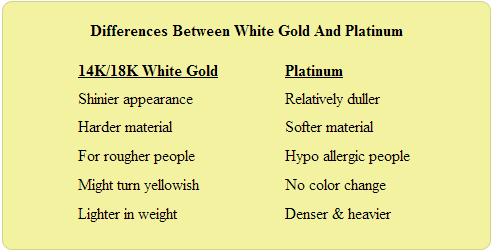 Platinum rings cost almost twice as much as 18K gold rings and they are softer (easier to get scratches and shape loss). Some people prefer the touch and feel of platinum jewelry since it is much heavier. However, I am a practical guy and I see no reason to spend this additional amount of money unless your recipient is sensitive to white gold.
Did you know that pure gold is soft and never a good choice for jewelry that is used for regular wear? 14K white gold rings consist of alloys made of platinum, palladium, nickel and trace elements that contribute to their better hardness. The difference between 14K white gold rings and 18K white gold rings lies in the amount of gold content used. The 14K gold material has a higher ratio of other metals mixed into its composition. This results in a material that is harder than 18K white gold.
Personally, I prefer 14K gold rings for practical purposes since the outlook of the ring is similar in both instances. If your girlfriend/wife has a tendency to be rough with jewelry, I recommend that you take the 14K option. Not only is it better for durability reasons, it also costs less.
The only downside for choosing white gold is the possibility that the ring might turn yellowish over time. Depending on how well you take care of the ring, the color change might be accelerated. Hence, it is good practice to remind your girlfriend/wife to take off the ring when applying hand lotions (contact with chemicals) or performing rough work.
That said, even in the event that the ring turns slightly yellowish, you can always bring it to a jeweler and get it replated with rhodium. This is a minor routine job that most jewelers are familiar with and will only cost you around $20.
* Update in Sept 2014 – It's been 3 years and the 14K white gold diamond ring I bought still looks the same color as it was when I first received it.
Choice of Pave Ring Setting For More Sparkle
This is how the ring design looked like from the stock photos displayed on B2CJewels. I would post pictures of the actual e-ring and follow up on this post when it arrives. The ring setting costs $460 and represents good value as the pave diamonds add more bling to the ring's outlook.

A simulated image of wearing the ring with a 1 carat sized diamond.

14K white gold pave ring specifications
Now, the usual practice for international diamond buyers residing outside USA is that you are required to make payment via wireless bank transfer. This is a regular practice in the industry and across online sites like James Allen, White Flash, Brian Gavin Diamonds etc… Other modes of payments apart from wire transfer are usually not accepted to prevent fraud.
If you are based in the USA, more payment options like credit cards, Paypal, Google Checkout would be available to you. These payment options offer you protection when you make purchases online. For example, credit card companies can do a "charge back" or you can raise a dispute with Paypal if there is a need be.
Paying via bank transfers does have its merits too. Due to lower costs incurred in transaction fees, most vendors will pass the savings onto you. This is why you often see a small discount (~ 3%) on prices when you choose to pay by wire.
Making Payment Was Easy And Painless
When I was ready to make the purchase, I requested B2CJewels to allow payments with Paypal and they had to go the extra mile to get the payment method activated for me. Paypal is my preferred choice of payment because it offers some levels of protection and I was already used to making purchases with my Paypal account.
Of course, I had to email them copies of my identification documents to prove that I am a real person (verify shipping address, name, country etc…) before the transaction was completed. Believe it or not, legitimate online vendors are just as worried about getting scammed as you are. Lastly, B2CJewels tied up some loose questions and highlighted the tax duties that would be applicable for my purchase.
Depending on which part of the world you are in, purchasing a diamond might require you to pay some form of tax or duties to the authorities. In Singapore, our government imposes a 7% Goods Service Tax and this amount is payable when the ring arrives at the customs. If you are unsure about the process of paying duties/taxes in your country, do a check and clarify this with the jewelry company. They should have a better knowledge of international shipping and can probably give you better advice than I can.
After reviewing my order, I bit the bullet and took a leap of faith to complete the e ring purchase. The excitement was hardly containable as the wait for the parcel arrival began.
Here's the Overview of My Purchase
Diamond: $3416.65
Ring Setting: $460
Total: $3876.65
After 7% Tax (Singapore Customs) : $4148.16
On the next page, you will get to see pictures and videos I made of the diamond ring.
Related Articles