A cloudy diamond adversely impacts brilliance and kills sparkle.
When it comes to engagement rings, I'm pretty sure most people won't like seeing a cloudy diamond that looks dull and milky. Instead, you probably want a diamond ring that looks clean and lively to the eyes.
In this write up, we are going to cover the 3 main reasons that make a diamond cloudy and how you can avoid buying a hazy looking diamond by shopping smart.
▸ Clarity Issues And Inclusions That Can Make a Diamond Cloudy
▸ Dirt, Grim and Oils on the Surface of the Diamond Facets
▸ Strong or Very Strong Fluorescence Can Make Diamonds Chalky Looking
▸ How to Avoid Buying a Hazy or Milky Diamond by Shopping Smart?
Clarity Issues And Inclusions That Can Make a Diamond Cloudy
First things first, I want to show you what a cloudy diamond looks like and if you compare it side by side against a clear, transparent diamond, the differences can easily be seen.
Cloudy diamond vs clear diamond video comparison.
Clarity issues are the main reasons why a diamond can look cloudy. This is fundamentally due to the nature/severity of the inclusions and things tend to get worse as you go lower in clarity grades (e.g. SI1 and below).
In general, when a low clarity diamond has inclusions like clouds, twinning wisps listed as the grade making inclusions, it calls for extra caution. This is because excessive clouds, twinning wisps and pinpoints can affect the brilliance of the diamond.
From experience, there are some other telltale signs in a grading report that points to the likelihood of a hazy diamond. One such telltale sign is an inclusion plot which shows a lack of plotted inclusions in a slightly included (SI) or included (I) diamond.
Clean looking inclusion plots of slightly included or included diamonds are yellow flags.
When you see similar diagrams for slightly included diamonds (plots that are too clean!), it is wise to have a closer inspection before you commit to purchase it.
The other red flag found in a GIA/AGS report is the presence of the following comment: Clarity grade is based on clouds that are not shown. This statement is the death kiss of a diamond's life and sparkle due to the severity of the cloud inclusions.
Here's an example of a cloudy SI2 diamond that would look dull and whitish. Click on the image and interact with the HD magnified video to see the diamond's appearance for yourself…
If you clicked on the listing above and reviewed the GIA report (#7261338168), you will realize that the clarity plot is suspiciously clean for an SI2 diamond. It only lists a tiny crystal and needle in the plot which raises the question; what actually caused it to be graded as an SI2.
---
When it comes to buying diamonds with lower clarity ratings, there's a common misconception that diamonds become cloudy solely due to the presence of cloud inclusions. In fact, some people wrongly assume that other types of inclusions like feathers or twinning wisps wouldn't cause issues with chalkiness.
To illustrate this, take a look at the following diamonds…
The numerous twinning wisps in the diamond on the left are so dense that it fogs up the stone's appearance. In this particular example, you can also rotate the stone and see that there are certain areas which are more opaque.
As for the diamond on the right (GIA #2196138333), you will find that there is absolutely no mention of any cloud inclusions anywhere on the report. Yet, this diamond looks extremely hazy and lacklustre due to the twinning wisps.
Dirt, Grim and Oils on the Surface of the Diamond Facets
While intrinsic qualities of a diamond can be the root cause of a cloudy appearance, sometimes the problem actually stems from the external cleanliness of the engagement ring.
I often hear people complaining about their engagement rings that they don't sparkle as much as before. Once I examined their ring, I immediate see why and that's because they didn't perform any routine cleaning maintenance.
Check out the following comparison of the diamond ring when it is clean versus when it is dirty and covered in grim.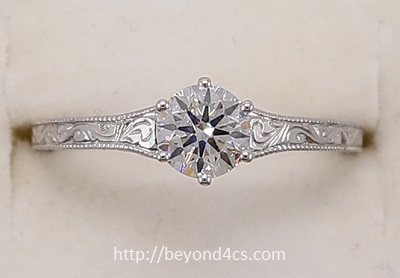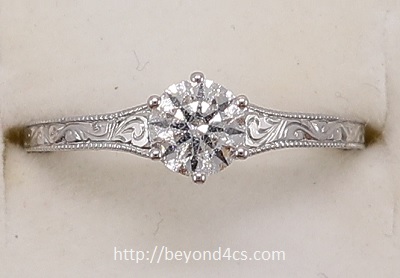 Clean vs dirty diamond engagement ring
You see, diamonds are a magnet for grease/oil as their surfaces muck up easily. A dirty stone doesn't sparkle because light simply can't enter the diamond and causes it to appear dull.
So, if you notice your diamond jewelry getting cloudier overtime, it's likely due to a dirty surface and there's an easy fix to restore their luster.
All you need is to take 5 minutes of your time to wash and clean your jewelry. I've outline an easy step by step guide you can use here.
Strong or Very Strong Fluorescence Can Make Diamonds Chalky Looking
While it is not common for fluorescence to impact a diamond's visual appearance,  sometimes a strong or very strong fluorescence rating can cause the stone to look oily. This is due to the chemical composition of the stone and its interaction with light.
Based on my experience, this phenomenon usually manifests itself in colorless diamonds (D-F) and I've made an entire article to discuss this topic here. When fluorescence negatively impacts a diamond, the visual effect is pretty obvious.
Here's a case study example for you to look at…
In the above example (GIA #2196310203), the diamond has the best possible D color and a VVS2 clarity with the inclusions being stated as pinpoints. Yet, its transparency is negatively affected because of its strong blue fluorescence.
And before you dis and condemn all diamonds with fluorescence, I want to go on record to say I personally love blue fluorescence and think it is a cool feature to have.
It is perfectly OK to buy diamonds with fluorescence as long as you examine and review details before making a purchase.
If there were indeed issues, they show up in videos and even an untrained eye will be able to pick them out easily. And when you do see a cloudy diamond, be smart and walk away regardless of how great the price point is.
How to Avoid Buying a Hazy or Milky Diamond by Shopping Smart?
The main reasons that cause consumers to make the mistake of buying a cloudy diamond are due to greed, stupidity and insufficient knowledge.
Based on experience with readers, most people unknowingly buy a hazy diamond because they bought SI/I diamonds at "fantastic" prices that seemingly had no flaws. And worse still, some even buy SI diamonds blindly based on a grading report.
Get this; there's a reason why some diamonds are priced at ridiculously low prices and shopping with a "cheapo" mindset will usually land you at the shorter side of the stick.
So, how do you avoid the pitfalls of buying a diamond that looks chalky and lifeless?
Well, the key is to shop with tangible data like magnified videos and scope images.
Here, I also want to be very clear that buying a slightly included diamond is perfectly fine if you know what you are doing. Eyeclean SI1 diamonds offer great value for money as long as their inclusions don't pose any problems.
Case in point, the diamond on the left is an SI1 diamond with a crystal inclusion that is eyeclean. On the right, the 1 carat F color diamond has strong blue fluorescence which doesn't affect the stone in any way.
Having reviewed the videos for the listings, I can tell you that both of these diamonds are great buys as they are extremely well cut for sparkle and performance.
As you can see, making rational purchasing decisions is something anyone can easily do even if this is your first time buying a diamond. I hope you've learnt something useful here and if you have any questions or need help with a purchase, feel free to get in touch.
Related Articles