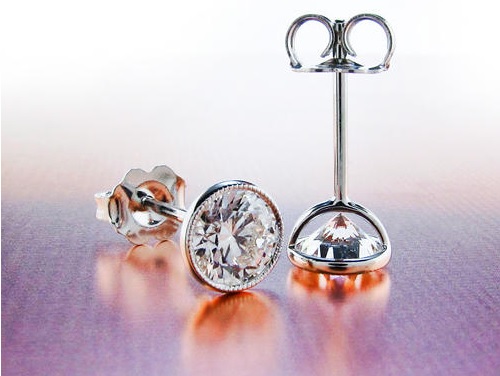 Handmade milgrain and bezel studs in 950 Pt – Brian Gavin
For the uninitiated, choosing a diamond can be hard. Finding a pair of perfect diamond earrings can be even more difficult. You see, factors like stone sizes, diamond shapes, face contours and etc… all require the right balance and detailing to make a pair of earrings stand out.
Luckily for you, we are here to take the guess work out in today's blog post. We'll tell you how to find the right earrings for your face shape, the different styles available, the best places to buy diamond earrings and more below…
Tips for Selecting a Diamond Shape For Your Studs
The beauty of diamond studs is that they are suitable for most types of face shapes (which is why they are very popular). They are also great accessories to match your dress code for casual wear or fancy ballroom events.
Here are some guidelines to help you choose a diamond shape for yourself. If you have a broader face type, elongated shapes like the emerald cut, radiant cut and marquise cut will complement your face. This is because they provide an impression of length with their proportions.
If you have a thinner face type, symmetrical shapes like the round cut, princess cut and Asscher cut are options that would flatter your face shape. As a rule of the thumb, round diamonds are safe options and can work with any type of face shapes.
Incidentally, round diamonds also have better sparkle factor and brilliance compared to other shapes of diamonds.
Designs Available & The Best Places to Buy Diamond Stud Earrings
Regardless of your personal style or fashion taste, there will always be stud designs that suit your needs. When buying a pair of diamond studs, the 2 most important criteria to look out for are: quality of the center diamond and workmanship of the setting.
Bear in mind that even the most beautiful diamond will look terrible if it were set into a poorly made setting. To find a great pair of earrings, the key lies in balance and craftsmanship.
Now, I emphasize the need to source for reliable bench jewelers because the good ones pay attention to details. They will make the difference between earrings that turn out droopy or the ones that look great.
Classic Basket Style Diamond Stud Earrings
Basket style diamond stud earrings were one of the original designs that lasted through generations of creativity. Today, they remain one of the most popular styles of setting designs. Feel free to click on any of the stud designs to find out more details…
Prong Martini Style Diamond Stud Earrings
The 3-prong martini (or 4-prong) setting is one of my favorite designs. It is a simple yet evergreen design. More importantly, the 3 prong martini style setting provides a base with good center of gravity. This enables the stud to fit snugly against your ear lobe for a great presentation.
Bezel Style Stud Earrings
Bezel set diamond studs are very hardy and designed for maximum security. They are great for people who are rough with their jewelry. Bezel settings tend to be more expensive because of the skilled labor required to set them correctly.
Halo Style Stud Earrings
Halo designs add extra bling to a piece and create an illusion of a single large looking diamond without the huge costs. This is achieved by mounting melee diamonds along the perimeter of the center stone.
Designer And Branded Stud Earrings
If you are looking for a bolder or more unique style of design for your earrings, designer brands like Ritani are worth looking into.
Preset Diamond Stud Earrings – Are They Any Good?
You probably came across preset diamond studs if you did some shopping online or around your local stores. The meaning of preset is that the center stones have already been mounted and the piece of jewelry is ready to be purchased.
Now, preset jewelry offers a level of convenience since it completely removes the involvement of the consumer in the fabrication process. Decisions for diamond quality, carat size and price points are predetermined by the jeweler.
As a consumer, you need to understand that preset jewelry is a can of worms because it allows jewelers to abuse marketed claims and misrepresented quality. The fact is, most preset earrings do not have reliable grading reports from GIA or AGS that ensure the accuracy of the represented quality.
Very often, consumers get ripped off thinking that they had gotten a great deal (i.e. earrings advertised as F color/VS2 clarity). In reality, the real quality of the earrings could defer greatly (I color/I1 clarity).
Here's the bottomline: if you are buying a pair of diamond studs with centerstones larger than 0.30 carats individually, you better make sure there are reliable grading certificates from GIA or AGS. If the jeweler doesn't offer a grading report or attempts to sell you uncertified diamonds at "cheaper" prices, I can guarantee you are in for a giant rip-off.
The only exception to this guideline is when you are purchasing a pair of diamond studs made of up of melee stones smaller than 0.30 carats (see below). In such a scenario, grading reports are not necessary because the size of the diamonds are too small to make economical sense (cost of grading far outweighs the cost of a melee diamond).
How to Choose Diamonds For Earrings
Just like shopping for an engagement ring, cut quality is the most important aspect of a diamond. This is because it directly translates to the amount of sparkle and brilliance the diamond displays.
Now, there are some differences I want to highlight when you are choosing diamonds for earrings. First of all, the viewing distances for earrings are much further away compared to engagement rings. Since size is usually the first thing people notice about diamond jewelry, it makes sense for you to prioritize carat weight when shopping for a pair of studs.
Secondly, when diamonds are mounted onto a stud and worn on the ear, they are usually set lower and seen in the face up view. Combined with longer viewing distances, the color and clarity of a diamond will not be readily noticeable by the naked eye.
So, here are my personal recommendations when choosing diamonds for your earrings.
Cut quality has utmost importance because it determines the beauty of the diamond.
Carat size should be as big as your budget allows.
Color should be kept in the G-I ranges.
Clarity should be kept in the VS2-SI2 ranges. (as long as the stone is eyeclean)
The guidelines above provide the most practical approach to getting the best value for your money. At the end of the day, your personal preferences will matter the most and these are not hard & fast rules.
If you are in the market to buy a D/IF rating for symbolic reasons, who's to say you are wrong?
Regardless of your personal preferences, there's one thing you can never skimp on. And that is cut quality. For a step by step guide to select diamonds with confidence, I recommend you read every single word in this section.
Summary – Women's Jewelry Guide to Diamond Stud Earrings
Hopefully, you now have a clear idea on the various types of designs available for ear studs and have learnt something useful in this week's post. Remember, CUT is KING when it comes to buying diamonds even for earrings.
Here's a fun reminder. Show off your earrings! Whether you are putting them on for a big night out or on a regular working day, wear them with confidence. If you utilize the diamond shopping tips on Beyond4cs.com, I can assure you that your earrings will "POP" with sparkle.
Lastly, I wish you the best of luck as you pick out your brand new diamond stud earrings. And if you have questions, don't hesitate to get in touch with us via email or leave a comment below.
Related Articles