Stunning 3 prong martini diamond earrings from White Flash.
Diamonds are the ultimate form of luxury when it comes to buying jewelry. They sparkle beautifully in the light and can make any piece of jewelry look amazing.
While diamond rings are often in the limelight because of their wow factor, diamond earrings are one of the most versatile fashion accessories in a woman's jewelry collection.
In this write up, we take a comprehensive look at the best places to buy diamond earrings and outline the important things you need to know before making that purchase. Let's jump right in…
Here is a list of topics we will be covering:
5 Important Guidelines For Buying Diamond Earrings
Whether you are buying a diamond ring, necklace or earrings, the best way to approach a purchase is to gather knowledge (i.e. learn the 4Cs) and make your decision based on tangible information.
One of the biggest mistakes most consumers make when buying a diamond is to rely blindly on what the jeweler says and that they have your interests at heart. Many simply assume that the jeweler is knowledgeable in what they are selling but the hard truth is, most aren't. In fact, you will know more about diamonds by reading Beyond4Cs.com than their "years of experience" in the industry.
If you want to choose a pair of beautiful and sparkly diamond earrings without breaking the bank, here are 5 guidelines you can use:
Cut quality is of utmost importance as it determines the sparkle factor of the diamond.
Carat size should be as big as your budget allows.
Color can be kept within the near colorless (G-I) range.
Clarity can be kept within the VS-SI range as long as the diamond is eyeclean.
If buying diamonds larger than 0.3cts, choose your own diamonds instead of buying preset.
The rationale behind these guidelines is really simple. Unlike buying a diamond for an engagement ring where the viewing distance is much closer, diamond earrings are often seen from a longer distance.
This means that the naked eye will find it extremely hard to pick up color and clarity issues in casual viewing. A well cut diamond with near colorless G-I ratings will face up white and the majority of inclusions in VS-SI ratings will not be visible.
Because of this, there's no practical reason to pay for features that your eyes cannot see. Even if you buy a D/IF diamond and set it in the ear stud, it will look identical to a G/VS2 diamond in a side by side comparison.
On the other hand, carat size and sparkle (cut quality) will be the first things that people notice when they see someone wear a pair of diamond earrings. When buying larger sized diamonds (above 0.3ct), you want to be choosing your own diamonds and make sure they come with a GIA/AGS certificate.
With all that said, your personal preferences will matter the most at the end of the day. If you like a pair of D color diamond studs or prefer a vintage-looking K color pair of earrings, who's to say you are wrong?
What Are The Things to Look Out For in a Retailer?
Diamond earrings are popular forms of jewelry you can find in almost every jewelry store. I know most people will have a tendency to start shopping at local stores but you could be making a big mistake by doing so.
From personal experience, the vast majority of diamond earrings being sold are priced excessively for the mediocre product quality they offer. In my opinion, there are 4 things to look for when sizing up a retailer.
They are: craftsmanship, selection of high quality diamonds (i.e. GIA/AGS), prices and sales policies. Good jewelry craftsmanship ensures that your diamond earrings can last for a very long time and helps elevate the earring's appearance.
If you are choosing diamonds for your earrings, having a good inventory of choices for you to cherry pick from is mandatory. Most stores expect you to buy based on whatever they have on hand and in most cases, this means you likely have to compromise on your budget and quality.
When buying a big-ticket item, the difference in prices can easily amount to thousands of dollars. For example, a 20% difference on a $5000 pair of earrings can equate to $1000 of cash that you can use towards other things.
Do note that if you are comparing prices, you need to be comparing apples to apples. This is because factors like diamond quality, certification and even business overheads can cause price differences.
Finally, the sales policies offered by a store are important indications of how they treat customers and whether they stand behind their products. I only recommend buying from stores that offer a 15-30 day full money back guarantee as it gives you time to review your purchase.
Where Are the Best Places to Buy Diamond Earrings?
Best Place to Buy Diamond Earrings on a Budget or Preset Designs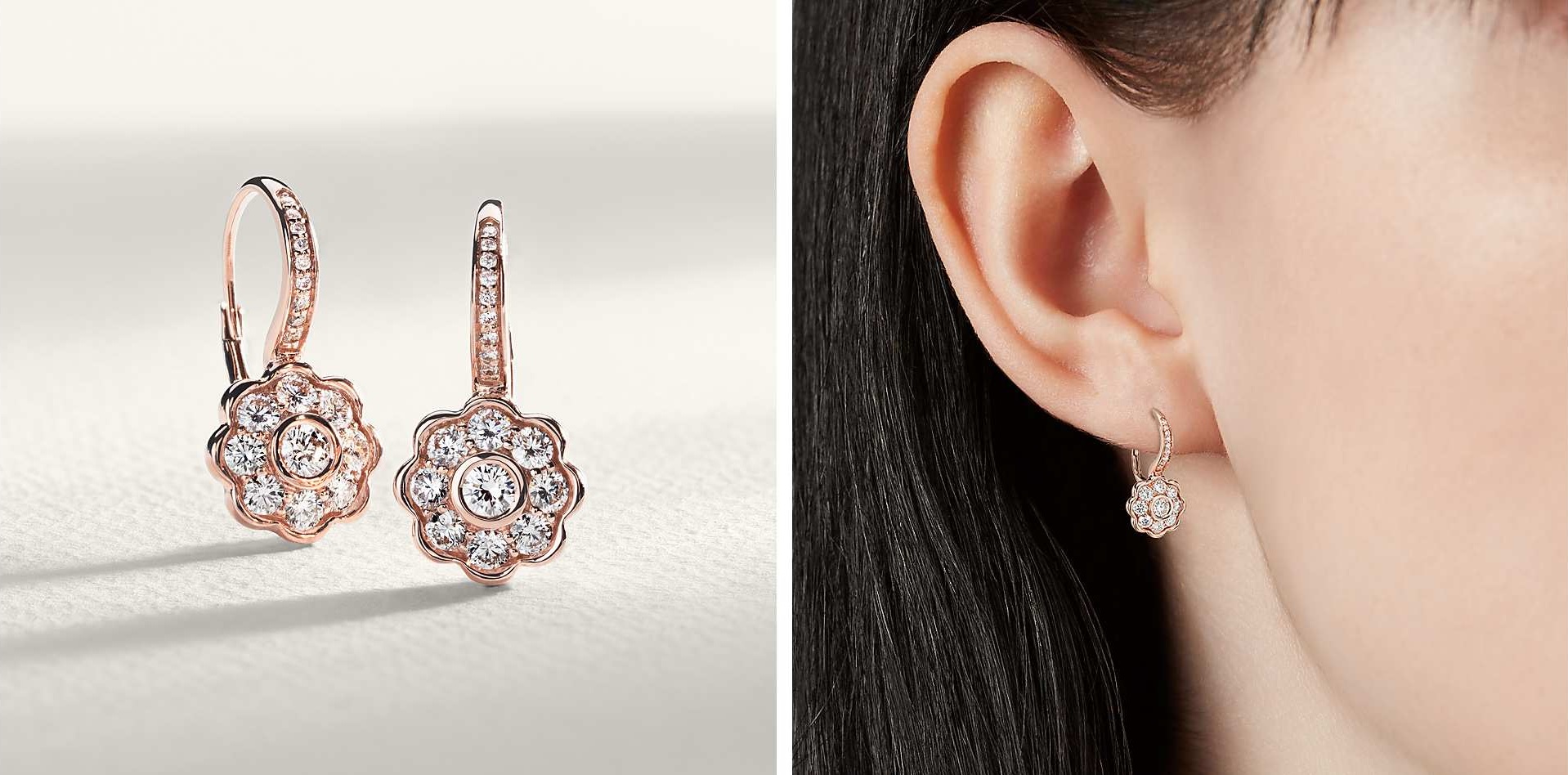 Studio diamond floral drop earrings in 18k rose gold (1 3/8 ct. tw.)
Blue Nile – They are the world's largest online jewelry retailer and are highly reliable. Blue Nile also offers a massive inventory of GIA certified diamonds and diamond studs for you to cherry pick from.
On top of that, their website and ordering process are pretty intuitive and easy to use. They have images and videos for almost every item in their inventory and good after sales service as well.
In fact, I've made multiple purchases from them to review their products and their delivery process is pretty fast. The most recent purchase I made was a beautiful halo diamond ring and you can view full details of the review I performed here.
One thing I love about Blue Nile is that they cater to people of different budgets and requirements. Whether you are shopping for a $1,000 pair of diamond earrings or a $10,000 pair of diamond studs, there are plenty of options for you to choose from.
In my opinion, they are the best place to buy preset diamond earrings and have plenty of options available for people with smaller budgets. Blue Nile has a 30 day money back guarantee where you can choose to get your money back or perform an exchange if you are unsatisfied with the finished product.
Best Place to Buy Diamond Stud Earrings Online
Examine diamonds in full details using HD videos under magnification.
James Allen – This is our top recommended diamond retailer who had built up a solid reputation over the years. James Allen is a pioneer in the industry as they revolutionized diamond buying with their 360-degree HD video listings.
For many first time shoppers, the diamond industry can be very difficult to navigate as there is a lack of transparency and knowledge gap. One of the biggest problems is that most consumers have no idea what they are buying or how their diamond really looks like (yes, even buying in a physical store poses such issues).
Shopping at James Allen changes all that as their video technology provides true-to-life, high definition videos of every single diamond in their collection. This enables you to examine what you are buying in full detail and see exactly what you are getting in a pressure-free environment.
For consumers, this is a game changer because you are now able to easily select eyeclean diamonds in lower clarity ranges. This means you can get better value for your money and don't need to buy higher clarity grades for practical reasons.
There are hundreds of earring designs for you to choose from at JamesAllen.com
When it comes to diamond earring designs, they have 100s of preset designs for you to choose from and a number of designs for you to create your own studs from scratch. They are also the best place to buy diamond stud earrings especially if you are looking for fancy shaped diamonds.
James Allen also offers some of the best customer service in the industry and they fully back their purchases with a 30 day no question asked returns. In fact, they are so confident about their products that they even offer free return shipping for a completely risk-free shopping experience.
Best Place to Buy Diamond Earrings With Superlative Sparkle
Beautiful 18k white gold 6 prong "martini" earrings from White Flash.
White Flash – This vendor specializes in super ideal cut diamonds and is an authorized retailer for many well-known designer brands. If you are someone who prioritizes sparkle and brilliance, White Flash is the best place to buy your diamond jewelry from.
White Flash is on the top of my recommendation list because of their business transparency, affordability and consumer-orientated sales policies. One key feature that makes White Flash stand out is the strict curation standards they use in their signature A Cut Above diamonds.
Not only are their diamonds hand selected for the best cut precision and light performance, but they are also completely transparent about listing data for each of their signature diamonds. From hearts and arrows images to ASET/Idealscope images, a shopper can quickly use these data to analyze and make informed decisions.
White Flash is based in Texas, Houston and has a physical showroom that you can visit in person. They also pride themselves in providing great customer service. They have a 30 day return period and one of the best service plans in the industry.
When it comes to diamond earrings, White Flash also stands out from other vendors because of the high-quality melees they use in their jewelry production (i.e. halo, pave designs). These are finely crafted diamonds that are polished for the best sparkle and will elevate the appearance of the jewelry piece.
White Flash also offers a number of beautifully designed diamond studs, drops, halos and hoops that you can choose from. In fact, I've personally made more than four different purchases from them and they've always impressed me with their high quality craftsmanship.
Summary: Let's Wrap Things Up
Although diamond earrings don't require high color/clarity ratings compared to buying a diamond engagement ring, cut remains cardinal for a stunning piece of jewelry. Remember, the viewing distances for earrings are generally further and choosing lower clarity/color grades for higher carat size would make practical sense.
I've listed the top 3 places for buying diamond earrings above because of the positive experiences I've had as well as from thousands of other readers who had bought from them.
These are highly trustworthy companies with proven track records of delivering high quality diamond jewelry. All 3 vendors offer a good range of product choices and quality but there are some slight differentiating factors between them.
The best place to buy diamond earrings would depend on what you are looking for and your personal preferences. With that, I wish you the best of luck in your search and if you have any questions, feel free to get in touch with me for a 2nd opinion or if you need help to pick out a pair of matching diamonds.