Small and dainty engagement rings are making big waves…
When it comes to diamond engagement rings, you probably heard the old adage "bigger is better". However, there's a recent movement towards minimalistic and simple ring designs that are bucking the traditional concept of a flashy engagement ring.
In fact, dainty engagement rings have gained a lot of popularity among younger couples for their endearing designs and affordable costs. This rising trend has also resulted in jewelers expanding their product selections into delicate looking ring designs.
In this write up, we are going to reveal practical tips for buying a dainty diamond ring and show you what to look out for. You will also find out what are the best ring designs available and where to buy them.
Let's get started…
Here is a list of topics we will be covering:
What is a Dainty Engagement Ring – Definition And Characteristics
Depending on who you ask, a dainty diamond ring can mean a lot of different things. In general, dainty ring designs are characterized by being discreet and simple. If there are any design work or style alterations, it would be minimalistic and very basic.
Design traits such as having thin bands and smaller diamonds around 0.5 carats in size would be common characteristics as well. With that said, that doesn't mean pave bands or split shank designs can't be classified as "dainty".
What I am saying here is that there isn't any hard and fast rules about what makes a ring "dainty". It really depends on the vibe that the ring's appearance gives on the whole.
Why Do People Prefer Smaller & Simple Looking Rings?
There are plenty of reasons why people prefer dainty engagement rings because some may like minimalist jewelry as compared to blingy stuff. Depending on the type of work the wearing is doing on a regular basis, a simple diamond ring design may be more practical for everyday wear.
On a similar note, small and delicate engagement rings are also perfect for women with tiny hands/fingers. In contrast, buying an excessively large diamond ring may result in a gaudy appearance when it is worn.
Generally speaking, dainty diamond rings cost less because of their simpler design and smaller center stone. For people who are on a tight budget, simple rings can mean the difference of thousands of dollars compared to a more extravagant one.
At the end of the day, many people also view an engagement ring as a symbol of love and commitment instead of something that is flashy or for showing off.
Top 8 Superbly Sweet Looking And Delicate Engagement Ring Designs
Due to their rising popularity, there are plenty of dainty diamond ring designs in the market available. To be clear, dainty rings don't necessarily mean solitaire designs and they can span across many styles of designs like pave and halo.
What they do have in common is that they have a demure appearance and tend to be less flashy than the traditional designs in the market. I've listed some of my favorite designs below and if you are interested in more details, simply click on the image or corresponding links!
The Carina solitaire engagement ring features a graceful looking design with shanks that caress the center stone. This beautiful swirl ring will melt hearts and sweep your love off their feet.
---
A simple engagement ring with a converging cathedral shank, this petite design is perfect for people with small hands. The smooth, flowing lines of this setting create an aura of elegance.
---
This minimalist engagement ring is a down-to-earth and evergreen design that sports a 4 prong solitaire diamond. Available in white gold and platinum, it is highly affordable and compatible with any diamond shape.
---
This curved chevron ring is a simple design with a unique appearance. Due to its delicate nature, you do need to be careful when wearing it as resizing or repairing this ring setting would be very difficult.
---
With a series of fancy shape princess and baguette-cut diamonds lining the shanks, this dainty diamond ring is crafted in yellow gold and lined in a dot-dash pattern. It looks like some kind of morse code that symbolize your love for the wearer.
---
This tiny diamond engagement ring features a mini baguette diamond that is set in an east-west orientation. It's simplicity at its best in a yellow colored ring setting. Great for people with tiny hands and low budgets.
---
Classic and refined, this minimalistic engagement ring is designed for wearing comfort and for holding smaller carat weight diamonds. A highly affordable and no-frills design that offers a touch of elegance.
---
Opting for a dainty engagement ring doesn't mean you have to stick with plain, vanilla designs like solitaire settings. This petite micropave diamond ring was recently bought with a budget of $3,000. I performed an indepth review of its craftsmanship where you can view more videos and photographs of the ring here.
Practical Tips to Choosing a Dainty Engagement Ring
While there are no rules that dictate how to choose a petite engagement ring, here are some practical guidelines that may help you when it comes to buying a long-lasting piece of jewelry.
First of all, when it comes to dainty rings, the choice of metal would be important as it needs to hold up to wear and tear; especially if it is intended for long durations of wear. I would personally recommend only platinum or white/yellow gold as they have tough material properties.
In order to achieve a dainty appearance, you would generally want to keep the carat size of the diamond under 0.50 carats. You should bear in mind that a reliable grading report from GIA or AGS is mandatory for diamond sizes larger than 0.30 carats. This ensures that the material properties of the center stone are accurately assessed.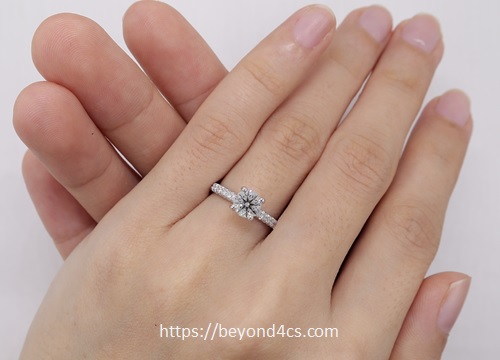 This petite ring has a band thickness of 1.6mm – 1.8mm.
The thickness of the band's width would determine how delicate or bulky the ring would look. A thickness between 2.0mm to 2.2mm would be the standard sizes that most rings in the market are made to. Going for a 1.6mm – 1.8mm ring would give you a dainty look while still maintaining structural integrity.
Now, I know there are people who may be thinking: "Why not go even thinner to widths below 1.5mm?". I do not recommend doing this as rings do require some thickness for its mechanical strength. If a band is too thin, it can deform easily during wear.
For the last tip, dainty wedding rings are notoriously hard to match with because of their simplistic design. If the recipient intends to wear a wedding band along with the engagement ring, you will need to plan ahead. Wearing a mismatched ring set can cause discomfort on the finger and also result in an awkward appearance.
To overcome this, my advice is to get matching wedding bands that are offered by the same vendor you purchased the engagement ring from. This will save you a lot of hassle and unnecessary stress if you didn't think about this beforehand.
Overview – Keeping It Simple And Minimalistic
The wedding industry is often adorned with headlines of flashy and bold looking diamond rings but sometimes, less is more. I hope this article has offered useful insights into choosing a dainty diamond ring and given you ideas of the creative designs available in the market.
Now I want to hear from you.
What do you think about buying a dainty engagement ring and is there any particular design that you liked? Let me know in the comments below! If you have any questions or comments, feel free to post them below!
Related Articles