Disclosure: Please note we may generate revenue through the links/ads on this page and throughout this site. That said, we do NOT accept paid reviews and take great pride in providing honest opinions and objective information on products/services. Put simply, if a product isn't good enough for us to personally buy, we won't recommend it.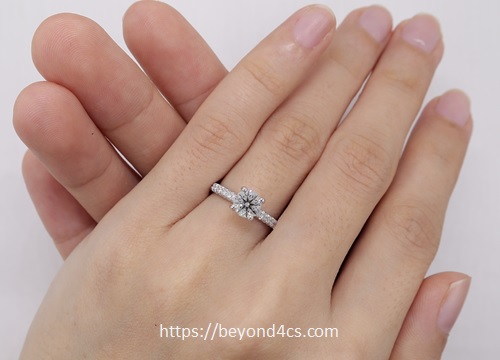 This beautiful diamond ring was purchased from James Allen for less than $3,000.
When it comes to buying a diamond engagement ring, James Allen is in a league of their own. Founded in 2006, they have built up a solid reputation and established themselves as a leader in diamond e-commerce.
So, what makes JamesAllen.com one of the BEST jewelry retailer in the world? Why should you choose them over big brand stores like Tiffany or Cartier? Just how good is their craftsmanship and the quality of their engagement rings?
In this comprehensive review of James Allen, you will find answers to these questions and more. You will even get to see an unboxing video and an upclose analysis of a diamond ring that was recently purchased.
Let's get started…
You can jump directly to any section of the review or keep scrolling to read the full write-up.
Overview of JamesAllen.com – A Pioneer in Online Diamonds
When it comes to buying an engagement ring, the traditional method (which is also the dumbest way) of shopping is to head to a couple of jewelry stores, look at a limited selection of diamonds and make a purchase decision without fully understanding what you are seeing or buying.
James Allen has changed all that and revolutionized the way consumers shop for fine jewelry. With their proprietary Diamond Display Technology, it gives you the ability to SEE and scrutinize diamonds upclose with complete transparency.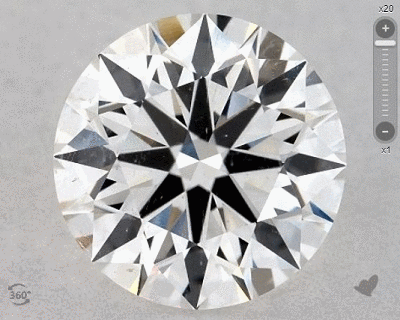 Where else can you easily get to see a diamond in such details? 
Rather than having to rely on a grading report or a salesperson's opinion, you can examine diamonds at your own time and in full details. Click on this link to review the 360° video of the diamond above.
Compared to other jewelry retailers, James Allen also stands out by providing an unmatched shopping experience. Here's a list of features that James Allen offers…
1. Massive Inventory of Over 200,000 Loose Diamonds
Intuitive search tool that helps you narrow down options quickly and easily.
Let's start by talking about the extensive inventory of diamonds offered by James Allen. At the time of writing, they have more than 200,000 loose diamonds listed on their website. Each of these diamonds come with a grading report that is issued by GIA, IGI or AGS.
Now, I know some of you may be wondering what's the big deal about having more selections? After all, you are just buying one engagement ring and all you need is just one diamond, right?
Well, this big selection of diamonds provides you with the opportunity to cherry pick the BEST diamond for any stipulated budget. It allows you to compare diamonds in detail to help you find your perfect stone.
Contrast this to the measly one or two options you typically get in a physical store, there's no need for you to make compromises on diamond quality.
2. Real Life Videos of Products in High Definition
Being able to visualize and see EXACTLY what you are buying is crucial when it comes to selecting a diamond. Why? That's because every single diamond is uniquely different even if they have the same clarity, color and cut ratings on paper.
To illustrate this point, I've selected two F color, SI1 clarity GIA triple excellent diamonds for a comparison. On paper, both diamonds may look similar to each other but in real life, they are completely different.
Click this link to look at full details of the 2 diamonds above…
The diamond on the left isn't eyeclean and has a visible cloud inclusion under the table while the diamond on the right has scattered inclusions and is eyeclean. Even if you are a layperson, spotting issues like these is pretty straightforward by using the 360° videos.
In fact, the videos even reveal which diamond is better cut for light performance and optical precision! If you are a discerning shopper, you need to go beyond a grading report when buying an engagement ring.
3. Competitive Pricing For High Quality Jewelry
Even with a budget of $3,000, I could get a beautiful pave diamond ring at James Allen.
Unlike traditional brick and mortar stores which incur significant overheads due to rental, inventory and staffing costs, James Allen has much leaner business operations. As a result, the savings are passed onto consumers and you get much lower diamond prices.
By heading online, you not only get better selections and quality of diamonds, you also get to enjoy massive savings of 30-40% off store prices. In fact, when I shopped at places like Tiffany and Hearts on Fire, the price differences are a whopping 100% more!
4. Wide Selection of Setting Designs And Customization Options
James Allen offers more than 600 beautiful setting designs in a range of styles. And the great thing is, you get to visualize them in 360-degree videos just like their loose diamonds.
One of the things I love about James Allen is the level of autonomy and degree of customization you get in making choices. Whether you like a solitaire or a halo design or prefer a platinum or white gold metal, you can definitely find something that suit your tastes.
For people who want to add a touch of personalization to their ring, James Allen offers free engraving as well.
And if you still can't make up your mind, you can also browse through their Inspiration Gallery and review what others had bought before you.
5. Exclusive Diamond Selections
James Allen has a massive inventory and at the top of it, lies their premier collection of diamonds called True Hearts. This exclusive range of diamonds are curated for the best optical performance and brilliance.
Having purchased and seen many of these True Hearts diamonds in person, I can tell you that they are the cream of the crop when it comes to sparkle and cut quality. If you are interested, you can read my indepth review of True Hearts diamonds here.
The CanadaMark Diamonds are another exclusive selection that James Allen offer. As the name suggests, these diamonds originate from Canada and are known for their ethical mining standards and strict environmental protection laws.
Produced with the utmost integrity, the source of each stone is meticulously tracked in each step of the manufacturing process; from the mine to the polished gem. So, if you are someone who values sustainable mining practices, check out the CanadaMark diamonds for yourself.
6. Always-on Customer Support – 24/7
Have you ever tried walking into a physical store and viewed diamonds while a sales staff is persistently breathing down your neck? Have you experienced annoying pressure selling tactics to make you purchase something regardless of whether it is suitable for your needs?
Well, I had and I always hated it.
Instead of taking time to properly assess a customer's needs, the majority of sales assistants are more concerned with making a commission from a sale rather than putting your interests first. But that's not the case with James Allen.
JamesAllen.com offers 24/7 customer support with a non-commissioned team of professionals and this ensures you get objective advice when shopping. If you run into any questions, simply hit the "Chat With Us" button to get answers quickly.
Plus, they even have a cool support feature where their staff can share their screens with you.
7. Risk Free Purchase (30 Day Money Back Guarantee) + Free Shipping
As a consumer, it would please you to know that James Allen stands behind their products and your purchase is absolutely risk-free. You get a generous 30-day return period with no questions asked and this is more than sufficient time for you to review your purchase.
That's not all. You get free shipping worldwide and if you are based in the US, James Allen will even pay for your return shipping! That's how confident they are of their products and if you are any bit unsatisfied, you get your money back.
8. Lifetime Warranty And Upgrade Policies
Unlike jewelers who will leave you high and dry after you swipe the card, James Allen will offer long term support for your jewelry. And if you think about it, it makes good business sense to build long lasting relationships with clients.
James Allen offers not only a lifetime warranty but other services like prong tightening, cleaning, repolishing and replating for free. If you ever run into problems with your jewelry, simply get in touch with them for repair services.
One final point I want to mention is their upgrade policy. Any diamond that you buy can be traded in for full credit towards a new purchase as long as it is 2x the original value. While most people don't trade in their engagement rings, this policy does leave you with open options should you require it.
Personal Shopping Experience at JamesAllen.com
Let's take a closer look at a listing on JamesAllen.com and you will quickly find out why it's so easy to buy a high quality engagement ring there. Click on the image below to view full details of the diamond that was purchased for the ring in this review…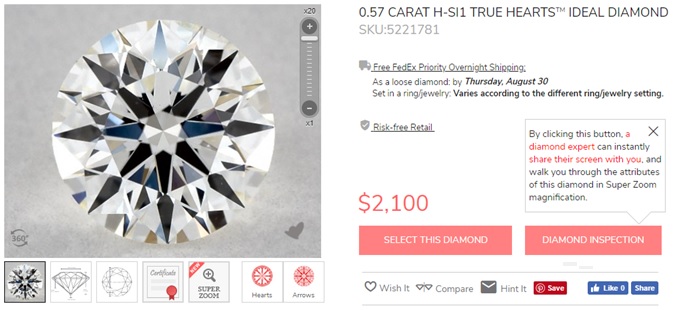 The great thing about the True Hearts diamonds is that they have tangible scope data available in their listings. This enables you to easily assess the diamond's cut precision and light performance.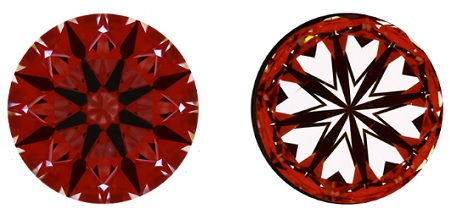 Superbly crafted diamond with ideal light return and optical precision.
Personally, I love pave designs as they are a very cost efficient method for increasing the bling factor of a diamond ring. To complete the ring, the 14k white gold petite pave engagement ring below was chosen as the setting.
Once the loose diamond and engagement ring setting had been selected, the rest of the checkout process is really straightforward. Payment was made via credit card and work on the ring starts immediately.
After payment is successfully made, all you need to do is to sit back and wait for FedEx to deliver the parcel to your doorstep securely. And FYI, the package is delivered in an unassuming, discreet white box as seen in the image below.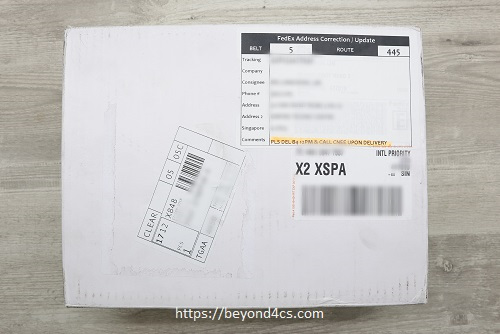 James Allen has thought of everything down to minor shipping details.
This is done on purpose in order to avoid ruining surprises as well as for security reasons. Nobody except you would know that the package contains an engagement ring and it is what's inside that really matters!
Unboxing the Engagement Ring Package From James Allen
Whenever I review a company or product, it is done from the perspective of a consumer just like you. This means that I test the service or a product personally based on first-hand experience.
So, if you are wondering what the shipping package looks like and exactly what you are getting, make sure you watch the full length unboxing video below. The raw footage is unedited except for the inclusion of a music track and accompanying captions.
Reviewing Package Contents in Full Details
Overview of the package contents you can expect to receive from James Allen.
First of all, the packaging and presentation from James Allen is first class and really exquisite. In fact, it is by far the BEST I've seen in the industry. And mind you, I've purchased and reviewed a lot of jewelry from high end brands like Tiffany/Cartier to many other competing online retailers.
What's really cool about the packaging box is that it can double up as a keepsake jewelry box for storing other things once you remove the cardboard insert. The pullout drawer is also useful for storing important documents like the appraisal or grading report.
Next, let's take a closer look at the individual components and what you would expect to receive…
Diamond Engagement Ring in Cherry Wood Box
The red color engagement ring box containing the 0.57ct H color SI clarity diamond ring.
AGS Proprietary Light Performance Diamond Quality Report
In the world of diamond grading, AGS and GIA are the only 2 trusted labs that offer consistent and reliable grading standards. This True Hearts diamond achieves the highest possible cut grade of AGS 000.
Appraisal Document Provided by James Allen
If you intend to buy an insurance policy for your jewelry, this appraisal document would come in handy. With any purchase above $1,500, this appraisal is provided free-of-charge as a value added service.
Warranty Cards And Rewards
These cards contain information about the lifetime warranty and guidelines to caring for your jewelry. Also, a discount code is provided which gets you 10% off a wedding band purchase.
Quality Assurance Card
During manufacturing, a team of Quality Assurance professionals would inspect each diamond and finished ring against the specifications indicated in the respective order. And prior to shipment, the last person to conduct the quality check will sign off the order.
Printed Invoice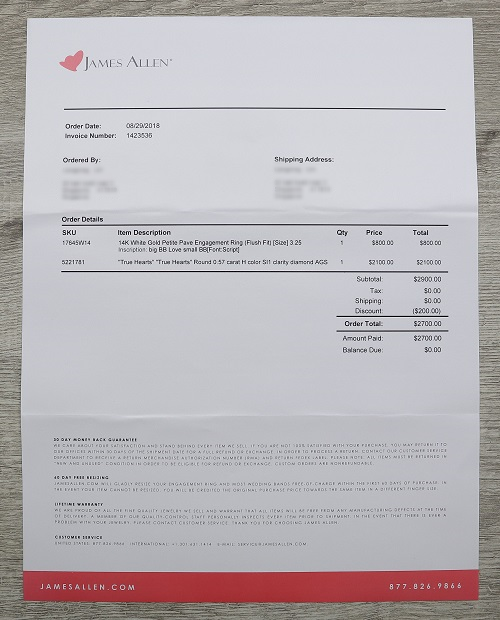 A physical copy of the invoice showing details of the purchase.
Evaluation of JamesAllen.com's Workmanship
While the center diamond is usually the first thing the eye focuses on when viewing an engagement ring, the setting plays an equally important role in its overall appearance. In this section, we will perform a comprehensive review of James Allen's craftsmanship…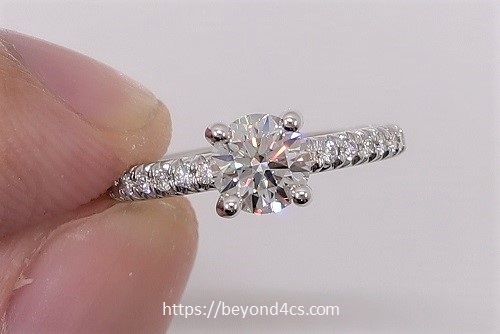 Stamped platinum cast engagement ring – New York classic solitaire design
If you had been following my blog, you will know that details matter to me when reviewing the workmanship of a ring. I scrutinize details in ring finishing, proper prong placements, overall balance, symmetry, matching melee selections and everything else under magnification.
Because of what I do and the high standards I set, I've had vendors and people who accused me of being unrealistic and overly anal.
But here's the thing, if a ring is truly high quality and the bench jeweler cares about finer details, it will be able to withstand the scrutiny I place on it. A well made piece of jewelry will automatically translate into a great looking piece of jewelry.
It's as simple as that. Remember, I'm on YOUR side. With that said, check out the following video and look at the craftsmanship details for yourself…
Review of Diamond Ring's Head from JamesAllen.com
A close up view of the ring's head and four prongs reveal splendid finishing.
Prongs are neatly placed and equally spaced for a pleasing face-up appearance.
The side profile shows prongs that are uniformly made and secures the diamond snugly.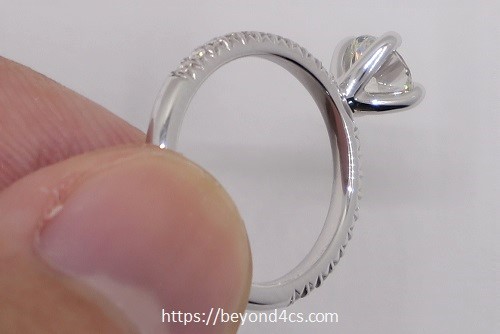 Care and effort has been taken to polish surfaces which are hidden away from view.
Examination of JamesAllen Diamond Ring Profile and Shank
Good workmanship can enhance the appearance and enjoyment of a piece of jewelry. It can also enhance the durability and lifespan of the product. Vice versa, the opposite holds true for a poorly made piece of jewelry.
With pave settings, any signs of sloppy finishing and workmanship would be easier to pick out compared to a solitaire setting. Having reviewed the engagement ring in person, I'm pleased to see that the shanks are very streamlined and well made.
The ring's shanks and pave are beautifully made with great consistency.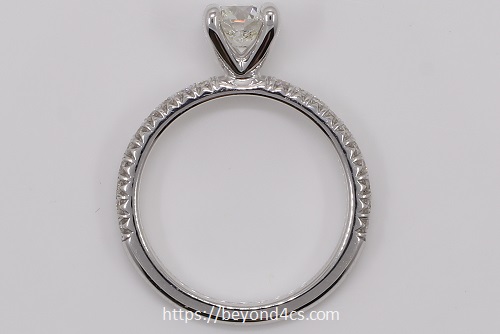 The side profile reveals a smooth and rounded outline of the shanks.
Look at the superb work done on the french pave and consistency shared prongs.
Review of Diamond's Cut Quality Performance From JamesAllen.com
Cut is KING in the world of diamonds. If you want a lively diamond that is full of sparkle and brilliance, Cut is the #1 factor you should focus on when buying an engagement ring.
As mentioned earlier, James Allen provides an idealscope image as well as a hearts patterning image in most of their TrueHearts listings. The decision to buy the diamond was made based on an educated analysis of the data provided.
After receiving the ring, I captured the following images using my own tools for 2 reasons. One, to show you that they tally and secondly, to show you how good the diamond's cut quality is.
This diamond is as good as cut quality can get in a round brilliant diamond. The contrast patterning and light return are simply top-notch.
Video of Diamond Ring's Appearance in Real Life
The Idealscope and ASET images above are perfect examples to show you what a truly well cut diamond looks like. But how does that translate to real life appearances?
Well, I have answers for you. Watch the video below to see how the James Allen diamond ring looks like in different types of everyday environments.
Conclusion: Wrapping Up Our JamesAllen Review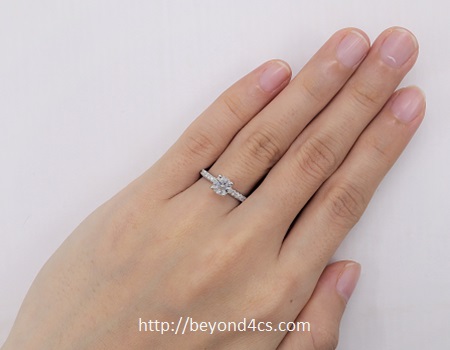 The stunning 0.57ct H SI1 diamond ring from JamesAllen.com (on a size 4 finger).
James Allen has grown tremendously ever since they were launched more than 10 years ago. With their relentless innovation and a remarkable focus on customer service, they have built up a strong following of raving customers.
Unlike traditional jewelry businesses which typically offer preset diamond rings and jewelry, James Allen gives you the ability to tailor the jewelry piece based on your needs and on your terms.
On top of that, another advantage is being able to make selections rationally instead of making impulsive decisions under pressure-selling or exaggerated lighting conditions in retail stores.
Think about it. Would you rather be hassled in a store or shop online at your own pace and make the correct decisions based on facts?
Pressure selling by sales people?
Videos & tools to help you with your purchase?
When it comes to a huge purchase, I would choose the latter.
At the end of the day, James Allen's business model is made for the long haul and revolves around helping customers make the best purchase possible. Everyone wins in this scenario. Furthermore, there's absolutely zero risk because of their generous 30-days FULL money back guarantee.
With that, I hope this review has provided useful insights on their business and the quality of products. Feel free to leave a comment below or get in touch with me if you have any questions.
Related Articles
James Allen
Achieves The Highest Rating of

5

/

5

– Reviewed by

Paul Gian