You are probably aware that the world is undergoing an unprecedented period of time with the COVID-19 pandemic. And like many other businesses around the world, the jewelry industry has not been spared by the outbreak.
Besides temporary closures to physical stores and production workshops, the virus outbreak has caused disruptions to supply chains and logistics.
But what if you need to buy a diamond engagement ring even in a nationwide lockdown situation? In this post, I'm going to provide a list of jewelers that are operational and enable you to safely make a purchase from.
Best Places to Buy Diamond Engagement Rings in a Pandemic
With the new norms in social distancing and staying indoors, it shouldn't surprise you that shopping online is the way to go. After all, most retail stores aren't open for business.
In fact, I've been a proponent for buying diamond rings online since Beyond4cs.com was launched. Why? That's because you get better transparency (yes, you read that right) and higher quality diamond selections online.
With the recommended online retailers, you get to see exactly what you buy using tangible data, enjoy lower prices and shop with peace of mind with risk-free return policies.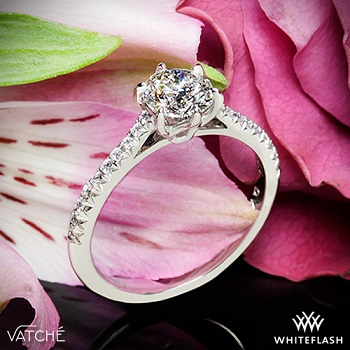 I bought this beautiful Vatche pave ring from White Flash recently.
White Flash – With their workshop based in Houston, White Flash has been able to continue operations. Unlike many other retailers who don't own their diamond inventory, White Flash's business model of owning their in-house super ideal cut diamonds has enabled them to mitigate the disruptions caused by this crisis.
Their HUGE in-stock and on-hand inventory means they are able to start working on orders immediately (barring governmental shutdown orders). Not only are you able to reliably buy diamonds with the best-of-the-best performance, but you can also get certainty about the quality and delivery of your purchase in these uncertain times.
---
Blue Nile – They are the world's largest online retailer of diamond jewelry with a massive inventory of GIA certified diamonds and have multiple showrooms across different locations. Currently, their physical showrooms are closed but their e-commerce service is still going strong.
Due to the working relationships with different suppliers, Blue Nile is still able to serve clients. Just make sure you check with the customer service (via live chat) on the specific item you are interested in for the delivery time.
---
Brian Gavin – A vendor dealing with super ideal cut diamonds, Brian Gavin is well known in the industry for their high-performance diamonds and attention to details. Currently, their website is fully operational and purchases can be made online.
New orders will be processed in their facilities at the earliest time possible and in the meantime, their CAD design department is able to process custom designs (able to work from home).
---
Video review of a cushion cut diamond engagement ring I bought from James Allen.
James Allen – One of my favorite vendors for their intuitive shopping experience and beautifully crafted ring settings. Their HD videos make it easy for you to see exactly what you are buying and examine diamond details like a professional.
James Allen's workshop is based in New York City and due to the COVID-19 pandemic, their production operations have ceased temporarily. However, you can still access their website and browse for a diamond engagement ring you like. Given that NYC has become an epicenter for the coronavirus, you may experience some delays in the delivery of your jewelry.
Is This a Good Time to Buy a Diamond Ring During COVID-19 Outbreak?
It really depends on the situation you are currently in. If you are already deep in debt and always trying to figure out how to make $1000 fast to cover next months rent, then buying an expensive diamond ring would be irresponsible.
However, if you are just trying to go on with life as "normally" as possible or simply want to surprise your loved one with a gift, then why not? In fact, you can take advantage of the global glut in diamond supply which will cost diamond prices to fall during this period of time.
Also, I'm pretty sure the jewelers who have been thrown into this difficult operating environment would be grateful for your support. Any business they can get in these uncertain times would really be helpful.
Wrapping Things Up – Stay Safe!
As this health crisis develops, the situation in the diamond industry remains very fluid from an operational perspective.
With daily changing government policies and strategies to combat the spread of coronavirus, there is still a possibility of delays as jewelers work to fulfill orders.
However, rest assured that the vendors listed here are rock-solid (pun intended) and will do everything they can to provide the best customer service in a difficult time like this.
Your purchase is fully secured with a risk-free money back guarantee to give you a peace of mind. Lastly, stay safe and remember to wash your hands frequently with soap!
Related Articles