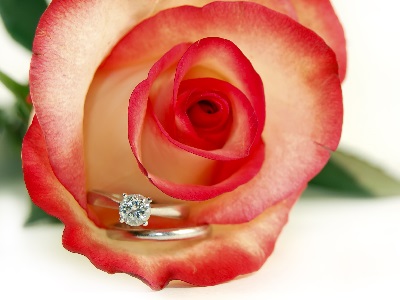 For many people, buying a diamond constitutes a huge financial investment and an unforgettable emotional experience. This is why it is important for you to choose the right jeweler when making the purchase of a lifetime.
Over the years, I had helped thousands of clueless people find their dream ring and personally mystery shopped at hundreds of jewelry stores. In my own shopping experience, I found that the majority of businesses had mediocre service standards, product offerings and/or business practices.
While there are some vendors that are downright terrible (literally made me run out of the door), there are also a handful of amazing vendors who would go the extra mile to make you a satisfied customer.
#1 – James Allen – The Best Place For Fancy Shaped Diamonds
James Allen revolutionized the way diamonds were sold online when they introduced cutting edge photography to help customers have a better idea of what they are buying.
Today, their innovative approach of utilizing video technology has taken that to a higher level. The 360° HD video for every single diamond listing in their inventory allows you to SEE exactly what you are buying and helps you shop with confidence.
Click here to see full details and the magnified video of the diamond above…

You can even check out how their ring designs look like in real life here…
What Makes James Allen The Best Online Store to Buy Diamonds:
– Actual 360° videos of diamond listings (not the generic stock photos you see at other online vendors).
– Massive inventory of more than 40,000 loose diamonds (includes fancy colored).
– Intuitive search and interactive display that enables you to scrutinize diamond details with ease.
– Only sells diamonds graded by reliable laboratories like GIA and AGS.
– Low prices to get a better bang of your buck.
– 30 days return and lifetime warranty for your jewelry.
– Free shipping that's fully insured for your peace of mind.
Free Visual Inspection By a Professional For Up to 3 Diamonds
On the whole, James Allen's business policies and customer service standards is exceptional. Besides the ability to view the actual diamond in a transparent manner, you can also shortlist 3 diamonds and get them visually inspected by their in-house gemologist for free.
As far as I know, no other jeweler will allow you to do this without requiring a substantial deposit.
Once the inspection process is completed, you will receive a report detailing the optical performances of the shortlisted diamonds. You will also receive indepth data like Idealscope/ASET images to help you make educated decisions on your purchase.
---
#2 – White Flash – Best For Ideal Cut Diamonds And Designer Jewelry
Cut is the ultimate factor with the biggest impact on a diamond's beauty. If you are looking for top-of-the-line super ideal cut diamonds, White Flash is the retailer you should turn to.
White Flash's signature brand of diamonds undergo an extensive series of tests and assessments before they can be labeled as A Cut Above®. This stringent selection process guarantees diamonds of the highest pedigree which are cut to extreme precision and optimal light performance.
Super ideal cut diamond with maximum fire, brilliance and scintillation. Click here to see full details…
Whiteflash.com is an authorized retailer for many big-name designer settings…
What Makes White Flash a Great Vendor For Engagement Rings:
– Large inventory of certified AGS ideal cut diamonds.
– Availability of indepth data like magnified images, Idealscope/ASET, hearts and arrows data and etc…
– State-of-the-art manufacturing facility for in-house jewelry fabrication.
– Extensive jewelry designs; including designer brands like Verragio, Tacori and Ritani.
– 100% lifetime trade-up policy (no requirement for minimum of 2X spending).
– BBB rating of A+ and awarded "Winner of Distinction" for 6 years in a row.
– Full 30-day money back guarantee.
– One year buy back guarantee.
White Flash is a customer oriented vendor who strives to provide customers with an impeccable shopping experience. With high quality craftsmanship and first-class customer support, White Flash is the complete package for shoppers who are looking for a beautiful engagement ring.
---
#3 – Brian Gavin – The Best Place For Custom Made Engagement Rings
With humble South African roots as a 5th generation diamond cutter, Brian Gavin built his reputation on rock-solid integrity and his world-renowned expertise in diamond selection.
Today, Brian Gavin is a name that is synonymous with diamonds cut to extreme precision and ideal optics. His signature hearts and arrows (round and cushion), ideal princess cuts and Brian Gavin Blue diamonds are all cut to a level of excellence and perfection; making them some of the most beautiful diamonds in the world.
An example listing of Brian Gavin's patented cushion hearts and arrows diamonds…
Get ready for compliments from friends and relatives with a BGD engagement ring.
Reasons Why Brian Gavin Stand Out As A Vendor For Engagement Rings
– Exceptionally well-cut diamonds (round, princess and cushion) with superb visual performance.
– Availability of data like magnified videos, Idealscope/ASET and hearts and arrows patternings.
– Diamonds are pre-screened by Brian Gavin to ensure eye-cleanliness.
– Exquisite custom made jewelry.
– 100% lifetime upgrade (only pay the difference in an upgrade).
– Outstanding customer service and knowledgeable staff.
– 15-day inspection period.
– Free international shipping and insurance.
– Custom designed diamonds and cutting service.
If you are looking for a trustworthy jeweler with a proven track record of delivering the finest quality jewelry, Brian Gavin is your guy with the correct expertise. Based on my experience and feedback I received from readers, I have nothing but compliments for their customer centric business practices.
Related Articles