Are you in the market for a 2.5 carat diamond ring and not sure where to start looking?
Well, you are at the right place.
In this comprehensive guide, I will reveal EXACTLY what to look out for when making such a big purchase. I'm also going to show you where are the best places to shop for high quality diamonds without breaking the bank.
Let's dive right in…
First of All, How Much Does a 2.5 Carat Diamond Ring Cost?
Budgeting and costs are some of the most common questions that people have on their minds when shopping for engagement rings. And I want to address this issue right at the start.
If you are wondering how much a 2.5 ct diamond costs, there's really no definite answer I can give you.
This is because a diamond's value is affected by a myriad of factors such as cut quality, color, clarity and fluorescence. As a general guideline, you can expect to pay between $10,000 (really low quality) to upwards of $100,000 (best quality) for a 2.5 ct loose diamond.
Let me show you a couple of real life examples and you will see what I mean. Feel free to click on the images to see the listings in full details.
As you can see above, a 2.5ct loose diamond with the best possible color and clarity (D/Internally Flawless) will cost roughly $100,000. If you expect to get a diamond with the "best" material properties, be prepared to pay a huge premium for diamonds at higher end of the spectrum.
On the other hand, if you do not need the D color and IF clarity for symbolic reasons, a diamond with lower color and clarity grades will be significantly cheaper. Check out the following eyeclean J color VS2 diamond from White Flash…
This is a fine example of a stone that offers better value for money…
To the uninitiated shopper, this price range may seem irrational due to the huge disparity in costs. This is because differences in material properties are greatly amplified into significant price differences at such a large carat size.
The bottomline is, buying diamonds is a zero-sum game.
I hope to get this important point across to people who shop with completely unrealistic budget and expectations.
If you want to buy a diamond with better color, clarity, carat size or cut quality, you can expect to pay a higher premium for the stone. Likewise, if you have a strict budget to work with, something has to give and you can expect to make compromises on the 4Cs.
How Big is a 2.5 Carat Diamond And How Does it Look Like?
The size of a well cut 2.5ct round diamond is approximately 8.8×8.8×5.3mm. In contrast, the size of a well cut 2ct round diamond is approximately 8.2×8.2×4.94mm. What I want to highlight here is that a 25% increase in carat weight does not translate into a diamond that looks 25% bigger.
To give you some perspective of how big a 2.5ct engagement ring looks on your finger, check out the following comparisons of a solitaire ring with different carat weights…
One other point you should be aware of is that the physical face up size of a diamond is dependent on its shape. A 2.5ct princess cut diamond will typically have dimensions of roughly 7.5×7.5×5.4mm and will have the smallest face up size among the different shapes.
In contrast, a 2.5 ct oval cut diamond will have dimensions of roughly 11.0×7.3×4.5 mm. The elongated length to width ratio gives the oval shape diamond a larger face up appearance.
Where to Shop for a 2.5 ct Diamond Ring For Better Quality & Value?
Unlike buying smaller sized diamonds, shopping for a big 2.5 ct diamond can be tricky. This is because their larger size amplifies body color and makes flaws more obvious. On top of that, the limited selections available in the market makes the shopping process for large sized diamonds even more difficult.
Get this, the best place to shop for 2.5 carat diamond rings is to go online. 
Why? No physical stores will want to have business capital being tied up by holding a broad selection of 2.5ct engagement rings in their inventory because of the huge costs involved.
This means you will likely NOT find any available options; let alone a diamond that's within your specification.
Don't believe me? Well, I challenge you to head down to your local store and ask to see a 2.5 ct G VS2 diamond (or any specs that you are looking for). Let me know in the comments if you have any success of finding one at your point of visit.
More importantly, going online enables you to shop in a far more transparent manner with the availability of tangible data. This enables you to make educated decisions away from pushy salespeople and avoid subpar quality diamonds commonly found in the market.
Click here to view the corresponding video and data set for an online listing from a reputable vendor.
The huge majority of physical stores will not offer indepth data like these for a couple of reasons.
The first being that most jewelers have ZERO clue about cut quality mechanics. Yes, you read that right. Jewelers in the market do not understand cut quality and that's one of the fundamental reasons why many diamonds in the market are poorly cut.
Secondly, these tangible data provide revealing information about the diamond. Think about it. Would a jeweler selling mediocre goods want to show you cut quality data that puts them in a bad light? The less educated you are as a consumer, the easier it is for them to make a sale off you.
Beyond4Cs.com's Guidelines to Buying a 2.5 Carat Engagement Ring
Clarity: VS2 or better (for eyecleanliness)
Color: G or better (for icy white appearances)
Cut: Ideal / Excellent (tangible data is mandatory)
The #1 most important factor that determines a diamond's beauty and appearance is cut quality. When a diamond is cut for optical performance, the sparkle and brilliance translate into a lively looking diamond instead of a dull lifeless stone.
Having better cut quality yields benefits which are three-fold as a diamond with better sparkle helps mask inclusions, face up color and makes the diamond look bigger due to better edge to edge brightness!
At this point, I want to highlight that color is a subjective aspect of buying a diamond. Personally, I love the icy white appearance of a diamond ring but your preferences could differ and that's perfectly fine.
If you love a warmer looking engagement ring or plan to use yellow gold as your choice of setting, you could definitely go down lower in color to the J-K ranges. At the end of the day, cut quality determines a diamond's sparkle; not the color rating.
In terms of clarity, I recommend readers take on a practical mindset when you are shopping. As mentioned earlier, an internally flawless diamond will come at a huge price premium. The fact is, an eyeclean VS2 diamond will look completely identical to an IF diamond in a side by side comparison.
Unless you need the symbolism of an IF clarity, there's absolutely no point paying excessively for a feature that your naked eyes cannot see.
Let me show you a comparison of 2 diamonds and you'll see why cut quality matters and how it actually trumps color/clarity ratings. Below is a D color flawless diamond that has the best material properties. It is priced at a whopping $93,020.
While this diamond may have "perfect" qualities, its cut quality leaves alot to be desired. From the listing, you can see that the diamond has significant light leakage under the table and this is readily apparent in the ASET image (click on the listing to view it).
In sharp contrast, the following diamond from White Flash is a super ideal cut diamond with top-of-the-line performance and cut precision. The price of this stunning diamond is only $28,888 because of its H color and SI1 clarity.
If you place the D/FL diamond against this H/SI1 diamond in a side by side comparison, let me tell you that the White Flash diamond is going to look brighter and more brilliant than the D/FL diamond.
On top of that, the White Flash diamond costs only a fraction of the D/FL diamond!
Now, I know that I recommended buying diamonds with VS2 clarity or better at this carat size. In this particular case, this SI1 diamond is eyeclean and the inclusions are well spread out which makes it a great buy.
And mind you, I only made this decision with an SI1 diamond because White Flash provided the necessary videos and photographs to determine eyecleanliness (which goes to show why tangible information is important).
I encourage you to visit the listing and review the ASET, Idealscope, Hearts And Arrows data for yourself.
3 Money Saving Tips to Buying a 2.5 Carat Engagement Ring
I know there are consumers out there who may not be able to afford the budget for a 2.5ct diamond but would still want a large rock because the recipient "demands" it. Here are some tips you can make use of:
Tip #1 – It's OK to Buy a Lower Color / Lower Clarity Diamond
The most common mistake that I see consumers make is to prioritize color and clarity ratings over cut quality. Many beginners have the misconception that a D color and IF clarity will "guarantee" that the diamond will be beautiful. That's far from the truth as I explained in earlier paragraphs.
To bring down costs, you may want to consider faint yellow diamonds in the K-L-M color regions. While the diamonds may display a tint of color and look warmer, you could pair it with a vintage style ring setting or a yellow gold setting and this will enable them to complement each other really well.
Here are 2 GIA graded diamonds in the faint yellow color range that will enable you to achieve a big looking engagement ring without breaking the bank. After factoring the cost of a setting, it is possible for you to get a 2.5 carat ring for less than $20,000.
Tip #2 – Consider Buying a Fancy Shaped Diamond
Round diamonds are the most popular shape in the market and they happen to be the most expensive per carat as well. This is because more rough material is required to be polished off in order to achieve the finished product.
For people with a lower budget, you may want to consider fancy shapes like the princess cut, oval cut or emerald cut. These diamonds usually cost less per carat (~20-30%) compared to a round brilliant cut diamond and they each have an unique shape appeal.
Diamond price comparison chart of different shapes (G color VS2 clarity)
Tip #3 – Get a Halo Engagement Ring Setting
Diamond prices increase exponentially as carat size increases. One of the ways you can make a diamond appear bigger is to be smart with your choice of ring setting. This can be achieved by using a halo setting where the center stone is surrounded by a perimeter of smaller diamonds.
Such a setup gives the illusion of a single large looking diamond when the ring is seen from a distance. And this means that you would be able to utilize a smaller size diamond (e.g. 2ct diamond) that costs significantly less and still be able to pull off the appearance of a big diamond ring.
Beautiful 2.5ct Diamond Engagement Ring Ideas and Inspiration
For people who are shopping around for an engagement ring, selecting a center stone only completes half the process. If you are looking for a beautiful ring setting and don't know where to start, check out the following designs for ideas and possibilities available.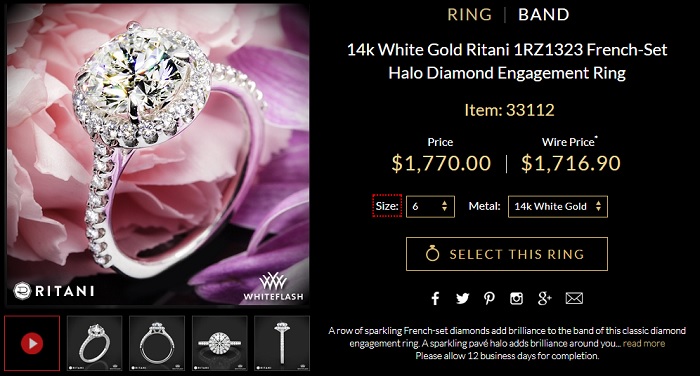 This breathtaking designer ring by Ritani houses a 2.447ct J color VS2 super ideal cut round diamond. The ring design spots a well crafted floating halo and streamlined pave diamonds. If you are observant, you might notice the slight tinge of color in the diamond.
---
This 2.5 carat oval diamond ring has accentuating pave diamonds to help create an emphasis on the main stone. A simple yet sturdy 4 prong basket holds the oval diamond securely while allowing light to enter it for better sparkle.
---
This 2.5 carat cushion cut engagement ring features a fancy yellow diamond that is elegantly set with yellow-color prongs (to enhance the hue). With split shanks that are lined with melee diamonds, it creates superb brilliance and sparkle in all viewing directions.
---
This unique 2.5 carat solitaire diamond ring features a mix of a yellow gold shank and white gold prongs. Simple yet elegant, this setting infuses sleek looking shank design together with White Flash's "Legato" head seamlessly.
---
A splendid and delicate princess cut diamond ring design, this ring utilizes super ideal cut melee diamonds for its pave shanks. Available in different metals like rose gold, white gold and platinum, this setting is a magnet for receiving compliments!
---
This grand looking 2.5 carat emerald cut engagement ring features an undergallery of pave diamonds on the head and has a luxurious split shank of pave melees. If you are looking to make a bold fashion statement, this is your kind of ring!
Let's Wrap Things Up
So, there you have it.
I've hope my definitive guide to buying a 2.5 ct engagement ring has been useful and helped steer you in the right direction.
Remember, when making such an important and big purchase, you definitely want to work with a vendor that is reliable, transparent and customer orientated. Always ask for hard tangible data on a diamond prior to making any payments; anything else that the jeweler says is just marketing fluff and BS.
I've also shared practical tips that you can use if you are working with a tight budget. Bear in mind that cut quality is always King and you should never compromise on this aspect.
Feel free to drop me an email or leave a comment below if you have any questions!
Related Articles