When it comes to diamond engagement rings, conventional wisdom dictates that bigger is better. However, what if the recipient wants a simple and unassuming ring for symbolic reasons?
In fact, small engagement rings have gained a lot of popularity due to the rise of the minimalist jewelry trend. In this write up, we will look at some of the reasons why small diamond rings can be better choices than their larger counterparts.
You will also discover ideas for beautiful engagement ring designs and the best places to buy them. Let's jump right in!
Here is a list of topics we will be covering:
What is a Small Engagement Ring? (Carat Weight)
First of all, what is considered small or big in the context of a diamond engagement ring? Well, this is pretty much a grey area depending on your own definition and perception of size.
For the record, we will be defining small engagement rings as having center stones under 0.40 carats.
But why 0.40cts and not 0.6cts or any other arbitrary number? That's because they are slightly under the popular 0.5ct carat mark and fall into very affordable price ranges.
How Much Does a Small Diamond Ring Cost?
Basically, the cost of a diamond ring can be broken down into 2 components: the cost of the center stone and the cost of the setting.
In general, the cost of a 0.40 carat diamond with mid-range quality would cost around $500-$1000. Obviously, if you buy a larger diamond or choose one with better specifications in color or clarity, you would expect prices to be on the higher end of the spectrum.
When it comes to a ring setting, there's also a range of prices depending on how elaborate the design is and its branding. In general, you can expect to pay anywhere between $400-$500 for a simple white gold ring design. And of course, this figure can quickly escalate to thousands of dollars if you are looking at designer rings.
If you are someone who is looking for a simpler looking diamond ring, a budget of $1,000 would be more than sufficient.
4 Reasons Why a Tiny Engagement Ring is Better
Bigger isn't always better when choosing a diamond ring. Here are some reasons why a smaller engagement ring may be ideal for your recipient.
Cost – The price of a diamond is largely affected by its carat weight and buying a smaller carat diamond will lower your costs significantly. For most people, the budget is the key factor that determines what you can buy. If you have a low budget (which is perfectly fine!), then it is only realistic to expect an engagement ring with a smaller center stone.
Also, diamond engagement rings are fairly large expenses for couples planning a wedding. Buying a smaller diamond ring would save you money that you can put into other expenses like buying a house or other important purchases.
Lifestyle – Functionality is a factor that you want to consider when buying an engagement ring. Smaller sized rings tend to have lower profiles which makes them suitable for people who have active lifestyles or use their hands regularly for work.
Could you imagine working in the garden or doing chores at home while wearing a large, high-set diamond ring? The ring would get in your way and be exposed to higher risks of being damaged.
Small Hands – If your hands are petite, wearing a big ring would look clunky and out of place on your fingers. It's all about scale and getting the proportion right. Smaller rings generally look better on delicate hands and provide a more balanced appearance.
Style – The fashion sense and style of the recipient is also something to consider when choosing an engagement ring. For people who prefer minimalistic jewelry or look at engagement rings as symbolic items, a simple engagement ring would be perfect for them.
6 Gorgeous Engagement Ring Ideas With Small Diamonds
While a small engagement ring may be less attention-grabbing than a larger one, it doesn't mean that they will all look boring or drab. Whether you are looking for a ring that looks intricate or simply want a plain looking design, there are plenty of choices to choose from.
Here are some of my favorite designs to give you some inspiration for finding your perfect ring. If you are interested to see more details, feel free to click on the corresponding images…
A modern day solitaire diamond ring that showcases a rope style shank, this engagement ring attracts attention with its appearance and the 4 claw prong setting helps to accentuate the center diamond.
---
A simple, no-frills solitaire diamond ring design that features a pinched shank with a 4 prong wire basket, this engagement ring is perfect for people with an active lifestyle and is comfortable for long periods of wear.
---
A superb choice for women who like vintage styles and delicate details. This diamond ring features a beaded and milgrain intertwining shank that symbolizes eternal love.
---
A classic looking cathedral engagement ring with a tiny center stone. This ring design adds an air of elegance and contrast to the profile with a propped up mounting. It's a fantastic choice for people who like petite looking rings and have smaller hands.
---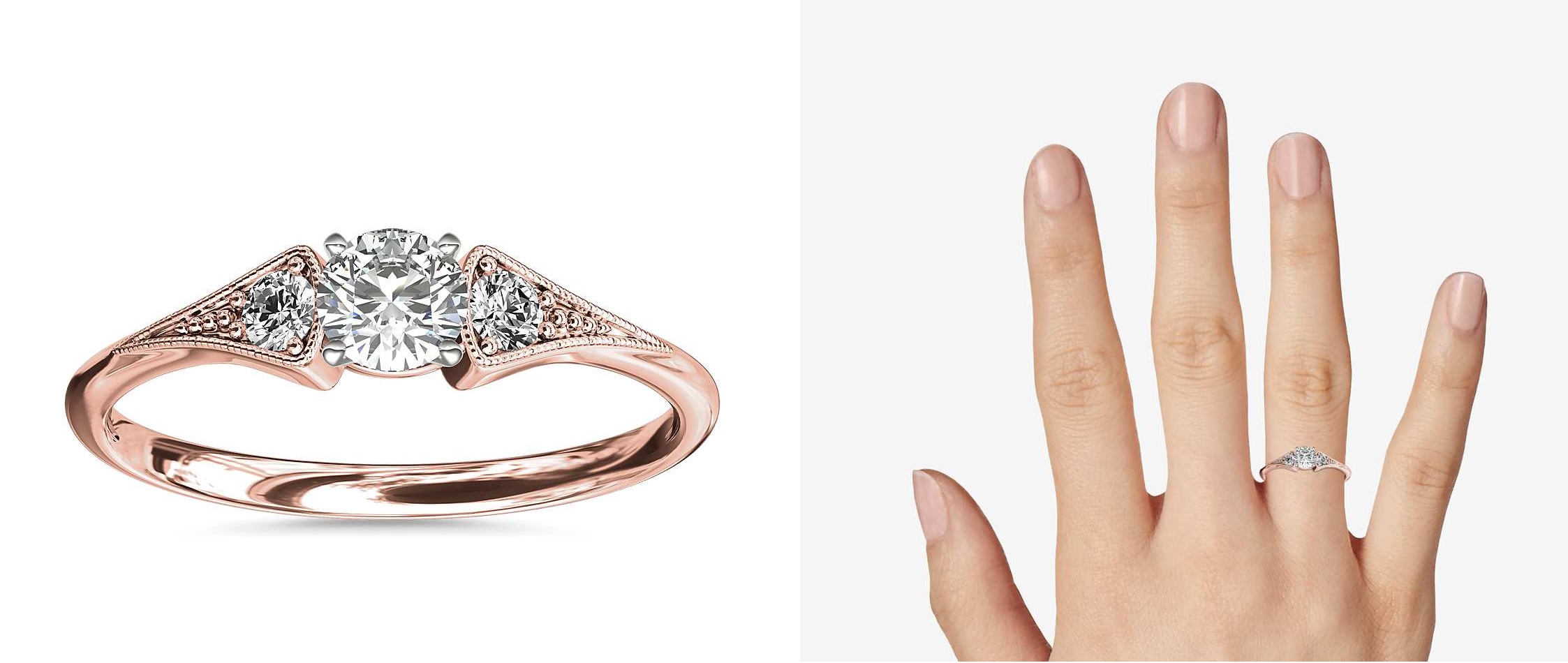 A vintage-inspired and dainty engagement ring made from 14k rose gold, this delicate engagement ring has tiny pave set diamonds that are outlined with a milgrain edge. It's a sublime way for people to showcase their style.
---
A simple tapered shank lined with pave-set diamonds makes this petite diamond ring a thing to look at. With the center diamond set carefully in a 4 prong basket, this engagement ring eludes sparkle and brilliance from multiple angles.
Best Places to Buy a Small Diamond Engagement Ring
Whether you are buying a large 2 carat or a small 0.3 carat engagement ring, the same criteria for choosing a diamond remains the same. And that's the need for using tangible data like videos and reliable grading certificate from GIA/AGS to make an informed purchase.
Besides the center stone, the setting is also an important component of the engagement ring. One key aspect of settings that I personally look out for is craftsmanship standards.
With these points in mind, here are the top 3 places I would recommend for buying a tiny diamond engagement ring in a risk-free and fun manner.
---
Brian Gavin – They specialize in super ideal cut diamonds and offer the best of the best when it comes to light performance. One feature that makes them stand out is that they offer AGS certified diamonds for diamonds as small as 0.2 carats! In the market, most vendors only offer certified diamonds for sizes larger than 0.30 carats.
---
James Allen – A leader in the world of online diamond retailing, James Allen offers 360° HD videos for all their listings. This allows you to scrutinize details and make decisions in a highly intuitive manner. Besides a generous 30 day money back guarantee, James Allen also offers FREE returns to cover the cost of the shipping if you don't like what you see. That's how much the company believes in its products.
---
Blue Nile – This retailer is the world's largest online diamond retailer with a massive selection of GIA certified diamonds for you to cherry pick from. They also offer video listings to help you see exactly what you are getting when buying a diamond. Blue Nile has highly competitive price points and a plethora of stylish ring designs you can choose from.
Let's Wrap Things Up And Go Shopping
Elaborate engagement rings with knuckle sized diamonds are often eye-catching but beauty also lies in the eye of the beholder. While a small diamond engagement ring with a tiny center stone may look unassuming, it can mean the world to the woman who values simplicity and frugality.
With that, I hope this write up has offered insights and provided you with useful ideas you can use for your shopping decisions. Now I want to hear from you. What does your ideal engagement ring look like? Does carat size matter for you?
Leave a comment below to let me know! And if you have any questions, feel free to ask. Good luck with your purchase!
Related Articles