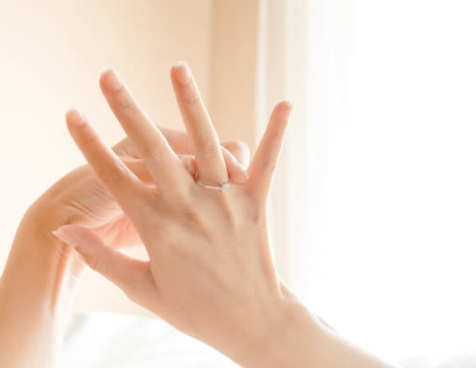 When it comes to buying the perfect engagement ring, you may want to consider your recipient's finger type and hand shape before choosing a design. Does she have short fingers? Long fingers? Large knuckles? Petite hands?
Depending on the structure of her hands and fingers, some designs will look amazing while others will fall short. In today's write up, our goal is to take the stress out of finding the perfect ring and help you decide which is the best style for her.
For your convenience, we had listed navigational links that will bring you directly to the corresponding sections that interest you:
And if there's any setting that you are interested in, simply click on the image to see full details of the ring!
Where is the Best Place to Buy an Engagement Ring?
When it comes to buying a diamond engagement ring, having transparent shopping processes and accessibility to tangible data is key to making educated decisions. Here are the top 3 retailers who offer reliability, good prices and great craftsmanship!
Engagement Rings for Short Fingers
If her fingers are short (a rough gauge would be fingers which are shorter than the palm), the ideal engagement ring should help accentuate her fingers by making them appear longer and leaner
A simple design would also be preferred as complicated designs would easily overwhelm the finger.
One of the easiest ways to do this is to select a center diamond with an elongated shape like the marquise, pear or oval. Doing so would help the wearer's finger look longer and flatter her hands.
Elongated diamond shapes can create the illusion of length.
The use of a narrow or thinner band would also help create a contrasting appearance by elongating the length of the fingers.
French cut pavé engagement ring with a petite shank for maximum elegance and bling.
---
Engagement Ring for Long Fingers
If you are blessed with long fingers, you have a great advantage when it comes to buying jewelry.
Whether it is a simple solitaire ring or an elaborate design, having longer fingers means your hand shape will naturally add an oomph and make most styles look great.
Besides round diamonds, you can also explore fancy shapes like princess or cushion cut diamonds. I would also like to highlight that lengthier fingers look amazing with extravagant rings.
Highly intricate ring details like these 2 examples here will make her stand out!
With long fingers, you have alot of leeway to be wild and daring.
Besides intricate settings, you could also choose something bold and make a fashion statement out of it. Here are 2 examples of rings that would be hard to pull off with other finger types but would look great on hers!
Make heads turn with outspoken ring designs like these!
---
Engagement Rings for Stubby And Chubby Fingers
Thick fingers are the trickiest types of hands to work with. As the fingers are generally wider, you would require more finger coverage from the ring or diamond. Otherwise, the ring would look underwhelming.
For guys with a bigger budget, you can probably afford to buy a large carat size diamond to mitigate the problem. If you don't have a generous budget to work with, a clustered ring like a halo or a geometric design would offer cost-effective solutions.
On a personal note, my wife has thick and short fingers (size 7). Here's a comparison of how two different style of engagement rings on her hands would look like.
On the left is a plain, simple platinum solitaire design with a 0.7ct round diamond. And on the right, she's wearing a 1ct floating halo ring I recently purchased from Blue Nile.
A halo ring design makes the diamond appear bigger than it is.
For large and fat fingers, one great way to make a ring stand out is to select split shank designs. Similarly, a raised prong setting can create an illusion of depth which makes the finger appear narrower.
Split shank designs can cover a bigger area of a fat finger and turn heads at the same time!
---
Engagement Rings for Petite Fingers
Thin fingers are great for many things. Not only are you fingers more nimble, they are also very elegant without trying. What's more, skinnier fingers will make smaller sized diamonds appear bigger and this means you don't have to break the bank for a decent looking ring.
Smaller carat sizes are great for budget and perfect on a skinny finger.
Pave settings are also ideal candidates to suit slim fingers. Combined with a softer diamond shape like the round or cushion cut, it can do wonders to prevent an overbearing look.
Elegant ring designs that flatter tiny hands.
---
Engagement Rings for Large Knuckles
Large knuckles present two main problems; they can cause fitting issues and stand out as sore features on her hands. To detract attention away from the knuckles, you can make use of 3-stone rings to add volume to the finger and provide a better balanced look.
For women with extremely large and defined knuckles, you can also draw attention away from them by choosing a ring with a bolder and wider band design. Here are some ring ideas to help you do that…
Heavier looking bands complement fingers with big knuckles really well.
---
Engagement Rings for Large Hands
Similar to large fingers, a bigger hand will make a small size ring look awkward and out of place. As a result, a larger hand will generally require bigger finger coverage (e.g larger size center stones). If you have a smaller budget, consider using settings with accent stones or pave side stones to accentuate the ring.
Besides emphasizing the size of the center stone, the melees add a dimension of bling and sparkle too!
Chunkier designs like split shank rings or fancy geometric rings can create a heavier look to balance a bigger sized hand. You can also take advantage of vintage style rings as they work well to complement larger hands.
---
Engagement Rings for Small Hands
If she has a petite frame and little hands, the good news is that diamonds with smaller carat sizes will look proportionally better on her. Simple solitaire designs or delicate bands with round or princess cut diamonds are best suited for her hands.
Solitaire rings are evergreen and budget-friendly!
If you had followed the blog for some time, you will know I'm a fan of pave settings. Below are 2 of my favorite pave settings that have thin shanks.
Pavé settings offer extra bling without going over the top.
---
Conclusion – Which Style Best Suits your Finger?
So there you have it. We hope this article has showed you how to choose an engagement ring to suit different hand and finger types.
Remember, this writeup should only serve as a guideline and not be regarded as "hard and fast" rules. Besides finger/hand shape, you should also take into account her personal tastes and lifestyle.
At the end of the day, her preferences is what matters. If there's a particular design that really speaks to her, go for it!
Find a style that she will enjoy wearing for many years to come. With that, I hope you enjoy yourself and have fun in the shopping process! Feel free to bump me an email or drop a comment below if you need help with a selection.
Related Articles