Disclosure: Please note we may generate revenue through the links/ads on this page and throughout this site. That said, we do NOT accept paid reviews and take great pride in providing honest opinions and objective information on products/services. Put simply, if a product isn't good enough for us to personally buy, we won't recommend it.
When it comes to selecting a diamond, CUT is always KING. A diamond's cut is responsible for the brilliance and scintillation it displays. The captivating flashes of colored light dispersion are a result of carefully calculated proportions and crafted precision.
In this review, we will perform an indepth analysis of WhiteFlash's signature line of super ideal diamonds, A Cut Above ®, to see if they really live up to their reputation for providing superior quality and performance.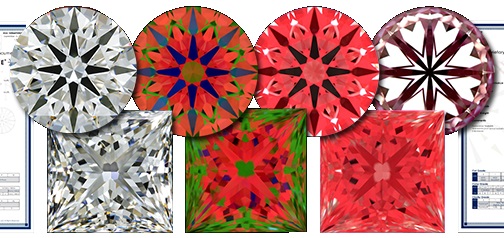 A line up of ACA round brilliants and princess cut diamonds.
Always Ask For Details And Verify The Claims
Whenever I buy diamonds via online sources or physical stores, I demand to see tangible data on the diamond. A smart shopper should never depend on the fluff and marketing pitch of a salesman or webpage without verifying what they claim. I believe you should too.
After all, buying diamonds is both an emotional and monetary investment. Wouldn't you want to present the most beautiful and sparkly ring when you pop the question? Wouldn't you want to make her face light up every time she sees the diamond ring on her finger?
Great vendors help customers make purchasing decisions by revealing as much information on the stone as they can. White Flash understands this philosophy and their business model is exemplary. For the purpose of illustrating this, we will review a G color VS2 1.085 carat ACA super ideal hearts and arrows diamond in detail.
The Light Performance Data Speak For Themselves
Inspecting Diamonds at 10X
8 Perfectly Symmetrical Hearts
Idealscope Showing Great Brilliance
Supreme Brilliance And Contrast
From the images above, you are looking at picture perfect photographs of what super ideal cut diamonds should encompass. The ASET and Idealscope pictures indicate a stone with supreme optical performance. With the correct amounts of reds (brilliance) and blacks (contrast), it is the pinnacle of a bright and scintillating diamond. Here's a reference guide for you to compare the Idealscope pictures.
The Hearts Patterning Is The Easiest Way to Determine Precision Cut
If each facet isn't aligned with extreme precision to each other, the image you see will no longer be symmetrical. Any slight variations or deviations will show up as distortions in the hearts patterning image. Do your own comparisons using the image above against the H&A reference chart here.
It's rare to see vendors providing transparency and technical data to such a level of detail. Don't believe me? Check out your local jewelry store or other online stores and see what kind of information they provide beyond a grading report.
Heck, you should also drop by the big brands like Tiffany or Cartier to verify this yourself.
Most vendors will not provide you with concrete information like magnified videos or performance data to help you truly see and make educated decisions. In fact, it is in their self serving interest that you know as little as possible about your purchase.
That's not what you get at Whiteflash.com.
You see, when you are buying ideally cut hearts and arrows diamonds, getting additional data is mandatory. Information like ASET, Idealscope, hearts and arrows patterning and even a magnified photograph of the diamond are all pre-requisites.
Otherwise, how would you be able to judge the precision of the cut and craftsmanship?
Why Do I Need So Much Information to Make a Purchase?
Most other vendors like BlueNile simply filter their inventory with computer algorithms. How do you know whether a GIA triple excellent diamond is top of the line or sitting at the boundaries of the grading? GIA triple excellent diamonds are not made equal. I made an entire post about that here. Despite scoring three excellent ratings, there can be huge variations that account for light leakages and symmetry within these stones.
Here's What You Get With a Typical Ideal Cut diamond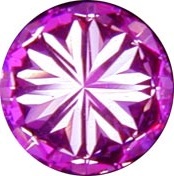 Badly formed hearts that can barely be seen
Arrow shafts missing and unequal lengths
As you can see, the difference between a typical GIA triple excellent stone and WhiteFlash.com's A Cut Above is clear as day. Which kind of diamonds would you rather buy? I think the choice is obvious.
Beware Of What You Hear And Never See
Many jewelers (both online and physical stores) will advertise that they are selling hearts and arrows diamonds. Sadly, while some do meet the standards of being one, most in the industry aren't. Buyers beware. Just because a stone has a triple excellent grade from GIA or a triple ideal from AGS doesn't automatically qualify it as one.
Did You Know That ACAs Come With Sarin Reports Too?
For the layman, the Sarin offers detailed measurements of the diamond's exact proportions. The report contains figures that enables you to double check and verify the measurements found in a GIA/AGS grading report. What you want to see on the Sarin report is a small variation of the measurements. If there are big discrepancies, you would need to raise a red flag and be wary.
A Quick Review on Whiteflash's ACA Stringent Qualifications
The Quality Control Checks
1. AGSL triple ideal (proprietary Dual Light Map report)
2. Light performance tests like ASET/Idealscope are performed by WF gemological review team.
3. Optical symmetry of Hearts And Arrows is checked for round brilliant cuts.
4. Negligible fluorescence exhibited by the diamond.
5. Diamond inspected for any clarity features that might diminish light performance.
For complete specs and qualifications, click here.
In a nutshell, White Flash has done up all the legwork to build up a brand that is synchronous with superlative quality. Even if you close your eyes and randomly picked an ACA stone, you'll end up with a diamond that is better than 99% of the diamonds available in the market.
Why is There a Price Premium?
Perhaps you might wonder why A Cut Above diamonds might cost more than a generic GIA triple excellent or AGS triple ideal stone. Why do these branded diamonds cost an additional 10-15% more than other diamonds with the similar grading?
The Relative Range Of Cut Qualities And Proportions For GIA And AGS Grading
In order to achieve that tight band of proportions for a super ideal diamond, more skilled labor and rough material is required during the polishing process. From the chart above, you can see that GIA's triple excellent grading is much more forgiving in terms of proportions and craftsmanship.
For a more indepth discussion on this topic, read this article on the comparison of GIA triple excellent diamonds against AGS 000 diamonds.
Did you know there's a reason why diamonds are often cut to "inferior" standards instead being polished to the highest possible standards? In fact, most cutters intentionally compromise on cut while achieving the bare requirements for a diamond to receive a GIA triple excellent rating.
This is done mainly for 2 reasons. Firstly, a triple excellent grade from GIA is a great branding and marketing tool. It helps jewelers move diamonds quickly since consumers are familiar with them. Secondly, cutters can save significant weight on the stone by meeting the minimum criteria of a GIA triple excellent rating and this translates to higher profit margins. If you had ever wondered how so many diamonds in the market can fall flat on magical carat weights like 1.00 or 0.70, this is the reason why.
Review of WhiteFlash.com's Expert Selection – How Do They Compare?
In total, there are 3 tiers of in-house diamonds at Whiteflash. Besides the signature ACA and Premium Select, the Expert Selection offers a range of AGS ideal round diamonds that still displays great light performance and a good standard of hearts and arrows patterning.
The difference between the Expert Selection (ES) and other top tier diamonds is that the categorizing process isn't as stringent. For example, the ES diamond range allows minor variations of the hearts and arrows patterning to be present. Other times, the diamond could have a near miss in attaining proportions which designates it as a top tier diamond.
We review 2 stones from the Expert Selection in more details to explain what you would expect to get.
0.928 ct G VS2 Expert Selection Round Cut Loose Diamond
In this particular example, you can see small areas of light leakages beneath the table. The truth is, these areas of light leakages are only detectable by trained eyes in real life and are very minor issues. Yet, this stone was downgraded into the 2nd tier of in-house diamonds and this should give you an idea of how strict Whiteflash's criteria are for their top-tier ACA diamonds.
0.806 ct I VS2 Expert Selection Round Cut Loose Diamond
This Expert Selection stone didn't make it into ACA because of its proportions and light performance. This diamond has a 58.4% table facet which didn't meet the criteria of an ACA. While the Idealscope image does indicate a diamond with good brilliance, the ASET image reveals some hidden details.
As pointed out with the yellow arrows, this diamond has green colors near the girdle of the stone which should ideally be red. Technically speaking, this is a result of slight digging in the diamond's girdle. For the layman, this means the diamond has relatively lower brilliance in those areas and will not look optically "balanced".
Overall, I find the Expert Selection to be a great line of diamonds with excellent light performance (although not as good as the ACA but they are still better than the signature lines of many other vendors).
Review of White Flash's Premium Select – Are They Any Good?
The Premium Select range is targeted at consumers who are shopping for value. While diamonds in this range typically possess a GIA triple excellent rating, they might not display crisp hearts and arrows patterning and perfect optical performance.
If you don't count the H&A patterning as an important criterion, by all means choose a stone in this category. The stones listed under this category are still picked for their better performance compared to typical ideal cut diamonds.
We will review a couple of random stones from the Premium Select category in more details and offer some suggestions on how to choose a great diamond within this range.
0.703 ct I VS2 Premium Select Round Cut Loose Diamond
In this example, it is easy to see why this stone is categorized in the third tier of Whiteflash.com's in-house stones. Under the table facet, we can obviously see a pale ring of light leakage via the Idealscope image. This light leakage is caused by the diamond's proportions it was cut to. With a high crown angle of 35.9°, the emphasis of the diamond's cut is placed on achieving more fire from the crown facets rather than being focused on the diamond's overall performance.
0.80 ct H VS2 Premium Select Round Cut Loose Diamond
Hey? Wait a minute? It looks great! Why isn't this an ACA?
As I had mentioned in my review of Whiteflash.com's ACA, a diamond needs to pass through stringent requirements and inspections before it can be labeled as A Cut Above®. From the ASET and Idealscope images, it looks every bit as good as an ACA stone. Why was this a Premium Select instead?
Well, let's take a look at the tangible data for answers…
First of all, a diamond has to attain an AGS 000 rating in order to meet one of the requirements for an ACA. Since this diamond was graded by GIA, it was an auto exclusion. Next, if we review the tangible data in the listing, you will see that there is minor inconsistencies in the hearts patterning of this Premium Select diamond.
While having a perfect optical symmetry (hearts and arrows) in a diamond would more impressive, the truth is that the majority of people out there cannot tell the visual difference between a diamond with perfect precision beside another with minor deviations like this diamond. In my opinion, this Premium Select stone is just as good as an ACA to the naked eye.
For value buyers, this is good news. You don't have to pay the higher price for an ACA diamond as long as these minor deviations doesn't affect you psychologically. For the record, the 2nd Premium Select diamond is what I would recommend buying instead of the first stone I reviewed.
I Have to be Honest With You Here.
Not all the diamonds within this line may be similar to the 2nd stone. You would have to put in a little effort to comb through the Premium Select diamonds if you are looking for better value for your money. Feel free to drop me an email for help if you need advice. I'll be more than happy to offer my insights.
To summarize, the Premium Select line of diamonds offers value shoppers a chance purchase stones with superb optics without burning a hole in your pocket. While these diamonds may seem like "rejects" that didn't make it to A Cut Above, the underlying reasons could sometimes be minor and not necessarily a deal breaker.
How Do the Branded Names Compare to A Cut Above@ Diamonds?
In my humble opinion, the slight premium in the pricing of ACA diamonds is rightfully justified. This is because you are getting one of the most beautiful diamonds money can buy. Comparatively, it offers far greater value (significantly lower prices) and better craftsmanship quality than what you can get with international brands such as Tiffany's, Cartier or Hearts on Fire.
For example, a 0.75 carat F color VS2 round diamond in a solitaire platinum ring setting will cost you around $12,000 at Tifanny & Co. For a similar price point, here's what you can get at Whiteflash…
Guess what's the total price for this diamond and platinum ring setting? It's only $11,365.
Not only will you get a better diamond in terms of cut quality and clarity, Whiteflash's ACA diamond cost significantly less than branded diamond rings. For less than what you would expect to pay for a 0.75 carat diamond ring at Tiffany's, you get a bigger diamond that's over 1 carat in size at WhiteFlash.
Given a choice between Tiffany & Co. and WhiteFlash.com, would you pay more for a smaller diamond with lower cut standards just for the sake of branding?
I know I won't. Being a practical person, a brand name means nothing to me as performance is the key criteria I look for. On top of that, the money saved by shopping at White Flash can be put towards other things in life.
What About the Customer Service And Sales Policies?
White Flash is ISO 9000 certified and has been awarded the BBB Winner of Distinction for fourteen years in a row. On top of that, their yearly A+ rating with BBB is a clear indication of their customer care standards, product quality and integrity in doing business.
Here's a rundown of their consumer orientated sales policies:
Free Shipping Worldwide: Fully insured FREE shipping via FedEx to both US and international destinations.
Life Time Trade Up: All in-house diamonds are eligible for a 100% lifetime trade-up. You may choose to upgrade or trade in for a new diamond with no time-limitations as long as your purchase is at least $1 more.
Generous One Year Buy Back: For an entire year, if there are any unfortunate circumstances that require you to raise cash or sell your diamond ring, they will buy back all in-house diamonds for 70% of the purchase price.
One Year Service Plan: Your purchase is fully covered for free repair, resizing, repolishing or cleaning.
Money Back Guarantee: All purchases are risk-free and backed by a full 30-day money back guarantee with no questions asked. This gives you a complete peace of mind when shopping with them.
3-Year Ultimate Care Plan: This affordable protection plan covers common issues like repairs, missing stones and common damages for a peace of mind.
The bottomline is, there's absolutely no risk when you shop at White Flash. In fact, the policies are skewed in the your favor and you know you are working with a great vendor when a company stands behind their products in this manner.
Conclusion of Our Review on Whiteflash.com – It's Plain Awesome!
When it comes to super ideal cut diamonds, few can match the degree of cut quality that White Flash offers. In fact, White Flash is the only vendor in the industry with such a broad inventory of super ideal diamonds that are fully vetted, imaged (including video), and ready for immediate delivery.
Another huge benefit of shopping at White Flash is that they are willing to go the extra mile to help you make an educated purchase. Not only are their inhouse diamonds available for consultants to address questions, they are also able to provide additional images such as side-by-side photos or videos on request.
Click The Banner Below And Get Ready to Be Blown Away By Awesomeness…
WhiteFlash.com
Receives The Best Rating of
5
/5 – Reviewed by
Paul Gian