In the jewelry industry, Tacori has made their name by creating some of the most desired diamond rings in the world. Their signature design is a half moon arc in the form of a crescent silhouette.
Besides the recognizable design motif, the high quality of craftsmanship and intricate engravings are also reasons why customers keep flocking to them. In this writeup, we perform an indepth review of Tacori rings to see if they are worth the hype or note.
Ring Designs For Every Personality And Tastes
As an elite ring design manufacturing company, Tacori has constantly evolved and reinvented themselves to cater to a growing customer base. Their most notable designs are exquisitely fused with modern inspiration and uncompromising workmanship. One feature I personally liked about Tacori is that their rings can be easily customized for any size and types of center stones.
Did You Know That…
Tacori proposal rings are much tougher than other platinum rings in the market. Instead of the usual material composition used by other jewelers, their rings contain 95% platinum and 5% iridium. This results in a ring that looks shinier than other types of platinum rings and also makes the ring more resistant to daily wear and tear.
Overview of Tacori Ring Design Categories
From wedding bands to proposal rings, the number of available designs is countless! At the point in time that I am writing this article, there are 13 different signature collections of designs for you to choose from: Blooming Beauties, Classic Crescent, Clean Crescent, Dantela, Full Bloom, Petite Crescent, Pretty In Pink, Reverse Crescent, Ribbon, RoyalT, Sculpted Crescent, Simply Tacori and Starlit.
In this Tacori review, I am only going to talk about some of these collections. If you are interested in more details, you might want to visit their official site and check out their full product range yourself.
Sculpted Crescent Series
The highlight of the sculpted series lies in the engraving of Tacori's iconic half-moon crescent design on the profile of the ring. As the name suggests, the crescents are carefully handcrafted into the side of the shanks.
With 2 additional round brilliant cut diamonds at the sides, this ring design encompasses both elegance and meaningful symbolism for a loved one.
---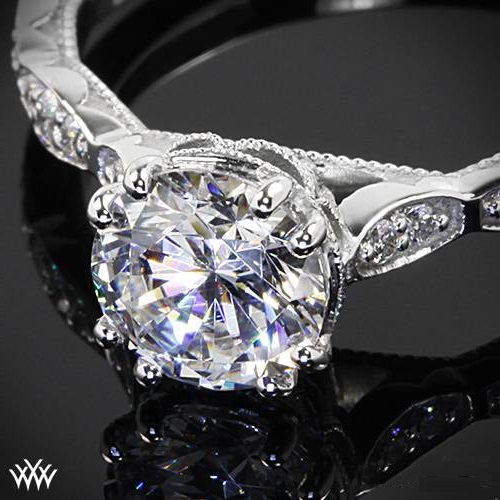 This unique design showcases an elevated mounting shaped like a crown. By having a higher mounting, attention is placed on the diamond and makes it appear larger to the eyes. A true design befitting of royalty!
Dantela Crescent Motif Solitaire Rings
The Dantela series is designed with flexibility in mind. Not only can they easily accommodate diamonds of different shapes, they can also help to enhance the main diamond with carefully placed pave melees.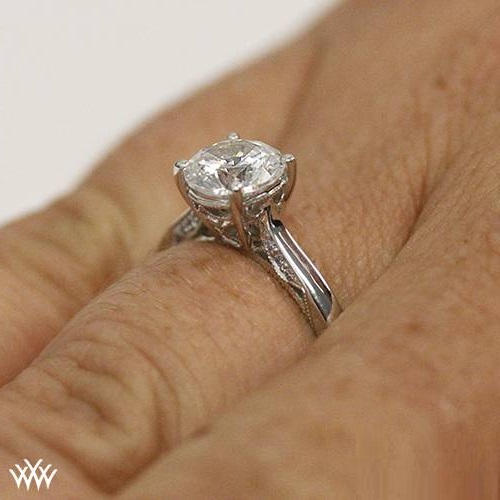 The Tacori Dantela collections also have a vintage feel that is created by the large motifs carved into the shanks of the ring. This particular design has nice milgrains along the faces and makes it a joy to watch.
Tacori Dantela Review – Crown Solitaire
The specialty blooming crown designs of the Dantela series are a sight to behold. With magnificent hand-crafted workmanship and carefully matched melee diamonds, the crown solitaire is a perfect blend of the old and modern inspirations.
This ring is a sparkle overload. With pave diamonds mounted in an omni-directional manner, it lights up like a disco ball when light hits it at any angles.
The "Blooming" Beauties Series
The ring designs from this collection encompass a center diamond that is surrounded by melee diamonds in a halo-like style. Tacori calls it a bloom because of the uncanny resemblances to real flowers.
This unique double bloom design makes use of 2 rows of halo melees to create a fuller outline. The milgrain shanks also display a row of graduating diamonds on each side of the ring. This helps to place emphasis on the center stone by leading the eye towards the middle of the ring.
---
What do you think? Doesn't the mounting look like a flower in bloom?
Another variation of the blooming series is the "full bloom" diamond ring design. The main differences lie in the use of a single layer of melee diamonds surrounding the center stone. Here, you can see the distinct crescents in the form of cups holding onto the french-cut diamonds.
Tacori's Rings Are Expensive! Are There Replicas?
Tacori rings don't come cheap and they can sometimes cost 2-3 times the price of a typical mass-produced setting. Considering they are designer rings with a certain level of branding to their name, it shouldn't come as a surprise.
Sure, you could try to get replicas made at lower prices from jewelry benches but I will have to warn you that it is illegal for any other jeweler to copy their trademark designs.
However, that's not the real reason why I would advocate for the original. If you or your girlfriend are dead set on a Tacori ring, a substitute or replica just won't achieve the kind of quality of an authentic Tacori. If you followed my blog or had read my past reviews on other big brands, you will know compliments don't easily come out of my mouth unless they truly deserve it.
Tacori is a popular bridal jewelry company for good reasons. The higher prices can be attributed to the higher level of quality you will be receiving. Each Tacori ring is individually hand-made in the United States and you also get a lifetime service and maintenance on your purchase.
Personally speaking, that is by far a better deal than trying to save a few hundred dollars on a replica and run the risk of receiving a sub-par item.
Trust me – an original Tacori ring is worth every penny paid.
Where Can You Buy Tacori Engagement Rings?
If you are interested in getting a Tacori setting, the only way to go about doing it is to purchase one via an authorized retailer. Remember, a ring setting itself isn't complete unless there is a center stone to complement it.
As an analogy, I always liken a branded setting as the chassis of a high-performance Ferrai car and the center diamond as the engine powering it. Does it make sense to pay for a branded setting only to match it with a mediocre center stone?
Now, there are plenty of jewelry retailers but only a handful that actually deal with super ideal cut diamonds. White Flash happens to be the only authorized seller specializing in high performance diamonds.
For people who are looking for diamond rings with the best sparkle and light performance, I recommend that you check them out first. With that, I wish you all the best in your diamond ring shopping. Feel free to drop a note below or an email to get in touch if you have any questions.
Related Articles
Tacori
Receives An Excellent Rating of

4.5

/

5

– Reviewed by

Paul Gian