Disclosure: Please note we may generate revenue through the links/ads on this page and throughout this site. That said, we do NOT accept paid reviews and take great pride in providing honest opinions and objective information on products/services. Put simply, if a product isn't good enough for us to personally buy, we won't recommend it.
If there are hundreds of online jewelry stores, how do you identify the most reputable retailers? Independent reviews would probably be your starting point when looking for one and that's probably the reason why you landed on this webpage.
This is a review of B2CJewels.com; a company dealing in online jewelry. B2CJewels is popular for its wide range of loose diamonds but does that alone make it stand out from the crowd? Find out in this review and check out the diamond ring I purchased from them.
B2CJewels.com's Product Range
With a huge collection and database, B2CJewels.com is comparable to some of the other big jewelry outfits online, among others like Blue Nile, James Allen, etc.
As of 2011, B2CJewels.com has over 70,000 loose diamonds available for sale in its inventory. While you may not find a huge inventory of fancy shape diamonds, they still offer an impressive range of choices for shoppers to choose from. Bargain hunters and people with a tight budget will also be pleased with the humble selection of smaller diamond pieces.
There's also a service that allows customers to make their own designs for earrings, pendants and rings. For rings, B2C Jewels offers preset pieces for wedding and engagement. Generally speaking, their product range is pretty much comparable to other established online retailers.
Search Tool For Finding Diamonds
When you have an enormously huge array of products at your online store, a reliable and robust search tool is a must, and theirs doesn't disappoint.
The graphical search tool for narrowing down choices based on criteria.
To make a search, you specify the shape of the diamond you're looking for and you could then narrow down your search by specifying different criteria, such as grading certificates, price range, etc.
Search results are then returned in a chart format, with an extra feature of including columns or removing them. In addition, you can sort your results and narrow down choices further by inputting more of your search criteria.
Advanced features can help you narrow down selections quickly.
Checking the Jewelry Purchases
When shopping for an engagement ring or a diamond, you want to carefully check and be sure of what you're buying before committing to a purchase. For most people, this can be a huge problem when it comes to buying jewelry online.
Sadly, like most other mediocre Internet vendors, B2C Jewels do not readily provide photographs or videos of diamonds listed on their website. The closest picture of a diamond listing you can find on the website is a generic stock photo sample and nothing more.
While this is a huge shortfall in terms of service levels, they make it up by offering some of the best prices you cannot find anywhere else. Also, what's really cool is that they offer different views of a computer-generated diamond and even simulate how the rings would look like on your hands.
Speaking from personal experience, you do get what you see on their website when it comes to engagement ring settings.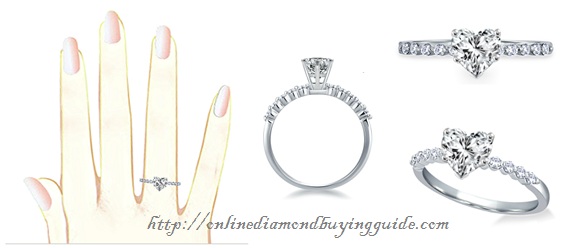 Click this link to view the ring on B2CJewels
B2CJewels Review – Be Prepared to Do Some Research
While the setting designs do live up to the expectations set on their website, choosing a great diamond based on their online inventory isn't a walk in the park.
**Unless you have some experience or you are somewhat knowledgeable in selecting diamonds, B2CJewels.com is a potential minefield to making bad decisions.
With that said, if the slightly lower prices are tempting and you are willing to do a little legwork to put in effort on researching your purchase, you can still end up with a decent purchase. More importantly, you should make use of all the resources available to you. For example, if there's anything that you are unsure about, get in touch with their customer support to get your questions answered.
I actually did one of my own purchases (a heart shaped diamond ring) at B2CJewels to find out first-hand how their service measures up. Frankly speaking, the only reason why I went ahead with the purchase was based on my knowledge of choosing diamonds.
Even then, I was still taking a calculated risk which I wouldn't have if there were other options available.
Examining Diamonds And Assessing Service At B2C Jewels
B2CJewels.com offers customers a 30-day money back guarantee for pieces you have not worn. In case you get the finger size wrong, ring resizing is done at no extra cost within 60 days of purchase. All of their products also come with a twelve-month warranty that covers normal wear and tear.
Most online customers would probably want to know if they are able to contact the company should any problems or questions arise. In this regard, B2CJewels provides phone, email contact as well as live chat support.
Understandably, customers buying diamonds online may not be comfortable paying for a big ticket item without viewing it. Upon request, they do try to source for more details and information if you require them.
The reason behind the lack of photographs or videos on their website is due to their online inventory and business model of working with global suppliers. That is to say, most diamonds that they list are owned by someone else and are held in vaults.
Only when a purchase is made and payment is confirmed will a diamond be shipped from a global location to B2CJewels's New York office for a final inspection. As a result, it is sometimes not possible for them to get hold of a properly taken photograph due to logistic reasons.
Going The Extra Mile to Obtain Information For Customers
Based on my personal experience with B2CJewels, the support staff had been willing to do this for me and provided me with images of diamonds that I shortlisted.
Note: Although pictures of what you want to buy may not reveal everything about the diamond, photographs or videos can reveal details in clarity which can give you an idea of what you can expect to receive. Magnified photographs can also give you an overall look and feel of the diamond especially if you are buying a fancy cut.
The truth is, in order to guarantee a purchase of a beautiful fancy cut diamond, you need additional information such as ASET or Idealscope images and videography. Such data will help you make an analysis of the stone's optical performance and offer you more information than a grading report would.
In my case, these were not available to me because the supplier didn't have access to the necessary equipment for capturing these images. By relying and banking on my experience with examining diamonds thus far, I knew I was sitting on a heart shaped diamond with great potential.
Since I had no other choice as other vendors did not have heart shaped diamonds of similar specifications available, I had to request B2CJewels to contact their supplier for a review of my shortlisted diamond.
Buying Without Scope Images is Not Meant for the Inexperienced
Under this scenario, you would have to trust the supplier's review of their inventory to be objective. Of course, it would be in your favor to explicitly mention that the diamond will be sent back if it doesn't meet expectations. Most vendors don't want this to happen because it would incur restocking fees on their part.
With no other available options for a well-cut diamond within my budget anywhere else, I took a calculated risk (no physical means of examining the diamond) and jumped the gun. Like I mentioned earlier, this stone was heavily researched before I laid my money down and I personally have a good eye for detecting well cut diamonds.
Admittedly, there were still some risks involved since I'm buying blind. The fallback I had was the money back guarantee since I could always return the purchase if it didn't turn out well. Fortunately, it was the right call and the engagement ring turned out really good. If you are interested to see videos I made on the ring, click here.
Free Shipping With Purchases From B2CJewels.com
If you reside in the US, you get free shipping on all purchases. With a small upgrade, you can get faster shipping with UPS if you need your ring on an urgent basis. For international orders, the package would usually need about 7-10 days depending on which part of the world you are residing in.
Here's my package when it arrived in Singapore…
Wrapping Up Our Review With a B2C Jewels Coupon Code
B2CJewels can sometimes offer better value for your money. Being a smaller player in the online diamond industry, they have better price flexibility and retail services than most other websites.
However, there are risks and downsides to buying diamonds blind. Because of this, there are additional precautionary steps in screening a diamond and the need to request additional information on your shortlisted choices. This translates into more time and effort on your part during the entire process of making the purchase.
Unless you have no other better alternatives (this was my scenario due to the severe lack of good heart shaped diamonds within my budget anywhere else), I don't advise you to use B2CJewels.com.
B2CJewels Coupon Code You Can Use For Additional Savings
Because of our online presence and relationship with online diamond websites, we can often negotiate better deals for our readers. Should you decide to make your ring purchase with B2CJewels.com, you have the opportunity to enjoy more savings with this coupon code – "DIAMOND14"
Click here to visit B2CJewels and here are the simple steps that will run you through the checkout process.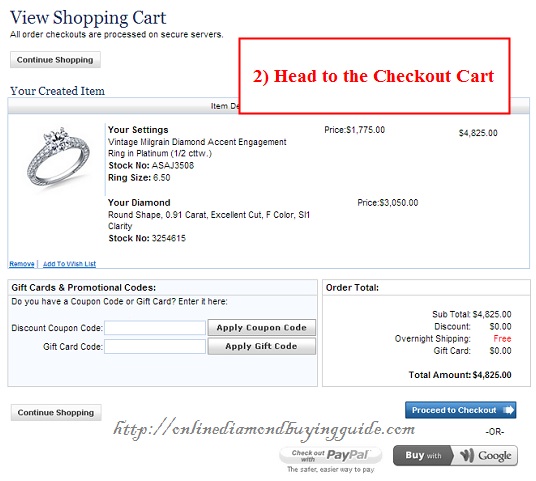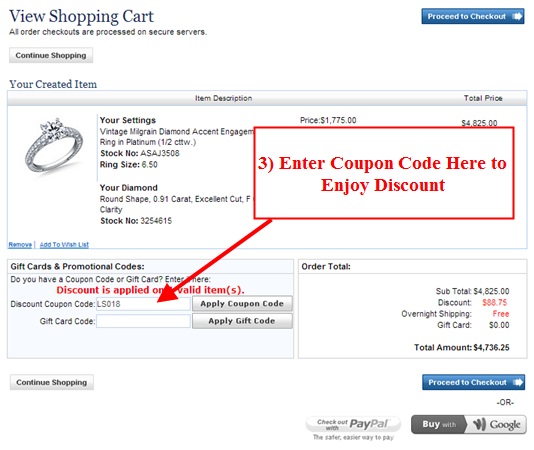 Related Articles
B2CJewels.com
receives a decent rating of

2.5

/

5

– Reviewed by

Paul Gian