When it comes to buying a diamond engagement ring, 1 carat is the "magic" weight that most women desire. Due to its popularity, the prices of one carat diamonds are elevated because of supply and demand mechanics.
If you are on a tighter budget, an alternative is to buy a 0.90 carat diamond which is just below the psychological 1 carat mark. This way, you get a diamond ring which looks very similar in size to a 1 ct ring but avoid paying the price premium.
In this article, you will discover everything you need to know about buying a high quality 0.9ct engagement ring and also how to save money in the process.
▸ A Visual Look at 0.9 Carat vs 1.0 Carat Size Differences
▸ 0.90 Carat Diamond Ring Prices – Case Study Comparison
▸ Recommended Selection Guidelines on the 4Cs
▸ Where Are the Best Places to Buy a 0.9 ct Engagement Ring?
▸ Beautiful And Practical Ring Design Ideas
A Visual Look at 0.9 Carat vs 1.0 Carat Size Differences
One of the most common questions I receive usually relate to visual size differences between a 0.9 carat diamond vs a 1.0 carat diamond. But, is it possible to detect size differences readily with the naked eye?
I've actually illustrated the differences between various carat sizes in a separate blog post and my take is: most people can't. And here's a real life comparison of 2 solitaire rings to give you some perspective.
0.90 carat vs 1.0 carat diamond ring in 6 prong solitaire design.
Unless you are comparing a 0.9ct diamond vs a 1.0ct diamond right next to each other, it is very difficult for the eyes to perceive small changes in size. You see, a well cut 1 carat diamond is about 6.4-6.5 mm in diameter and a 0.9 carat diamond is about 6.2-6.3 mm.
In terms of physical dimensions, they are only 0.2 mm apart. If you want to see what a small difference this is, simply pick up a ruler and look at the sub-divisions.
0.90 Carat Diamond Ring Prices – A Case Study Comparison
The pricing of a diamond takes into account a complex combination of various factors and carat weight is one of the key attributes that impact costs. Since 1 carat is the most popular weight, there is a price premium on these diamonds due to demand.
In comparison, a 0.90 carat diamond would be more affordable for people on a budget. Let me show you a price comparison performed between 0.90 carat round diamonds vs 1.00 carat round diamonds to illustrate this…
As you can see, prices are much lower by a factor of 15-40% for diamonds with similar specifications (i.e. identical cut qualities, clarity and color) when you go slightly below 1.00 carat.
Besides round diamonds, this pricing phenomenon is also present in fancy shape diamonds like cushion cuts or oval cuts. Here's a price comparison chart I performed on Blue Nile for oval diamonds.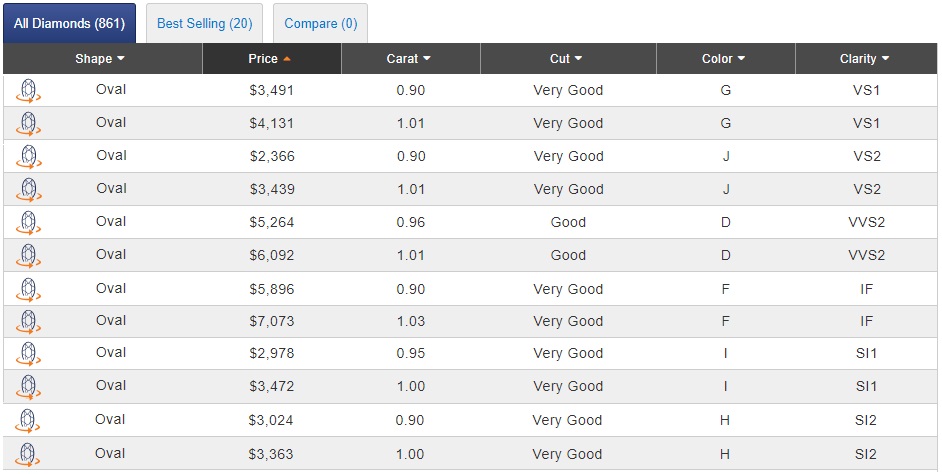 Again, you can probably notice a steep rise in costs for a mere 0.10ct difference in weight. The disparity in cost between 0.9ct and 1.0ct diamonds can be a significant amount of money for people with a tight budget.
Recommended Selection Guidelines on the 4Cs
Now, I want to reveal some insider mechanics on how things work in the industry.
Psychologically, consumers want to go for a 1 carat mark when buying an engagement ring and this creates a huge demand for them.
Diamond cutters know they can charge a premium for 1 carat diamonds to make more money because the market is willing to pay for them. And sadly, this is where they utilize tricks and techniques to compromise on cut quality just so that a polished diamond makes the magical 1 carat mark.
That's the primary reason why there are so many mediocre cut diamonds in the market. Cutters purposely polish diamonds that are too shallow or too deep in order to retain "dead weight".
When it comes to buying diamonds, CUT is the most important attribute on a diamond's sparkle and brilliance. In my opinion, other aspects like color/clarity/carat weight are secondary. With that said, here are the guidelines I recommend using if you want to get the best value for your money.
Cut: AGS 000 or GIA 3EX
Clarity: VS2 or SI1
Color: G or H
Grading Report: GIA or AGS
Notice that I didn't recommend an IF clarity or a D color? That's because an eyeclean VS2 will look exactly the SAME as an IF diamond to the naked eyes. Likewise, a G color diamond will face up white and most people can never tell any differences in the face up view.
Buying a diamond isn't that hard but people tend to over complicate things and get misled by unethical sales people. By taking a practical approach, you can save a lot more money without overpaying for characteristics that you can't see.
Where Are the Best Places to Buy a 0.9 ct Engagement Ring?
Well-cut diamonds in the range of 0.90 – 0.99 carat are not common in the market. Due to economic reasons, cutters have the incentives to compromise on cut quality to achieve a poorly cut 1 ct diamond rather than a well cut 0.9 ct diamond.
In order to get a good selection of diamonds to cherry pick from, you need to head online and avoid the physical stores.
Unlike physical stores that tend to have mediocre selections and store policies, vendors like White Flash, Brian Gavin and Blue Nile offer deep inventories with selections across various budgets.
The more important thing is, their exemplary transparency in listings makes shopping for an engagement ring straightforward and fun.
In the example of a typical listing from White Flash, you can see that performance data like ASET, Idealscope and H&A images are readily provided. Not only do you get to see HD videos of every single detail in the diamond, you also get ready access to tangible data to help you assess cut quality.
4 Beautiful And Practical Ring Design Ideas
I know many readers struggle with the choice of a ring design because there are simply too many to choose from. In this section, I'm going to reveal 4 of my favorite designs for a 0.90 ct engagement ring and hopefully, it gives you some ideas for your own ring.
Let's start with two from Blue Nile…
On the left is a stunning designer ring from Blue Nile. This 3-stone platinum ring has three rows of micro pave set melees and 2 sidestones to complement the beauty of the center stone.
On the right is a floating halo ring design that is designed to make the center stone look larger than it is. Placing a 0.90ct diamond in the halo actually creates an illusion of a 1.2ct large diamond when seen from a distance.
In fact, I mystery shopped an engagement ring with the same exact design above. If you are interested to see indepth and close up photos of Blue Nile's craftsmanship, click here.
---
The 2 engagement ring designs above are affordable options costing $440 and $595 respectively.
For an evergreen and elegant setting, the 4 prong solitaire ring on the left is an amazing choice to go with. If you like a little more bling on the finger, the petite pave ring on the ring does the job without breaking the bank.
With that, I hope this article has helped you out. If you have any comments or questions, feel free to get in touch or leave a comment below.
Related Articles