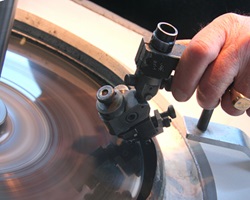 Dop and tang used in diamond polishing.
Diamond cut is often highlighted as the most important "C" as it has the biggest impact on the diamond's appearance. That's because cut determines if a diamond will sparkle with life or appear dull and lifeless.
Out of the 4Cs, cut is also the factor that is solely decided by the actions of humans. And as obvious as it seems, I pretty sure everyone wants a diamond that looks brilliant and fiery.
Now, if all rough diamonds have the potential to be turned into beautiful jewels, have you ever wondered why the majority of diamonds in the market are poorly cut?
Why do diamond cutters polish rough stones to crappy proportions by choice when they themselves will not buy a diamond that looks lifeless? Isn't that completely ironic?
Well, the main reason why most diamonds are cut to mediocre proportions boils down to one word: PROFIT.
Principles of Diamond Cutting – Effects on Appearance
Diamonds are unique because of their exceptional ability to reflect and refract light. An ideally cut diamond reflects close to 100% of the light that enters through its table and crown facets. This reflected light is seen as sparkle, fire and brilliance by the observer.
A well cut diamond will also make a stone look larger than a poorly cut one of the same carat size, mask its color and hide clarity flaws.
When a stone is cut too shallow, a fraction of light will leave the stone through the pavilion facets. Likewise, if a stone is cut too deep, a fraction of light will leave through its sides instead of being reflected back into the viewer's eye as brilliance and sparkle.
This is the reason why poorly cut diamonds often look darker and lack life.
Reasons Why Rough Stones Aren't Cut to Maximize Light Performance
Contrary to popular belief, human errors aren't responsible for poorly cut diamonds and there aren't any impromptu decisions made on the polishing wheel.
When we are talking about millions of dollars being involved with procuring rough diamonds and polishing them, there isn't room for errors in creating profitable end products.
You see, in the diamond business, the bottom line is to make money and rough stones are cut based on deliberate choices. During the cutting process, every rough stone is carefully analyzed and meticulously planned with the use of powerful computing systems.
When deciding how to cut a rough stone, economics and profitability are 2 factors that are always placed above everything else. A diamond's price is most significantly affected by carat weight.
And because of this reason, both cutters and retailers have strong financial incentives to retain weight in a rough diamond at the expense of having an inferior cut.
Case Study: How a Rough Diamond is Utilized in Real Life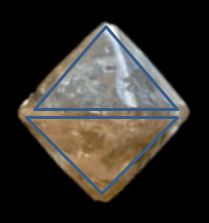 Most cutters maximize carat weight instead of "sacrificing" weight for better cut.
To illustrate this, let's say we have a rough crystal that weighs 3.00 carats. From this rough, it is possible to attain two 1.3 carat round diamonds with a cut rating of "good" and these 2 diamonds have a total market value of $30,000.
It is also possible for the same rough crystal to be used to create 2 ideal cut stones weighing 1.00 carat and 0.90 carats instead. In contrast, these 2 diamonds could only sell for a total of $22,000 even though they have better optical performance.
Besides the higher market value the first option presents, the "good" cut diamonds are cheaper to produce because less time and skilled labor are needed on the polishing table. Economically speaking, which option would you take if you were the business owner?
Sometimes, the cutter's decisions are influenced by material flaws and the intrinsic shape of the rough diamond. For example, the location of inclusions in a rough can force cutters to polish the diamond in a particular manner such that the inclusions get removed.
Such decisions are usually made with the help of high-tech scanning equipment and visualization software. Ultimately, priority is always given to better sale-ability and overall value at the expense of cut quality.
Visual Differences of Round Diamonds With Different Cut Grades
Above are 3 diamonds that I selected to show you how cut quality can visually change the appearance of the diamond. Feel free to click on each of the images and interact with the video listings for yourself.
As you can see, the GIA Very Good cut is outright horrible as there is too much contrast under the table facet and it makes the diamond appear very dark looking.
The second diamond is a generic GIA triple excellent cut diamond which can be found in most jewelry stores. The problem with this diamond is that it has non-ideal cut proportions which causes light leakage and poor contrast patterning.
The third diamond is a top of the line AGS ideal cut diamond which displays superb contrast patterning and light return. These diamonds only account for less than 1% of the global polished diamond inventory.
Here's a short video that shows various diamonds with excellent and very good cut ratings being compared side by side. Under various lighting conditions, you will be able to see why cut matters when it comes to sparkle and brilliance.
Let's Wrap Things Up: What Cut Grade Should You Buy?
Most jewelers take advantage of the consumer's obsession with diamond carat size and their ignorance about cut quality in order to maximize their profit.
If you want a beautiful looking diamond engagement ring and you are on a budget, my advice for you is to compromise on aspects like color, clarity and carat weight. Never compromise on cut because it actually helps make up for each of these 3 aspects.
When you are choosing a round cut diamond, I recommend starting your search by looking at diamonds with a cut grade of either GIA 3Ex or AGS ideal 000 and using this table of ideal proportions to narrow down your selections.
Despite my advice, I know there will be some people who will intentionally sacrifice cut quality because they have a minimum requirement in carat weight to meet. With a limited budget to work with and an unwillingness to lower clarity/color specs, the only way for them to afford a larger diamond is to lower the cut quality.
If this sounds like you, please reconsider your options. I personally think that it is a bad idea to buy diamonds in this manner but the decision ultimately lies in your hands. If you want to spend your money on a dull-looking diamond, who am I to say you can't?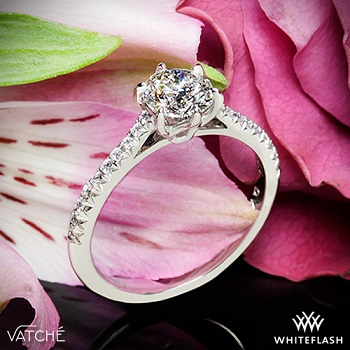 Quality matters over size. I purchased this stunning diamond ring recently from White Flash.
Lastly, the importance of a reliable gemological report (GIA or AGS) cannot be understated as it offers you an accurate assessment of the diamond's material properties and cut quality. On this note, I want to point out that the different labs (e.g. GIA and AGS) take a slightly different approach to evaluating cut quality.
And since cut is such a major topic in the diamond selection process, I will discuss this topic in more depth on the next page…
Related Articles