A stunning solitaire round diamond proposal ring from White Flash.
When it comes to buying a proposal ring, most guys have no idea how to get started or even where to buy. Some may begin their search in local stores without doing any prior research while many others try to get advice from friends/family members who are just as clueless.
Worse still, I've even come across people who don't even know what they want but ended up buying something they don't really want due to heavy pressure selling.
There are also many others who fall into the trap of making a purchasing decision based solely on what a grading report states without fully understanding what they are buying.
Now, I have been in the industry for years and it still befuddles me whenever I see people emptying their savings into a purchase they aren't sure about.
Buying a diamond isn't that hard as long as you take a pragmatic approach to the shopping process. In fact, there are only 3 main things you need to bear in mind if you want to buy a beautiful proposal ring without getting ripped off.
You should only buy GIA or AGS graded diamonds.
Place your emphasis on cut quality and verify performance with tangible data.
Magnified videos/photographs that enable you to see the diamond are mandatory.
I've also written a comprehensive step by step guide to choosing a diamond. It will help you go beyond the 4C's and turn you into a smart shopper. This will help you base your purchase using knowledge instead of luck and ensure you buy the best diamond proposal ring for any budget.
Where Are the Best Places to Buy Round Brilliant Cut Diamonds?
Pulling the trigger on a huge purchase isn't always easy
Buying diamonds can be very difficult and stressful but this doesn't need to be the case. Shopping at a reliable vendor that is transparent and consumer-orientated will instantly simplify the process.
Here are 4 things you should look out for when choosing a retailer.
#1 – Diamond imagery and provision of tangible data.
Good vendors offer high resolution pictures and 360 degree magnified videos that allow you to assess the diamond's appearance. This is especially important when it comes to buying lower clarity diamonds as you can analyze the stone for eyecleanliness.
The best vendors in the business will also be willing to provide you with ASET or idealscope images and they can be extremely useful for comparing light performance between round cut diamonds.
#2 – Sizable diamond inventory (GIA or AGS certified diamonds only)
I've already said this before and I will say this again.
You should only buy diamonds graded by GIA or AGS only as they are the most reliable labs in the industry. A diamond with any other reports/certificates will not be graded accurately and you can expect to receive a misrepresented diamond.
With a deep inventory of diamond selections, you would also be able to cherry pick the best diamond for any given budget and you typically only enjoy such features with online retailers.
In contrast, most physical stores would only hold a couple of diamonds within a certain carat size and you would be expected to compromise on your requirements and quality.
#3 – High quality workmanship of proposal ring settings.
Ring setting workmanship is an important factor that many people ignore even though it makes up half the components of a proposal ring. Better craftsmanship not only results in better aesthetics, but it also provides better security to hold the center diamond.
#4 – 100% risk-free money back guarantee. 
Sales policies that protect you as a consumer are virtually non-existent in traditional brick and mortar jewelry retailers. Exchanges don't count as you are still forced and locked into the sale when things go south!
If a jeweler isn't willing to stand behind their products with an iron-clad no questions asked refund policy, you better be asking yourself a big fat "Why" you would want to buy from them. If a retailer doesn't offer any money back guarantee, it's a red flag. Run.
Top 3 Places to Buy a Beautiful Round Diamond Proposal Ring
James Allen: The Online Visionary And Pioneer of Intuitive Videos
James Allen is the undisputed king of diamond display technology. Their 360° HD video listings are super intuitive and allow you to scrutinize the diamond under magnification easily.
Unlike shopping in a traditional store, there's no need to rely on a salesperson's opinion or be limited by the mediocre selections they offer. At James Allen, you can review as many diamonds as you like with full transparency and cherry pick the best stone that fits your budget.
On top of that, there are a plethora of beautifully-crafted ring designs that you can choose from at affordable prices. Check out a photo of the proposal ring I recently purchased from them. For a more indepth review, click here.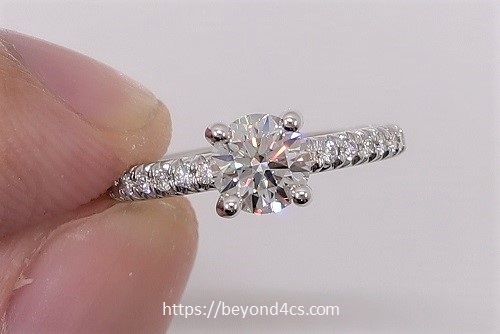 14k white gold pave diamond ring with 0.57ct center diamond.
As a consumer-orientated company, James Allen offers the best return policies in the industry with a generous 30 days money back guarantee and unprecedented FREE return shipping in the USA.
In truth, they are able to do this because they are confident of delivering high quality products that customers love and that alone should speak volumes.
Here is a list of all the features that you can enjoy when shopping at James Allen:
· Huge inventory of more than 300,000 loose diamonds.
· Real life HD videos of every diamond listing and magnified photographs.
· High quality jewelry at competitive price points.
· 100s of ring setting designs and customization choices.
· Lifetime warranty on all jewelry purchases.
· 24/7 customer service to answer any questions you have.
· 30 days 100% money back refund policy.
If you are wondering how the complete package looks like when you buy a proposal ring from James Allen, check out the unboxing video below…
---
White Flash: Super Ideal Cut Diamonds And Designer Rings
Designer pave diamond proposal ring with super ideal round diamond I purchased.
Whiteflash is a vendor that specializes in super ideal cut diamonds. Their A Cut Above collection of round and princess cut diamonds are some of the most beautiful and precisely crafted in the industry.
With a splendid selection of hearts and arrows diamonds that are carefully curated for performance and quality, White Flash is also able to provide physical gemological reviews/comparisons of their diamonds.
Besides their A Cut Above diamonds, White Flash is also well known for their excellent customer service standards. In terms of setting choices, White Flash is an authorized retailer of many designer brands and also have well made in-house ring designs for you to choose from.
In fact, I've personally purchased a Vatche diamond proposal ring from them with a budget of $4000 and you can read the full details of the review I made here.
Here is a list of the features you can enjoy when shopping at White Flash:
· Curated selections of high performance ideal cut diamonds.
· HD videography and light performance scope data in their listings.
· Massive selection of ring setting from brands like Verragio, Ritani, and Tacori.
· 1 year buy back guarantee and 100% lifetime upgrade policies.
· Top notch customer service to help you throughout your shopping process.
· 30 days 100% money back refund policy.
For people who are interested, I've recorded a full-length box opening video of a purchase I made recently below:
---
Brian Gavin: Five Generations of Diamond Cutting Perfection
Brian Gavin is an industry name that is synchronous with diamonds of impeccable cut quality and sparkle.
As a fifth generation diamond cutter, Brian Gavin is a perfectionist when it comes to diamonds. He is also constantly innovating to produce new cutting styles that exhibit the best sparkle and brilliance.
His signature lines of ideal cut diamonds represent the top 0.01% of polished diamonds in the world when it comes to cut precision and light performance. To cater to people with different needs and budgets, he launched his Black, Cape and Blue signature lines that consist of diamonds with different material specifications.
With their inhouse team of bench jewelers, their jewelry workmanship and attention to detail are exceptional. Here are some of my favorite settings from their collections:
Here is a list of the features you can enjoy when shopping at Brian Gavin:
· Curated selections of high performance diamonds by Brian Gavin.
· Availability of super ideal cut rounds, princess, cushion and emerald shapes.
· HD videography and light performance data in their listings.
· First class setting workmanship that is performed in-house.
· Superb customer support team ready to help you out.
· 15 days inspection period with 100% money back refund policy.
---
Summary: Where's the Best Place to Buy a Proposal Ring?
As you can see from the recommendations, the best places to buy a round diamond proposal ring are predominantly online vendors (they do have physical showrooms too). For the uninitiated, making an expensive purchase online might seem to be a daunting task but it actually isn't.
The truth is, shopping via the Internet allows you access to more information than what a normal brick and mortar jeweler would provide. You can take your time to cherry pick the best stone within your budget without any pressure from any salespeople.
More importantly, you will be able to make rational decisions based on facts and data instead of buying on impulse. On top of that, you get to enjoy a risk-free, transparent shopping experience with full protection that is non-existent in traditional stores.
At the end of the day, the best place to buy a proposal ring really depends on what you are looking for in terms of budget and setting design. The different vendors each have slightly different offerings.
If you have any queries or require a 2nd opinion on your selections, please don't hesitate to leave a comment or drop me an email with your questions.
Related Articles