Round brilliant vs round modified brilliant – GIA grading report.
If you had been shopping around for a diamond engagement ring, you might have come across the terms "Round Brilliant" and "Modified Round Brilliant" in a GIA grading report. So, what do these terms mean and how do they affect the visual appearance of the diamond?
In this article, you will find out what they are and get an overview of most popular modified round brilliant cut diamonds in the market; the Solasfera and Star 129.
What is a Brilliant Cut And What is a Modified Brilliant Cut?
The standard 57 facets round brilliant cut facet arrangement.
A brilliant cutting style simply refers to a facet design where the pavilion facets converge to meet at a single point of the diamond (culet). One distinct feature of brilliant cut diamonds is that their individual facets take on a triangular or kite shape and have a radiating layout.
The standard round brilliant cut diamond has 57 facets which behave like tiny mirrors to refract light into a spectrum of colors and return light to the viewer's eye. Because of the sparkle the brilliant cut creates, it is the most prevalent cutting style found in modern polished diamonds.
A round modified brilliant cut diamond facet arrangement.
When the term "Modified" is used to describe a cutting style, it simply means that the diamond doesn't possess a standard facet arrangement. Grading labs like GIA and AGS would use the technical term "Round modified brilliant" cut to describe such stones in their certificates.
Most of the time, this is due to the addition of facets into the design or even something as simple as a reorientation of facets. Now, there are plenty of round modified diamonds in the marketplace and you may have heard of branded diamonds like the Leo Diamond, Zale's Celebration, Gassan 121  Wylde Flower Diamond and 221 facets Brilliant Lady.
Basically, these diamonds are created by making modifications to the facet structure of traditional round brilliant cuts. The problem I have with many of these branded diamonds is that they are often falsely marketed to have "better sparkle" and aren't worth the insane price premiums.
Solasfera Diamonds – A Quick Review
When it comes to modified round brilliant diamond designs, one of my personal picks is the Solasfera because of its light performance.
Interestingly, the name Solasfera is rather eloquent as "Sol" is Latin for "sun" and it literally means having the brilliance of the sun. On that note, even the internal facet structure of the stone is reminiscent of perfectly distributed sunbeams.
Technically speaking, a Solasfera diamond has 91 facets or 92 facets when a culet is present at its tip. The company claims that its creation is the "most brilliant" round cut diamond on Earth.
And if you had been following my blog long enough, I usually toss such claims out the windows until I see visual proof for myself. However, this case was an exception.
The Solasfera really features vivid brilliance and scintillation that makes it well worthy of its name. In terms of craftsmanship, the Light Masters Corporation has set really high standards and quality control into the Solasfera's cut.
What About Star 129 And Other Modified Cuts?
The Star 129 diamond.
Besides the Solasfera, there is plenty of other modified round cut diamonds in the market but the truth is, most of them are mediocrely cut and sold under the guise of fancy sounding brand names.
However, I do want to mention some notable ones like the Eighternity and Star 129.
As the name suggests, Star 129 diamonds have 129 facets instead of the "standard" 57 facets that the standard round has. That's almost twice as many facets and it is also dubbed as "absolutely the most spectacular diamond on the planet".
If you think about it logically, a cutter needs to place 129 surfaces onto the diamond during the polishing process. If you try to divide all that up within the surface area of a small stone, what do you think you would end up with?
Well… it will result in 129 super small surfaces. And when light hits on hundreds of this small surface, it can create a very messy (though bright) appearance. Here's a blown up view to let you see the finer details of the Star 129.
Because of the small surface area of each facet, the diamond takes on an extremely splintery appearance and that can be a problem when buying small carat size diamonds.
The appearance of a Star 129 might come across kitschy if the diamond is not large enough to support all that brilliance. So, unless you are thinking of buying a diamond of least one and a half carat in size, you should probably stick with the standard round cut.
Visual Comparisons of Diamonds Under Various Lighting
As you can see, the Star 129 wins hands down in extreme spotlighting scenarios. I can honestly say this is almost the maximum brightness and brilliance any diamond can show under this type of controlled lighting condition.
However, I would still prefer a traditional 57 super ideal cut round diamond or the Solasfera over the Star 129 diamond. Why? It really depends on where the lady works.
Chances are, she is more likely to be exposed to "normal" environments with diffused lighting conditions (office lighting) or soft spotlighting most of the time. In these types of lighting, I feel that the Star 129 diamond loses out on the contrast aspect and doesn't look appealing.
Is There a Winner Between The Different Modified Brilliant Cuts?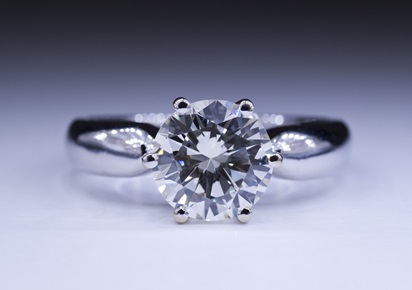 Are modified brilliant cuts more sparkly and lively?
Ultimately, it is what you prefer (or the lady prefers) that really matters. Different modified brilliant cut diamonds take on different appearances and flavor.
Remember, diamond carat weight is a factor that comes into play when you are looking at modified cuts with significantly more facets. When the size of the diamond is small (< 1.5 carats), every individual facet would also be cut relatively smaller and this results in a chaotic appearance.
If you are buying a smaller diamond, stick to the traditional round brilliant cut.
Personally speaking, I'm a traditionalist and given the amount of junk I had seen being marketed as superior, I would stay away from modified round brilliant cut diamonds. They aren't worth the money and most consumers end up overpaying for inferior quality.
When shopping for a diamond ring, branding and fanciful marketing mean nothing to me. I would rather buy a high quality diamond ring with proven light performance and one that is made with a high standard of craftsmanship.
Stunning and affordable diamond engagement rings from White Flash.
Related Articles