When you are shopping for a diamond ring, the grading report (certificate) is a vital document that contains information about the diamond's quality.
As a consumer, the grading report helps you understand what you are buying and to a certain degree, enables you to justify its value and the price you should be paying.
Because of this, you should only buy a diamond with a grading report that originates from a neutral 3rd party to prevent any conflict of interest and biased grading.
Among other uses, a grading report (certificate) from a reliable gemological lab also acts as a security screen against treated and synthetic diamonds. Thanks to a series of tests and scientific analysis performed during the grading process, it is possible for gemologists to detect the presence of artificial treatments in color or clarity.
Basically, a grading report not only provides you with a scientific blueprint of the diamond's properties and characteristics, it also attests to the diamond's authenticity.
In this article, we will take an indepth look at various gemological labs and grading reports you will come across in the market. You will also find out what are the differences between them and which are the ones you need to avoid.
An Abundance of Grading Labs Around the World But…
Not all laboratories are created equal.
As a consumer who is shopping for a diamond engagement ring, it is extremely important for you to understand the differences between the various gemological institutes and grading certificates.
You see, each lab uses its own grading system and nomenclature.
Some labs are strict and consistent while many others have loose standards and inconsistency. As a result, a report from one institute may show significantly different results from a report issued by another lab for the same diamond.
The problem here is that having an inaccurate assessment of the diamond's quality would affect its value and the price you should pay for it. If you didn't know better and made a purchase based on a certificate with inflated grades, you would likely be overpaying for a diamond with inferior qualities.
What Are the Most Popular Diamond Grading Labs in the World?
Let's take a look at 4 of the most major gemological labs in the world – GIA, AGS, EGL and IGI and find out what the differences are between them.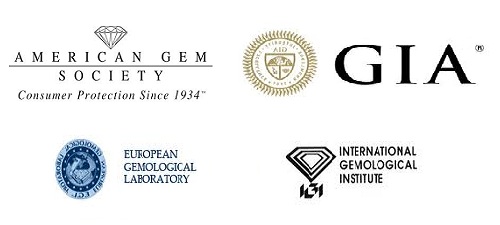 GIA, the Gemological Institute of America, is the leading gemological laboratory in the world. It is the industry's most trusted and most widely used service. Headquartered in Carlsbad, California, GIA has offices in many cities around the world, employing more than 1400 scientists, educators and certified diamond graders.
Besides gem grading and certification, GIA also provides educational services and carries out intensive research work to keep up with fast changing technologies in the gemological field.
In the industry, the GIA diamond reports are highly recognized for their strict grading standards and proven consistency. When buying an engagement ring with a GIA report, it provides you with the greatest peace of mind that the diamond's quality is accurately represented.
---
AGS stands for American Gemological Society and it is also a US based laboratory (with main offices in Las Vegas). The AGS laboratory is renowned for its scientific approach and research in diamond cut grading. Instead of using an alphabetical rating system, AGS uses a scale of 0-10 for rating a diamond's characteristics, with 0 as the best and 10 as the worst.
Like GIA, AGS is also known for their ethical standards and consistency in their grading system. In the US market, the AGS lab is the second most widely used lab service after GIA. They are also globally consolidated through offices in Israel, Belgium, India, China and Hong Kong.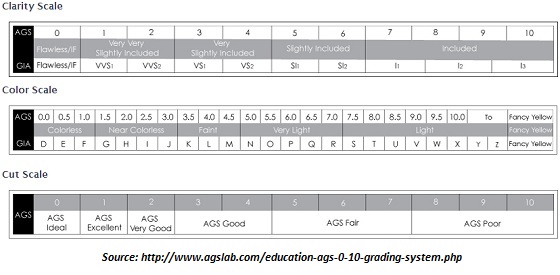 For first timers, the AGS methodology may seem confusing to figure out but once you get the hang of things, it's pretty straightforward. Here's an example to help you out: if a jeweler tells you that a diamond has an AGS cut grade of 0, clarity grade of 3 and color grade of 2.5, the equivalent on the GIA scale is a diamond with Excellent cut, VS1 clarity and I color.
AGS is a trusted gemological lab with reliable grading standards and they assess cut quality on a stricter standard compared to GIA. At the core of AGS's cut grading system is a robust optical ray-tracing assessment which measures the light performance of a diamond.
In the industry, the truly well cut super ideal diamonds are sent to AGS instead of GIA as that is where the "wheat is separated from the chaff". That's because the AGS cut grading system is a lot more advanced and less forgiving when assessing a diamond's craftsmanship and performance.
---
EGL is an abbreviation for European Gemological Laboratory. It is a European founded grading agency and has a big global presence – with offices in London, Paris, Tel Aviv, Tokyo, Johannesburg, among others. EGL is known for pioneering diamond grading techniques for stones weighing less than a carat and has a large market share in Europe.
They are also notoriously known for the introduction of the 'SI3' clarity rating for diamonds and have also been embroiled in controversial consumers lawsuits for overgrading diamonds.
Do Not Confuse Certification and Appraisals
This is one of the most common scams in the industry where consumers get ripped off. Many unethical jewelry stores offer "wholesale deals" with questionable grading certificates designed to misrepresent the diamonds they sell.
An appraisal is usually performed by a trained professional operating in an individual capacity and pegs a value to the jewelry. Unlike a report generated by an independent gemological lab, the accuracy of the appraisal is only as accurate as the training, skills and tools the appraiser has.
Note: An appraisal is typically used for insurance purposes and post-purchase follow-ups. It shouldn't be used as a substitute for a grading report.
---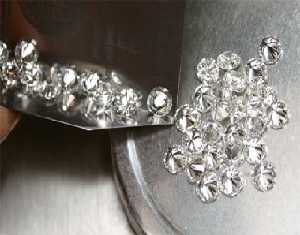 And finally, IGI is the International Gemological Institute that is based in Antwerp, Belgium. After GIA, they are actually the 2nd most well-known lab in the world.
IGI actually grades a significant amount of polished diamonds in the market and they are prevalent in Asian countries. IGI also grades synthetic diamonds on a commercial scale.
While EGL and IGI are more widely known in Europe and Asia, they both operate offices in key cities like New York. As a result, it won't be uncommon for you to see retailers carrying diamonds with reports from these labs.
Now, I'm going to go on record to say that EGL and IGI are labs I DO NOT RECOMMEND.
It's ironic in the sense that gemological laboratories were created with the goal to protect consumers by providing reliable information. Yet, I am warning you against gemological labs like EGL. Find out why on the next page…
Related Articles