For most online shoppers, you might have come across a diamond performance predictor called the HCA (Holloway Cut Advisor) tool to help you make your selections. This was a question which was posed to us about using the tool.
"Recently, I had some diamonds sent in for a physical review for light performance at James Allen.
Here's the 2nd diamond…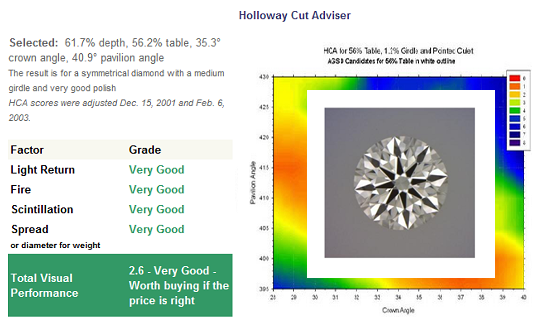 When the gemologist gave me the report, I was surprised!
The better diamond was the 0.42 carat-I-SI1 diamond (1475263) due to its superb light performance with the great fire, brilliance and scintillation. It faces up completely eye clean and has a nice white color. The 0.41 carat-H-SI1 diamond (14753031) had just ok light performance. It faces up eye clean and has a nice white color, but it just doesn't perform as good."
I can't understand how a HCA of 2.6 can be considered superb light performance with the great fire, brilliance and scintillation compared to the H of 1.1 & 1.4.
Isn't it supposed to be simple geometry & physics of light reflection / refraction?
---
Answer: The HCA scores only act as a guideline and should be used as a rejection tool rather than a selection tool. Think of it this way. If the HCA score for a diamond is < 2.0, it results in a higher probability of finding a nice diamond. For HCA scores > 2.0, the chances of finding a great diamond are smaller. However, that's not to say beautiful diamonds with an HCA score greater than 2 don't exist.
Most people take the easier way and simply ignore scores higher than 2.0.
For example, if you choose to shop at Bluenile or any other online vendor where there are no pictures or sufficient data – most shoppers are shopping based only on the information found in a grading report. They would rather 'play safe' and ignore scores above 2.0 because they don't have access to tools like idealscope or even better, an in-house review of the diamonds.
Personally, I believe that HCA by itself shouldn't be used as an end all be all kind of tool but rather as a screening system to narrow down your diamond choices.
Let Me Show You Why the HCA Tool Isn't Fool Proof
I want you to check out the GIA report of this diamond with "great" looking proportions on paper. It's a GIA triple excellent and there are no red flags based on the information presented in the GIA certificate.
These are the corresponding images for the stone…
Plugging in the proportions of the diamond into the HCA software…
As you can see in the screenshot above, the HCA tool returns an excellent score of 1.6 for Total Visual Performance and describes the stone as "Excellent within TIC range".
Now, if you were to be using the tool blindly (and wrongly) without looking at other data like videos/diamonds images/scope photographs, you would be assuming that another diamond with the same HCA score is going to be identical and going to perform well.
In real life, things are going to be way different.
I would like you to take a look at the following diamonds. They each have identical table %, depth %, crown angles and pavilion angles compared to the diamond above. (Just to be clear, these are arbitrary examples. You can easily do a similar test on another set of diamonds with identical parameters yourself.)
To state the obvious, they will all have the same exact HCA score since the parameters used are the same (62.3 % depth/56 % table/ 35.0 crown angles/40.8 pavilion angles).
GIA certified H VS2 diamond report number #3265097097
GIA certified F SI1 diamond report number #2258954393
GIA certified H VS2 diamond report number #6183574691
GIA certified G VS2 diamond report number #7268215324
Do these diamonds all look the same to you? Even though the HCA tool returns the same exact score (Excellent – 1.6) for these diamonds, they obviously look different from each other!
For the record, let me tell you that None of these diamonds would make the cut to be purchase worthy if I were shopping for myself.
At times, the Holloway Cut Adviser fails to eliminate diamonds that aren't cut for the best optical performance or have bad contrast patterning. This should come as no surprise since the tool itself is meant to be used as a weeding tool instead of a selection tool.
I could go on and on to list hundreds of examples to show the pitfalls of using the HCA software blindly if you are a discerning buyer. I will restate: the HCA tool was designed as a REJECTION TOOL and never as a selection tool.
Why The HCA Score For Diamond Selection Isn't Everything
I will attempt to explain in plain English on some of the limitations of HCA:
1) HCA uses the average values of proportions/angles to generate its results. By doing this, the software is assuming a diamond that is perfectly symmetrical. In reality, diamonds have slight variations and deviations in the angles they are cut to.
If you have access to a Helium or Sarin Scan, you will see the deviations of the facet proportions. If you think about it, anything that is "human-made" will not be exactly the same. Furthermore, we are talking about cutting the hardest substance on Earth. There are bound to be degrees of inconsistencies in the diamond.
Sample Report of a Sarin Scan
When we are talking about diamonds, even a slight change in angles (<1 degree) can change the outlook of the stone and its performance.
2) Minor facets (lower girdle, upper girdle and star facets) are not taken into account during computation. For example, in real life, the length of lower girdle facets can impact how a diamond behaves under different lightings. A shorter lower girdle facet length would create broader flashes of light and a longer girdle facet length will create more pin flashes of light.
3) Inclusions and other properties. The software doesn't take into account how inclusions can impact a diamond's beauty. For example, it doesn't tell you whether additional clouds are causing haziness issues in your stone or whether that crystal under the table facet is visible to the naked eye. Likewise, the HCA isn't going to tell you if fluorescence has a negative impact on the appearance of the stone .
That said, diamonds themselves can have slightly different personalities even if they have ideal optics. For earrings, it would be best to match the diamonds to look similar. Since you had a professional gemologist review your choices at James Allen, they are your 'eyes' to help you select diamonds.
I think you need to give James Allen a call to discuss your concerns with them. They are the ones who had seen the diamonds physically and will be in the best position to provide you with further advice. Personally, I would trust what the gemologist says more than what the HCA scores tell me.
Paul
Related Articles