A stunning halo diamond engagement ring from White Flash.
For centuries, diamonds have captivated women and are recognized as symbols for status, love and desirability. You also probably heard about the saying "Diamonds are a girl's best friend". In private, I always tell my friends (jokingly) they are a guy's worst enemy especially if they are first timers in buying jewelry.
And there's much truth in that…
Did you know that most guys take an average of 2 months from the start of their diamond search to making a final purchase? Despite having spent many hours doing research, most people still find diamond shopping a very daunting process.
You see, purchasing diamond jewelry is not as straightforward as buying a pair of shoes or a new handbag. When we are talking about an item that can cost thousands of dollars, it is paramount that you know what you buying exactly and making a purchase only when you are 100% sure. Otherwise, you may likely end up with buyer's remorse.
In this section of the website, you will get access to one of the most comprehensive diamond education database on the Internet (and this isn't an overstatement).
Besides learning fundamental information about the 4Cs, I will also show you exactly how to select and buy the best diamond ring for your budget.
Here is a list of topics we will be covering:
Essential Diamond Education 101 – The 4Cs Explained
Cut – Bringing Out the Beauty And Sparkle of the Diamond

Cut is the property that determines the brilliance and sparkle factor of the diamond. In the grading laboratory, a diamond's cut grade is assessed based on a combination of its performance, proportions, symmetry and polish.
When a diamond is poorly cut, light leaks out from the pavilion facets of the diamond which diminishes its brilliance and sparkle. In a well cut diamond, light that is drawn into the diamond will reflect and refract back into the viewer's eyes as brilliance and fire.
Cut is arguably the most important factor that affect a diamond's appearance but sadly, most jewelers or websites only provide a simplistic coverage on cut and don't offer sufficient information in helping you make the best choices.
That's not what you get here at Beyond4cs.com as we dig deep into the stuff that really matters. Make sure you read these links to get a comprehensive insight into diamond cut:
– Everything You Need to Know About Cut Quality
– Ideal Proportions for Round Cut Diamonds
– What Are Hearts and Arrows Diamonds?
– How to Determine the Cut Quality of a Diamond Objectively
Carat Weight – Size Matters

Carat weight is probably the first C that comes to mind whenever people talk about diamonds and most people believe that larger is better. In fact, carat size is often deemed as the most important attribute that women look out for when receiving an engagement ring.
One common misconception that consumers have about carat weight is that it is a measure of the diamond's size. This isn't true as carat weight simply refers to how much the diamond weighs. Two diamonds with the same carat weight can have different physical size measurements depending on how they are cut.
In this section, we'll reveal everything you ever need to know about carat weight. From real life examples you can use for visualization purposes to tips that will help you save money, you'll learn how to avoid the critical mistakes that others make.
– Everything You Need to Know About Carat Weight
– Carat Size Charts And How Big They Look Like in Reality
– When Would You Start Noticing Visual Differences in Carat Weights?
– Setting Designs That Will Help Your Diamond Look Bigger
Color – Discover the Subtle Differences Between D-Z Grades
GIA color chart – A representation of how diamonds would look like during grading.
In the jewelry market, "whiter" diamonds are perceived to be better and more desirable. As a result, there are many jewelers also take advantage of this mindset and often peddle high color diamonds just to make you spend more.
Personally, I think there is no need to follow the herd mentality as color is an attribute that is very hard to perceive in real-life. Your personal preference should take precedence instead.
In this section, you can find out the color distinctions of the various grades in a side by side comparison and see if you can spot the differences. You will also get tips on choosing the best diamond color based on your budget and setting design.
– The Ultimate Guide to Diamond Color
– Side by Side Color Comparison of Different Grades
– Quick Test: How Well Can Your Eyes Pick Up Color Nuances?
– Does Diamond Fluorescence Help in Making Diamonds Whiter?
Clarity – Insights to a Diamond's Natural Characteristics
The clarity rating of a diamond is influenced by a combination of factors like type, amount, relief and location of its inclusions. Consumers often place too much weight on the importance of clarity due to misguided beliefs that inclusions are always detrimental to durability and appearance.
The truth is that in most gem-grade diamonds, inclusions are only visible under 10X magnification and are very difficult to detect with the naked eye. In this section, you will discover the secrets to buying a diamond with maximum value as we dissect the myths that are shrouded behind clarity.
– Understanding What is Diamond Clarity And Their Grading
– How Clarity Grades Affect the Price of a Diamond
– Why Do Some Diamonds Look Hazy Or Milky?
– Eyeclean Diamonds: What They Mean And Why You Should Care
4Cs of Diamond Quality – Order of Importance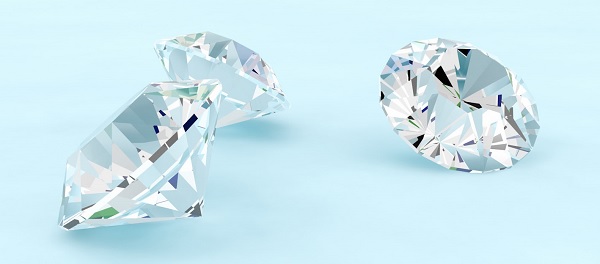 When it comes to buying a sparkly diamond engagement ring, many beginners simply look at the 4Cs and the grading scales/charts to make a purchase decision.
The biggest misconception and mistake that first-time shoppers make is to assume that high clarity (e.g. Internally Flawless) and high color (e.g. D rating) are required for a diamond to be beautiful and sparkly.
As a result, many consumers place their priorities in the wrong Cs and end up paying a lot more for features that their eyes can't see. In my opinion, CUT is the most important attribute you should pay attention to.
Why? Well, having better cut quality means that the diamond has better light return, sparkle and proportions. This directly improves the face-up size of the diamond due to better edge-to-edge brightness (looks bigger!).
As a result of better light performance, clarity flaws and color tints are easily hidden by the sparkle and this can make a lower color/clarity diamond look identical to another diamond with higher color/clarity!
Watch the video below where I compared 3 diamond rings with top of the line cut quality and different color/clarity specifications. The leftmost diamond ring is a D/VVS1, the middle ring is an I/SI1 and the rightmost ring is a K/VS1.
In real life, the differences in the face up view are minute but the differences in costs due to the color/clarity grades are very significant. Even as a trained professional, I am not able to see any inclusions in the SI1 diamond without using magnification tools and the SI1 diamond sparkles just as well as the VVS1 diamond.
From a practical perspective, it's just a waste of money to spend it on diamonds with high clarity grades. Now, don't get me wrong, there's nothing wrong with buying a D/IF diamond if you need the symbolic reasons behind it.
But if you are buying a high color/clarity diamond with the assumption that it is going to make your diamond look better, I'm sorry to say you are going to be sorely disappointed.
Putting It Together And Making the Cs Work For You
Over the years, I had purchased a number of diamond rings. My philosophy is always to focus on cut quality when selecting a diamond and to buy from reliable jewelers that have good craftsmanship standards for their settings.
Below, I want to show you the most recent diamond ring purchase I made from White Flash. It is a superbly made Vatche designer ring with a super ideal cut 0.622ct G VS2 round diamond.
I also want you to watch this video below to find out how a well cut diamond looks like in various real life environments. Hopefully, this will convince you that cut quality is the most important C to pay attention to.
With that, let's wrap things up. I hope you found this write up and the reference links useful. With a better understanding of the diamond 4Cs, you can use them to your advantage when you are buying your engagement ring.
If you are still not sure about how to get started on shopping for your ring, you should determine how much you want to spend first. With the budget in mind, my advice is to narrow down your diamond options by prioritizing the 4Cs in the following order: cut, carat, color and clarity.
If you have questions or need help to pick out an exceptional diamond, feel free to get in touch by email or leave a comment below!