The round cut diamond is the most popular shape for engagement rings and it accounts for more than 70% of the world's polished diamond inventory. But why are round brilliant cut diamonds so popular?
Well, that's because the round brilliant cutting style is able to optimize light reflections to make it more brilliant and sparkly than any other diamond shapes. Also, their circular outline makes it a suitable shape for different types of finger size/hands and ring settings.
In this comprehensive guide, I'm going to show you exactly what to look out for and walk you through the proven method of picking a beautiful round cut diamond based on tangible data.
In fact, I personally use the same exact process when I'm buying a diamond and you can even see the full details of the engagement rings (with videos) I recently purchased. Let's get started…
Here is a list of topics we will be covering:
Cut Quality: Recommended Proportions for Round Cut Diamonds
When choosing a round diamond, cut is the most important attribute of the 4Cs that you need to pay attention to. This is because cut quality determines a diamond's sparkle factor and has the biggest impact on its visual appearance.
When gemological labs like GIA grade round diamonds for cut quality, they assign ratings that range from Excellent, Very Good, Good, Fair and Poor. For the record,  I only recommend shopping for diamonds with an Excellent cut grade (or Ideal if graded by AGS).
Now, the problem with relying solely on the cut rating in the grading report is that it is very broad. If you want to separate the wheat from the chaff and pick out the best of the best round diamonds, this is where the science of cut proportions and light physics come into play.
Below is a table of ideal proportions that I personally use as a guideline to filter and find super ideal cut diamonds.
Excellent
Very Good
Good
Fair/Poor
Table %
54% – 57%
53% – 60%
51% – 62%
Outside Ranges
Depth %
61.0% – 62.5%
60.0% – 63.0%
59% – 64%
Outside Ranges
Polish/Symmetry
Excellent – Very Good
Good
Outside Ranges
Crown Angle
34.0 – 35.0°
33.0 – 36.0°
32.0 – 37.0°
Outside Ranges
Pavilion Angle
40.6 – 41.0°
40.2 – 41.4°
39.8 – 41.8°
Outside Ranges
Girdle Thickness
Thin – Slightly Thick
V. Thin – Thick
Outside Ranges
Culet Size
None
Very Small
Small
Outside Ranges
* Note: This is a set of proven proportions that are far stricter than those utilized by GIA during their grading process. After narrowing down your diamond choices, you should use tangible data like H&A and ASET images to help you make a final decision.
From experience, round diamonds with depth percentages between 61-62.5%, table sizes between 54-57% will have the ideal face up size for their carat size. In conjunction with crown angles between 34.0°-35.0° and pavilion angles between 40.6°-41.0°, the diamond will display the best balance of brilliance and fire.
To help you get a better idea of cut quality, I've handpicked an ideal cut diamond with top notch performance and compared it against a mediocre GIA triple excellent diamond. Visually, you should be able to see a big difference in terms of contrast patterning and light return.
I also want you to click on both links below to view the diamond videos and interact with them for yourself.
What is the Best Color Rating to Choose for a Round Diamond Ring?
GIA diamond color chart comparison of D to K colors in the face up view.
Due to their facet pattern and cutting style, round diamonds are able to reflect more light than any other diamond shape. This means that the color tint of a round diamond can be concealed by the sparkle and you don't need a high color grade to get an icy white appearance.
While D-F (colorless) diamonds ensure a cool, icy appearance, they are highly sought after and come at a price premium. As a practical shopper, the best color rating to get would be a G color as you avoid the premiums while getting a white looking diamond.
Now, I do want to point out that choosing a diamond's color is often based on personal preference. If you aren't sure about what you prefer, check out the comparison video below of D, H and K color diamonds in real world environments.
Can you see color differences between these 3 rings easily or is it difficult to do so?
While most consumers may like white looking diamonds, there are plenty of people who love warm-toned diamonds on the lower spectrum of the color scale.
This is especially true if you are looking for vintage style engagement rings or using yellow/rose gold metals for your setting. Going down the color scale for a J or K diamond would be perfectly fine as the warm tint complements the style of the engagement ring.
Recommended Clarity Grades for Round Brilliant Cut Diamonds
GIA grades diamond clarity on a scale of FL to I3 with flawless being the highest grade and Included 3 being the lowest. One of the most common mistakes beginners make is the misconception that a higher clarity grade will equate to better sparkle and brilliance.
The truth is far from that as the majority of eyeclean VS2 diamonds will look identical to an internally flawless diamond when seen with the naked eyes. If you don't need a symbolic D/IF rating for your diamond, you can save a lot of money simply by buying an eyeclean SI1 or VS2 diamond.
In general, most SI1 and VS2 diamonds will be eyeclean and I would recommend shopping in these grades to get the best value for money. The key is to look for eye-clean stones where you will not be able to see inclusions without a 10X loupe.
Check out the 2 examples below and see if you can tell which diamond is eyeclean and which isn't.
How Much Does a Round Brilliant Cut Diamond Cost?
Well, it depends.
The price of a round diamond is mainly determined by factors such as cut, color, clarity and carat size. Compared to the other diamond shapes, the round cut is relatively the most expensive because they require more rough diamond to be polished away during the cutting process.
To give you some idea of how much a round diamond costs, I've compiled a price comparison table using 1 carat sized round diamonds with different specifications. Do take note that diamond prices would also be affected by a slew of other factors such as fluorescence or cut precision.
Price chart comparison of GIA certified 1ct round shaped diamonds.
From the table above, you can see that the price of a 1 carat round diamond can vary significantly between $4,000 to $10,000 depending on the color/clarity ratings. A diamond with high end specifications can easily cost 2 to 3 times more than one with lower color/clarity ratings.
One common mistake that first time shoppers make is that they think a diamond with D/IF ratings would have better brilliance and fire compared to another diamond with lower color/clarity.
That's a big misconception. In fact, a well cut G/SI1 diamond can look identical to a D/IF diamond in the face up view even though it costs less than half the price.
Here's a test you can do for yourself and see if you can notice differences between gradings easily. Below is a side by side video comparison of a D/VVS1 diamond against an I/SI1 diamond and you can use it as a gauge for your visual acuity.
My Personal Experiences of Buying Round Diamond Rings
Over the years, I've bought a number of diamond rings for my wife and even helped my family members purchase their engagement rings. Using the same exact guidelines above, the process of shopping for a diamond ring is actually pretty straightforward.
The key to having an enjoyable experience is to shop at a reputable vendor that provides high quality products and service. It is also mandatory that they provide tangible information about their diamonds as it will help you make educated purchase decisions.
Before you shop, the first you should do is to work out the budget for the purchase and the ring setting design that the recipient wants. Once you have this information, you will know exactly how much budget is left over for the diamond and what you can realistically get in terms of the 4Cs.
Check out the 2 recent diamond engagement rings that I recently purchased from James Allen and White Flash. If you are interested to see how they look like in person, make sure you watch the video recordings I made of the rings.
Diamond Engagement Ring Purchased From James Allen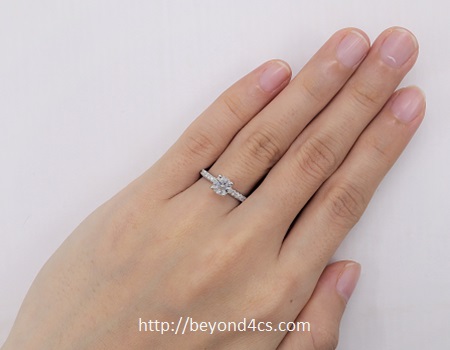 With a budget of $3,000, this well crafted pave diamond engagement ring was purchased at James Allen. An H color SI1 diamond was selected from their signature True Hearts range which consists of high performance diamonds.
The video listing made it really easy to assess eyecleanliness and the scope images provided enabled me to evaluate the diamond's cut quality with certainty. Here are the full details of the ring: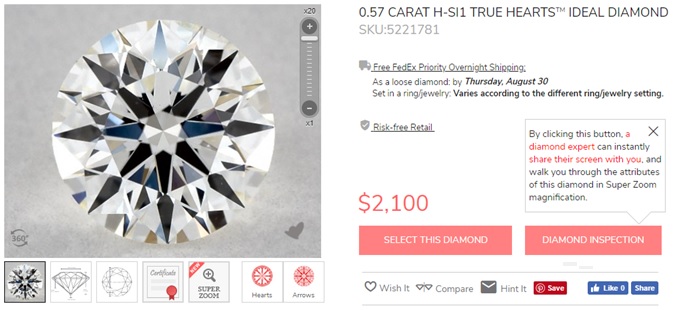 I've also recorded a video of the diamond ring to show you how it looks like in real life. If you want to view more close up pictures and videos of the ring, click here to read the full review.
Designer Round Cut Diamond Ring Purchased From White Flash
Vatche designer ring setting with super ideal cut round diamond.
This is the most recent engagement ring purchase I made from White Flash and the budget for this purchase was around $4000. For a designer and branded ring setting, the price of the ring is very affordable and offers good value for money.
The center stone that was picked was a 0.622 carat G VS2 hearts and arrows diamond and you can see full details of the diamond ring in the listings below. One of the best things about White Flash is that they curate diamonds for light performance and do the heavy lifting of finding well cut diamonds for you.
And to help you understand what you are buying, they offer tangible data like idealscope and ASET images in their listings. In fact, no other vendor comes close to offering the level of technical details for diamonds they sell.
If you are interested to see how the diamond ring looks like and want to review the craftsmanship in detail, you can check out the comprehensive write up here. You can also check out the video I made when I examined the diamond ring under various lighting environments:
I've also recorded a video of the diamond ring to show you how it looks like in real life. If you want to view more close up pictures and videos of the ring, click here to read the full review.
Best Engagement Ring Setting Designs For Round Cut Diamonds
Round diamonds are extremely versatile and can go well with almost any type of ring setting design due to their geometric shape. Since the round shape is the most popular choice for engagement rings, there is no lack of designs offered by jewelers.
When it comes to ring settings, one of the key things I look out for is workmanship quality. This is because better craftsmanship in the setting would not only maximize the aesthetic beauty of the ring, it would also provide additional security for your diamond.
Here are some of my favorite ring designs and I hope it can provide you with ideas for finding your perfect diamond ring.
This diamond ring features a cushion shaped halo that offers extra brilliance and fire to the round center stone.
This luxurious triple halo ring offers the ultimate sparkle and combines rose gold and white gold in the shanks.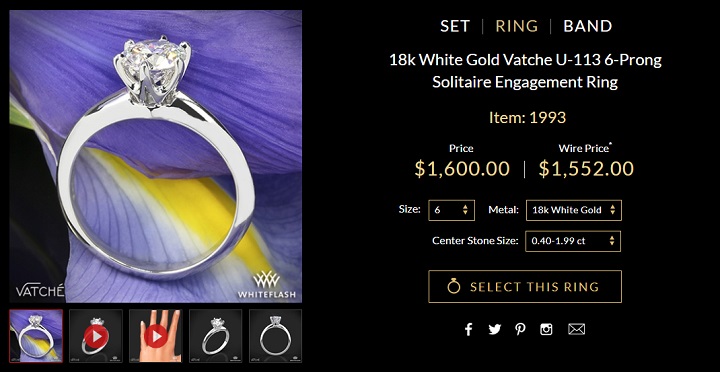 This beautiful 6-prong ring is one of the best Tiffany inspired designs in the market.
This gorgeous Verragio ring is full of intricate details and has rose gold metal wrappings on the shanks.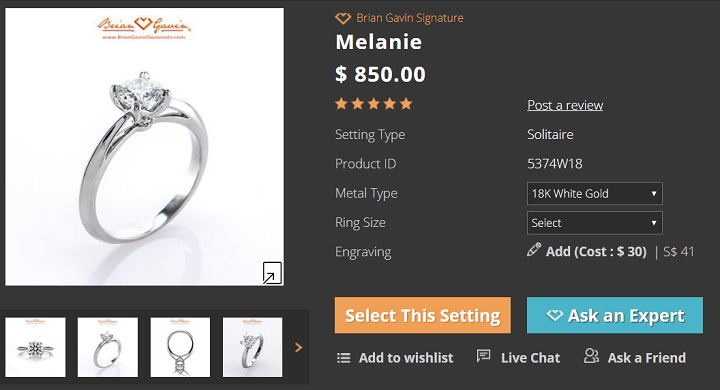 This elegant cathedral solitaire ring features a streamlined knife edge shank that tapers around the finger. 
This stunning 3 stone ring features an open basket that is flanked with 2 pear shaped diamond side stones.
Summary And Recap: Best Places to Buy a Round Diamond Ring
If you are a first time shopper, don't let a jeweler mislead you by overcomplicating the buying process. It's really quite straightforward and there are only a few things you need to keep in mind: proportions & tangible light performance data.
To recap, here are my recommended guidelines for buying a round cut diamond:
Depth Percentage: 61.0% to 62.5%
Table Size: 54.0% to 57.0%
Crown angles: 34.0° to 35.0°
Pavilion angles: 40.6° to 41.0°
Lower Girdles: 75% to 80%
Star Facets: 50% to 55%
Polish/Symmetry: Excellent
Color: G or better
Clarity: SI1 or better
Grading Report: GIA or AGS
As I said earlier, these proportions and parameters should only serve as a guideline to help you narrow down your selections. It is important that you make your buying decision based on tangible cut performance data like ASET/Idealscope images and magnified videos.
If you are looking for a super ideal cut diamond that's full of sparkle and life, the best places to shop for them are White Flash, James Allen and Brian Gavin. Not only do these vendors curate their signature diamonds with strict standards, they also provide videos and performance data readily to help you assess their diamonds.
I've personally mystery shopped and purchase a number of engagement rings from these vendors and I can tell you the shopping experience is really easy and straightforward. All 3 vendors offer excellent customer support and consumer-friendly sales policies so that you shop with zero-risks.
I hope this comprehensive guide has been useful to help you pick out your dream diamond engagement ring. If you need help or advice, simply drop me an email or leave a comment below to get in touch.
Related Articles