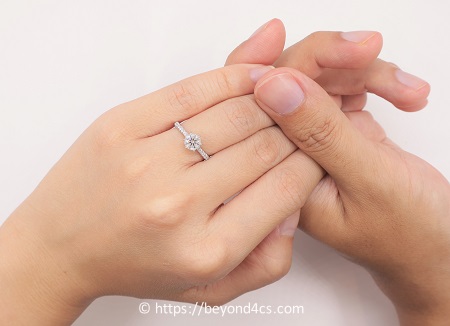 I recently purchased this Vatche Felicity pave diamond engagement ring.
Vatche Aghajayan is a prestigious jewelry designer who is renowned for his elegant and artistic engagement ring designs. In 1988, he established his company, Designs by Vatche, which is currently headquartered in midtown Manhattan.
Vatché's philosophy and creativity are reflected in his captivating designs which also won him several awards in the Platinum Guild International Retailers Choice design competitions.
Now when it comes to designer jewelry, most people would associate them with being exclusive and expensive. However, it isn't the case with Vatche. Interestingly, they are positioned as a brand that is accessible to the mass market and their products are offered at very affordable prices.
In this review of Vatche diamond engagement rings, I'm going to show you some of their best designs and the best place to buy them. I'm also going to reveal insights and detailed photographs of the ring I personally bought.
Ready? Let's dive right in…
Here is a list of topics we will be covering:
D'Vatche Engagement Ring Collections – What's Available?
Right from the start, every single Vatche engagement ring design is meticulously planned in a unique style that the designer wants to convey. Hand assembled and hand-finished, the Vatche rings also contain symbolic design elements that represent the different collections they fall into.
Some of their most popular collections include the Classic, Swan, Serenity, Royal Crown and X Prong series. Let's take a look at some of the best engagement ring designs that Vatche is famous for.
Classic
The Classic collection showcases evergreen and traditional designs that are subtlely influenced by Vatche's artistic touch. These rings are handcrafted with the finest quality platinum and white gold.
The Vatch U-113 6 prong solitaire ring design is one of their most popular settings.
Royal Crown
The Royal Crown collection features a twisted head and curved prongs that resembles a crown. As the name suggests, Vatche captures the essence of royal tradition in this collection series.
The Royal Crown 113 ring is superbly designed and crafted with perfection.
Grace
The Grace collection is characterized by delicately embellished ring designs. Melee diamonds are skillfully matched and aligned to create an elegant and sleek appearance.
The Vatche 180 Grace design has a breathtaking open cathedral shank and neatly set melees.
X-Prong
The X-Prong series features a stylish x-prong basket that holds the center diamond in a secure yet fashionable manner. One thing I love about Vatche's X prong designs is that they allow plenty of light to enter the diamond and places the attention on the center stone.
The Vatche 319 X prong three stone engagement ring is absolutely gorgeous.
Swan
The Vatche Swan collection features ring designs that have graceful and fluid looking appearances. If you are looking for engagement rings with a unique style of class, look no further.
An exquisite open cathedral ring, this masterful Swan solitaire ring will make her say "Yes!"
Serenity
Within the Serenity Collection, Vatche infuses contemporary designs with art to create original pieces of jewelry. You'll also find multiple styles of ring designs that cater to different tastes.
Featuring a slim knife edge design, the Vatche 1522 ring accentuates the center diamond.
Review of Vatche's Diamond Ring Craftsmanship
Most people have a perception that designer engagement rings or branded jewelry would have superior craftsmanship and quality. However, the truth is far from that.
In fact, there are plenty of big brands (like Tiffany & Co. or Jared) that charge an absurd premium for their rings and yet, fail to deliver a truly top notch product.
So, how does Vatche fare in terms of their workmanship? Well, I personally bought a ring from White Flash to find out. In this section, I will perform a comprehensive review of their ring and literally put it under the scope to examine their craftsmanship.
The total cost of the ring (setting + diamond) comes up to roughly $4,000. These are the full details of the ring that was purchased and you can find out more information by clicking on the images below…
If you had been a frequent reader of my blog, you would know that I scrutinize every single detail when reviewing a ring's workmanship under magnification.
I critically examine (some people call this overly anal) every nook and cranny of the ring to look at things like prong placement, balance, symmetry and melee quality.
Video Review of Vatche Felicity Diamond Engagement Ring
To get things started, check out this video review of the Vatche ring I received. Do watch the video in full and if need be, feel free to pause the video anytime to see the ring details visually.
Magnified Photos of Ring Craftsmanship and Details
Close up view of the ring's 6 prong head reveal excellent finishing.
All 6 prongs are neatly placed and symmetrically spaced between them.
The shanks pass my checks for roundness and the basket has proper alignment too.
A close up view to examine proper melee diamond matching and streamlined shanks.
Proper care has also been taken to polish the inner surfaces of the ring.
Video Evaluation of Diamond Sparkle and Brilliance
If you are wondering how the engagement ring looks like in real life, you are in for a treat. I've also made a video to examine the diamond's light performance in various everyday environments.
For people who are interested in the technical details of the diamond, I've also photographed the Idealscope, ASET and H&A scope images for your reference below. You can also view a video of the diamond ring's sparkle and brilliance here.

Idealscope
ASET
Hearts and Arrows
How Do You Know If You Are Buying a REAL Vatche Ring?
For starters, you should only buy Vatche diamond rings from their authorized retailers and this will guarantee an authentic ring from the designer. The other verification you can perform is to look for the "D'Vatche" marking stamp on the inner surface of the shank which will look like this:
Here, I want to point out that inscriptions are not foolproof methods of authentication because unscrupulous replica makers can recreate identical markings to scam unsuspecting customers.
So, I will reiterate that the best way to protect yourself is only to make a purchase through Vatche's authorized sellers. For your convenience, you can find a list of them here.
Where is the Best Place to Buy a Vatche Diamond Ring?
Vatche only designs and provide semi-mounts (empty setting without center diamond) to their authorized retailers. Often, it is up to you or your jeweler to select the center diamond to complete the ring and this is where people run into problems.
You see, many of Vatche's retailers aren't the best places for you to buy a high quality diamond and have extremely limited inventory.
Even if a brick and mortar jeweler is willing to "bring in" a couple of diamonds for viewing, it would involve unfavorable conditions like non-refundable deposits where all the risks would be placed on you.
To make matters worse, some of the retailers deal with IGI or EGL graded diamonds which is a big red flag. I will go on the record to say that ANY jeweler that sells diamonds with loose grading reports are unethical and out to take advantage of uneducated shoppers.
So, if you want to avoid all the problems I mentioned above and you want to get a truly high quality diamond ring that sparkles, I recommend White Flash. Their signature lines of super ideal cut diamonds are some of the best in the world.
More importantly, White Flash runs its business in a transparent manner where they provide tangible data in their listings like videos and cut performance data. This means you get to see exactly what you are buying and can easily assess the quality of their diamonds.
On top of that, White Flash has 100% risk-free policies that protect your interest as a consumer and they provide awesome customer service to their clients for life.
Also, I really liked that they provide professionally taken glamor shots of your diamond ring when you make a purchase. These were the photographs of the ring they sent me after the ring was completed.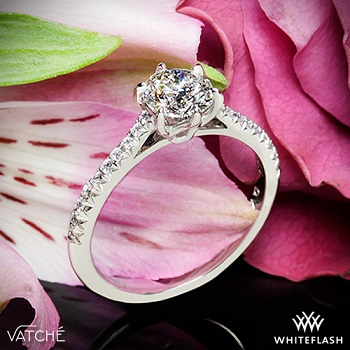 The above pictures of the ring I purchased were provided by White Flash for free.
Besides competitive prices, White Flash also provides you with tangible optical performance information and cut data for their diamonds. In turn, you can verify the optical performance for yourself in an unbiased manner.
Here's an example of a diamond listing you can find at WhiteFlash. Not only do you get to see the diamond under magnification, there are also additional information like the Sarine report, ASET and H&A images that reveal every detail about the diamond.
Fully transparent listings to let you shop with a peace of mind!
Summary – Wrapping Up Our D'Vatche Review
Vatche is ranked highly amongst the top engagement ring brands and for good reasons. As you can see, their craftsmanship quality is superb and they offer a wide array of ring designs to cater to different tastes.
Having seen a number of their rings in person, I can attest to the consistency and quality of their jewelry. So, if you are someone who is seeking to buy a designer ring without having to pay too much, Vatche is the best place to start browsing.
I hope this review of D'Vatche has offered useful insights. Now, I want to hear from you. Which Vatche collection do you like the most and which ring design would you pick for your own engagement ring? Leave a comment below to let me know!
And if you have any questions, feel free to get in touch with me. Good luck with your search!
Related Articles
Vatche
Receives The Best Rating of

4.5

/

5

– Reviewed by

Paul Gian