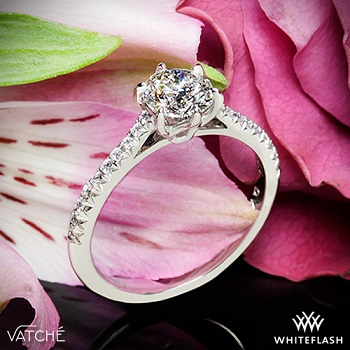 I bought this stunning diamond engagement ring for less than 4000 dollars.
When it comes to engagement rings, many people have a misconception that beautiful looking rings would require big budgets and cost a lot of money.
However, did you know that you can get a fantastic looking diamond ring on a budget by shopping smart and at the correct places?
In this write up, I'm going to reveal how you can find breathtaking engagement rings under $4000 without compromising on quality. I am also going to show you the details of a pave diamond ring I recently purchased and how you can do the same!
Let's get started…
For your convenience, here's a list of topics we will cover:
3 Tips to Buying a 4k Diamond Ring Without Compromising Quality
Based on a recent study we performed, the average spending on a diamond engagement ring in America is roughly $6,000. So, a budget of four thousand dollars is slightly less than the average amount.
In essence, the price of an engagement ring can be broken down into 2 components: the setting and the center stone. Before you even start shopping, the first thing you need to do is to determine your priorities and find out what your recipient's preferences are.
Tip #1: Determine Priorities And Manage Expectations
With a $4000 engagement ring budget, you will need to understand that your ring setting options and diamond choices would be constraint by costs. That means getting a 2 carat diamond will be completely unrealistic and expensive designer settings will be out of the question.
That said, you need to figure out what your recipient wants as this will guide you towards your shopping decisions.
For example, if she explicitly wants a halo setting made of 18k white gold that costs $1500, this would simplify things and you will be left with a budget of $2500 for the center diamond. Vice versa, if she wants a 0.7 carat colorless diamond that costs $3000, it would leave you with $1000 to work on the setting.
Obviously, a more complicated ring setting or a higher color/carat/clarity diamond is going to cost more and you would then have to make the necessary adjustments to your budget.
The point I am making here is that applying some simple math and common sense would help you narrow down options quickly and help you find your perfect ring.
Tip #2: Diamond Cut Quality And Setting Craftsmanship Matters
One of the biggest mistakes that newbies make when buying a diamond ring is to assume that higher color or clarity would result in a better looking diamond.
The truth is, it is the cut quality that has the highest impact on a diamond's appearance. It is cut quality that determines how much sparkle and brilliance it has.
In order to buy a truly well cut diamond that has the best performance, you will need to go beyond a grading report and use tangible data like videos or scope images to help you assess the diamond. If you haven't yet, you should check out this step by step guide to selecting a diamond.
Also, the craftsmanship of the bench jeweler would affect the overall appearance of the completed ring. And it is important to select your jeweler correctly to ensure that the ring is properly made. I recommend vendors such as White Flash and James Allen as these are businesses I personally vetted and bought rings from.
Tip #3: Recommended Guidelines to Get Better Value For Money
As a GIA trained gemologist, accurate grading and assessment of the diamond's material properties are important factors that affect the value of the stone. I only recommend buying diamonds with reliable grading reports like GIA or AGS because it protects your interests as a consumer.
Now, I'm also a consumer like many of you. From the perspective of a practical shopper, I don't see a need to pay the premium for features that cannot be seen without a loupe. To get better value for money, here are guidelines I recommend when selecting a diamond.
Cut: AGS 000 or GIA 3Ex
Clarity: VS2 or SI1 (eyeclean)
Color: G or H (or lower depending on preferences)
Carat: Depends on budget
Grading Report: GIA or AGS
The cut quality of a diamond affects its brilliance, scintillation and appearance. Cut is an aspect of the 4Cs which is the most important in my opinion and something you should never compromise on.
As for clarity and color, these are largely personal preferences. I know some people prefer to buy an IF diamond for its symbolic meaning and that's fine. You just need to understand that IF diamonds cost more and that may come at the expense of a smaller carat diamond.
Likewise for color, I generally stick with G or H ratings for a diamond to face up white. However, if you like a warm look or are buying a vintage inspired engagement ring, it is perfectly fine to go down lower to J or K colors.
Attributes like clarity, color and carat size are largely up to personal preferences as long as the diamond is eyeclean. I personally find G color to be the sweet spot for a diamond to face up white without having to pay for a D color.
The other important thing about buying an engagement ring is to ensure that it comes with a reliable GIA or AGS grading report. This ensures an accurate assessment and protects you as a consumer from ripoffs.
Where is the Best Place to Shop for a 4000 Dollar Engagement Ring?
In my opinion, the best places to shop for a $4000 engagement ring are online vendors like White Flash and James Allen.
Why?
The rationale is simple. Brick and mortar stores have expensive prices, limited selections and poor sales policies that offer little protection for the consumer. With online vendors, you get a vast selection of diamonds to cherry pick from and these 3 vendors have been vetted for their good bench craftsmanship.
And perhaps the most important reason for going online is their transparency in doing business. The online vendors offer tangible information like magnified videos and performance data like ASET/Idealscope images. This makes it easier for you to perform an analytical assessment in a pressure-free environment.
Here's how the better vendors list their diamonds to help consumers…
Click on the image above and review the plethora of tangible data provided.
In contrast, you rarely get detailed data like these in physical stores because it will put the mediocre goods that are sold in an unfavorable light. And you know why? Well, that's because the less informed and "dumber" you are, the easier it is for a jeweler to offload their inventory onto you.
How I Built a Designer Diamond Ring For Less Than $4000
Unlike other people who simply make unsubstantiated claims, I actually walk the talk when it comes to buying and reviewing diamond rings. I've recently purchased this engagement ring from White Flash and did a comprehensive review of the ring.
And the process was really straightforward.
For the diamond selection, I used the images and videos provided by White Flash to check for eyecleanliness and cut quality. Using the ASET and H&A scope data provided, the light performance and cut precision of the diamond was assessed.
To complete the purchase, a ring design was picked out based on the recipient's preferences. Also, the choice to get a 14k white gold ring instead of a platinum ring setting also helped to reduce the costs of the ring.
Here are some pictures of the completed ring I received from White Flash. Overall, the shopping experience is really easy and they provide superb quality at an affordable price point.
5 Affordable And Gorgeous Designs For Engagement Rings Under $4000
With a 4000 dollar engagement ring budget, there are plenty of options and ring designs you can choose from. But bear in mind that you would still have to perform a balance between the cost of the center stone and the ring setting.
Below, I've listed some of my favorite ring designs to provide you some ideas about what's available. Pave settings are some of my favorite styles of ring settings as they offer another dimension of sparkle to the ring.
This Simon G. ring is a petite and elegant design that accentuates the center stone.
---
To keep costs low, solitaire rings are great options to consider and this Ritani cathedral engagement ring elevates the center stone. It's a simple, sleek and cost-effective design.
---
Below, I've also included some previously purchased rings that other consumers have bought at James Allen which cost around $4,000. As you can see, it is possible to get a fancy looking ring without breaking the bank.
---
1 Carat Diamond Engagement Ring Ideas for a $4,000 Budget
For most consumers, the 1 carat mark is a psychological size that is highly desired. At the same time, you have to be realistic about what a budget of $4000 can get you.
That said, it is possible to buy a high quality 1 carat diamond ring if you lower your color/clarity expectations of the center diamond and choose a setting that costs less.
Check out some of the examples below where I hand-picked diamonds for light performance and affordable settings to create 1ct diamond rings with a four thousand dollars budget.
---
In the first example, I selected a K color and eyeclean SI1 diamond that costs $3,700. Combined with a no-frills 4 prong setting, the entire ring comes in at a total price of $3,940.
---
Compared to round diamonds, fancy shape diamonds like the princess cut or oval cut cost less per carat. If you are on a tight budget, these diamonds can be good alternatives to achieve a 1 carat diamond ring under 4k.
---
Princess cut diamonds can offer a superb level of sparkle and brilliance when cut well. Also, they can get you the best value for money when it comes to size. For example, this super ideal cut princess diamond from White Flash below will look great in a pave setting and the ring will only cost you slightly over $4000.
Summary – Let's Wrap Things Up!
I hope this article has been a useful guide for you to buy a diamond engagement ring on a budget. Although four thousand dollars is not a large sum of money, it is possible to get a great looking ring if you shop rationally.
To recap, it is important for you to find out what your recipient's personal style and preferences are. Once you have this information, it would make decision making and finding the perfect ring a straightforward process.
Remember, cut quality is the most important factor for a sparkly and lively diamond. So, make sure you prioritize that when selecting a diamond. As for the setting, you can save money by opting for a 14k white gold instead of a platinum ring.
Now, I would love to hear from you. If you are shopping with a 4000 dollar budget, would you prefer to get a larger carat size diamond with lower clarity/color ratings or would you prefer to buy a smaller size diamond with better color/clarity grades?
Leave a comment below to let me know!
Related Articles