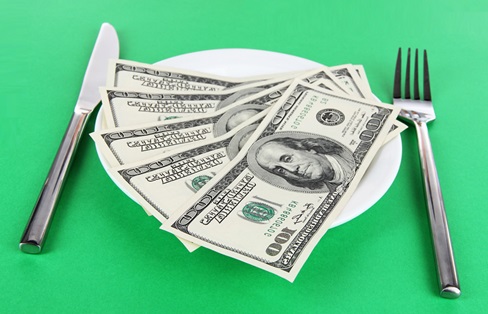 Diamond prices of online stores vs physical retail shops.
The Internet has drastically changed the nature of businesses in the 21st century. In the digital age, a business is no longer limited to its physical location or confined to the usual retail opening hours. And for consumers, e-commerce has benefited us with the ability to compare products, pricing and other features instantaneously.
But when it comes to buying a diamond ring, is it better to buy online or in store? Where should you shop to get better value for your money?
In this write up, we take a look at the various pros and cons of buying diamonds online vs retail stores. You will also find out why there's a big difference in diamond prices and how you can take advantage of this to save money.
Buying Diamonds Online vs Retail – The Good & Bad
The underlying value of a diamond is determined by a complex mechanism of market demand and physical attributes of the diamond. I've written extensively about the factors that affect the price of a diamond in this article.
Beyond the intrinsic value of a diamond, the prices of diamonds sold by retailers are subjected to a mark up in order for the seller to make a profit. In general, you can expect an online retailer to have significantly lower markups compared to traditional brick and mortar stores.
Here's why:
Reason #1: Online sellers do not have to shell out money for expensive property rental, staff salaries and interior decorations which make up the bulk of operating costs for running a physical jewelry store. When the business owner incurs these costs, who do you think will ultimately be paying for the rent on high street and flashy interior designs?
This is the reason why diamonds sold in physical stores typically cost 40%-50% more compared to an online retailer. I don't know what you think about this. But from my personal point of view, 40-50% less on a five-figures purchase equates to some serious savings.
What's even more shocking is that the diamond rings sold by big jewelry chains and branded boutiques can easily cost twice as much! If you are interested to find out more, you can read my personal shopping experience or my reviews of Tiffany/Cartier see more in-depth comparisons.
Case in point, I bought this stunning princess cut engagement ring online for $2,000. If you were to buy an equivalent ring in store or via a mall jeweler, it would easily cost you twice as much.
Reason #2: Diamonds aren't cheap and the costs of holding an inventory of diamonds will quickly add up to a huge sum of money. Every single diamond that is physically brought in store involves hefty shipping, stocking and insurance costs.
That's why you often see a limited amount of selections in brick and mortar shops as they simply cannot afford to carry and own the type of volume offered by online stores. In contrast, online vendors operate their business in a lean and efficient manner which requires less inventory expenses. This lower cost gets factored into your jewelry pricing when it is purchased online.
Reason #3: If you are buying from another state or province, you might not have to pay taxes and that could result in huge price differences as well as additional savings. For example, the state of New York charges a sales tax for the purchase or receiving of goods in New York.
However, if you get a friend or relative living outside New York to make a purchase on your behalf, the goods that are shipped out of state will not be subjected to sales tax. Obviously, this would not be possible if you were buying your engagement ring in a New York based physical store instead of buying online.
Reason #4: Of course, everything is not as rosy as it seems with Internet purchases. There is always the question of whether buying diamonds from Internet sources is safe since you can't physically touch or see the product.
With reliable vendors like James Allen or White Flash, these risks are completely negated because of the detailed information they provide in their listings and their risk-free return policies. The only downside here is that you incur some wasted time, hassle and shipping fees if you decide to exchange or refund your purchase. For US based consumers, James Allen even mitigates this as they offer free return shipping.
So, when you weigh all of these factors to buying physically in store where you get no 100% money back refund policies or lower quality diamonds, it is actually safer to buy online because of their transparent business practices!
Case Study: Buying Online vs Retail – Which is Cheaper?
Here, I am going to perform a real life comparison of engagement ring prices between buying jewelry online vs. in store.
Helzberg runs one of the largest jewelry chain stores in the USA and is a brand that most people should be familiar with. I've selected a 1ct solitaire diamond ring in 14k white gold.
If you look at the product details, you will realize that this is an uncertified diamond with H-I color and an I1 clarity rating. Bear in mind that the true quality of this diamond would be much lower if it were sent to GIA for a grading report.
The cost of the ring is about $5,500. You should also bear in mind that the picture of the engagement ring used is a stock photo and in real life, an I1 diamond will never look as pristine and flawless.
To perform the comparison, I've picked out a GIA certified 1 carat diamond with I color and I1 clarity from James Allen. I had also selected a similar solitaire setting to complete the ring.
The total cost of the ring when you buy online at James Allen is $3,590 ($3,050 + $540). This is 35% less than what it would cost if you bought the ring at a Helzberg jewelry store. And mind you, the differences are actually much greater as this is a GIA certified diamond that is reliably graded.
Does the Saying "You'll Get What You Paid For" Hold True?
Just as there are unethical jewelers plying their scams online (e.g. on eBay), there is no lack of scumbags who rip off consumers in a physical retail setting. In general, if a deal is too good to be true, it usually is. Unlike perishable grocery goods, truly high quality diamonds don't go on sale and if the price of a diamond jewelry piece is too low, there's usually an underlying reason why.
So, how do you compare prices and size up a purchase correctly when buying diamonds? Well, all you need to do is to make sure you are comparing apples to apples. Factors like the 4Cs and the reliability of the grading certificate are all important things to take note of.
Logically speaking, when you compare an online pricing to another online pricing of an identical product, you shouldn't expect to see enormous differences. But what about comparing the online prices to prices in a physical store?
Why is there such a big discrepancy for the same diamond which could sometimes amount to an insane 100% markup? Now, cheaper online prices don't necessarily mean lower product quality. Likewise, more expensive prices in retail stores usually don't translate into better quality.
How do you know exactly what you are buying?
One common tactic employed by "brick and mortar" stores is that they are seldom upfront with the prices of their goods. This is purposely done to squeeze every possible bit of profit out of a consumer. During my experiences of posing as a dumb undercover shopper in local stores, I met many salespeople who attempted to prey on my "ignorance" and fed me a pile of smooth talking garbage.
As a follow up to their crafty sales pitches and to look really convincing, many merchants actually offer a "one-time" discount on the diamond's pricing while complaining what a great deal I was about to get. Yeah, right. The truth is, they were offering discounts on a price tag that was way too high to begin with.
This is akin to listing an orange at $10 and making you believe you've gotten yourself a great deal if I gave you a 50% discount. Even after the 50% discount is applied, the price is still stupidly high. In reality, this is what happens regularly in jewelry stores and I just can't help feeling sorry for consumers who actually fall prey to such tactics.
How to Shop for an Engagement Ring to Your Advantage
If you want a safer shopping experience, better product choices, higher quality and better value for your money, you need to buy your diamond ring online and ditch the idea of buying physically in a store.
Don't get me wrong, physical jewelry stores still have their place in today's world of online shopping. There will always be people who are skeptical about making purchases over the Internet and won't mind paying an excessive mark up for a piece of jewelry in a physical store.
Here's my take.
Online retailers offer benefits of higher quality selections and risk-free sales policies that physical retailers can never match. The money back guarantees mean that you can always return the engagement ring for a full refund if you don't like what you see.
If you are someone who needs to visualize how things look like in person, a good strategy is to head to a brick and mortar store first and look at the varieties of diamonds that are available. Check out how diamonds with different shapes, cuts, colors, clarity, carat sizes and ring settings look like in real life.
Once you have a good idea of what you want, go make your purchase online and enjoy the significantly lower prices and better product quality. Below, you can check out some of my recent diamond ring purchases I personally made online.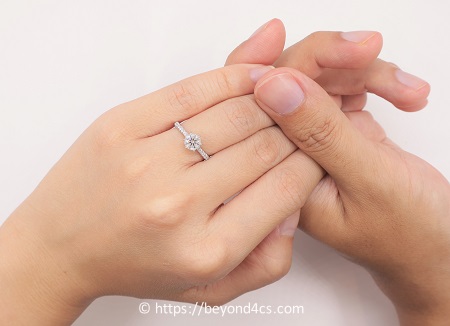 Designer Vatche pave diamond engagement ring.
I've even made a video to show you how the online diamond engagement ring I bought looks like. Watch the video below where I examine the ring under different types of lighting environments.
We see that the choice of which path to take, online or physical stores, is entirely up to you. You should do a cost-benefit analysis of both methods and pick which suits you best. If you are someone who is willing to pay 40-50% more for a lower quality product because you are fixated on shopping physically in-store and seeing things in person, feel free to do that.
If you are a sensible and practical person like yours truly, buying a diamond ring from a reputable online retailer would yield a higher quality product and peace of mind due to consumer orientated sales policies. The lower price is just a by-product of shopping online and is a cherry on the cake.
Whichever method you choose, my best advice is – do it once, and do it well. Make sure you do your research and select your diamond properly instead of making any decisions impulsively. If you infuse the entire process with confidence and positive energy, I'm sure you will find the right fit…and the perfect price.
Related Articles