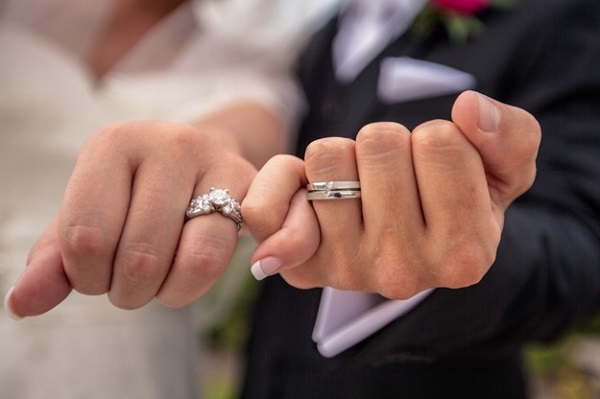 I know this may seem like a dumb question to many people but the fact is, I receive frequent emails from readers with questions about the differences between a wedding ring and an engagement ring.
Now, depending on which part of the world you are in, you may hear the usage of one term more often than the other. The problem here is that many people use the terms "wedding rings" and "engagement rings" interchangeably. However, an engagement ring and a wedding ring isn't the same thing!
So, let me set things straight and clarify the confusion between these 2 terms…
What's The Difference Between Wedding Rings And Engagement Rings?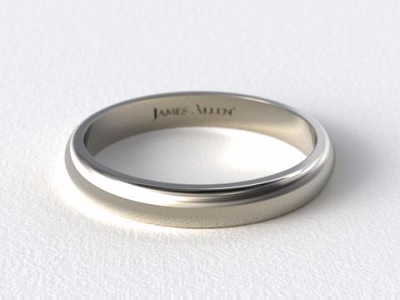 A simple 14k white gold wedding band
A 14k white gold engagement ring with pave setting
Timing – The engagement ring is presented to a woman during a proposal. On the other hand, the wedding rings are exchanged between partners during the marriage ceremony and are worn starting from that time.
Design – Engagements rings tend to be more extravagant and usually have a center stone made of diamond (thanks to De Beers's advertising campaign). In contrast, wedding rings tend to be plain looking and have simple designs.
To sum things up, the engagement ring is worn by your fiancée after a successful proposal. The engagement ring symbolizes a pledge of love and tells other people that a woman is no longer available.
The wedding ring (wedding band) is worn by both spouses after exchanging vows during the marriage ceremony. The rings are worn on the 4th finger of the left hand and it represents the commitment, love and faithfulness of your spouse to you.
Should You Buy a Wedding Ring Or an Engagement Ring First?
Well, I would say it depends on individuals.
Speaking strictly from a practical point of view, I recommend that you only buy the engagement ring if you aren't sure whether she will say "yes" to your proposal.
On the other hand, if you and your partner had already discussed marriage beforehand and you are confident that she'll agree to the proposal, it makes sense to get the wedding ring at the same time as the engagement ring.
Do I Need to Get a Complementary Matching Set For The Rings?
In general, I recommend my readers to buy matching ring sets so that both rings will display a consistent appearance. On top of that, another benefit of buying a matching ring set is that it prevents skin nipping problems which occur with poorly matched rings.
The evergreen Tiffany inspired classic 6-prong ring design by White Flash.
Also, a good choice of wedding band design can help to accentuate the beauty of the engagement ring.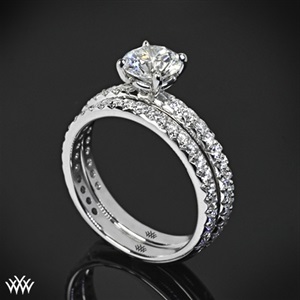 A sleek pave set engagement ring design with a complementary wedding band.
That said, there are no hard and fast rules on how you should go about matching your rings. Whether you decide to buy a matching set or not, what is most important is that you always plan in advance.
How Many Rings Should You Wear After Getting Married?
It's up to personal preferences and depends on an individual's culture. Most married women wear both the engagement ring and the wedding band together while some may prefer to wear only one of them for symbolic reasons.
That said, I do know of married women who don't wear both rings on a daily basis due to occupational hazards (surgeons) or social stigma at the workplace.
I had also heard of cases whereby women don't want to wear both rings because they don't look good together! Please don't make the same mistake! And that's why I recommend buying a matching sets of rings instead of buying your wedding band and engagement ring separately.
What's the Difference Between a Wedding Band and a Wedding Ring?
Nothing! These 2 terms refer to the same thing. Wedding bands/rings are exchanged by the couple after saying their marriage vows to each other.
Finding the Perfect Set of Rings
The engagement ring and wedding ring represents the unity and bond towards your significant half. Whether you are looking for an elaborately designed ring or a modest looking ring, you will be spoilt for choices.
The sky is the limit when it comes to available ring designs.
I strongly encourage you to spend some time browsing around in order to get a better understanding of what's available. And if possible, you should also discuss preferences with your partner before pulling the trigger.
Good luck with your shopping! And feel free to get in touch with me if you have any questions or require further information about diamonds or diamond engagement rings…
Related Articles