Cushion cut halo diamond engagement ring I bought. More details below…
The cushion cut (also known as the pillow cut) is a traditional diamond shape that has seen a massive resurgence in popularity recently. They typically comprise of 58-64 facets and have distinguishable curved corners which give them a classy, pillow-like appearance.
So, if you are thinking about buying a cushion cut diamond engagement ring, you have come to the right place. In this write up, you will discover the insider tips to choosing a beautiful diamond that's full of sparkle and brilliance.
You will also find out what are the things to look out for to avoid poorly cut diamonds and the ideal proportions to help you narrow down your selections. I'm even going to show you the full details of a cushion cut halo diamond that I recently purchased.
Let's dive in…
Here is a list of topics we will be covering:
A Quick Historical And Technical Overview
Until the early 20th century, the cushion cut diamond was the de facto diamond shape. With its centuries of history, the cushion cut is ubiquitous when you take a look their prominent occurrences in the various royal family jewels.
If you take a look at a list of the most renowned or the largest cut gemstones, you will see that the cushion cut is surprisingly well represented. In fact, the world-famous Hope Diamond happens to be a cushion cut diamond too.
Throughout the history of the diamond industry, we had seen continually changing trends and cutting styles that had continuously evolved. Interestingly, cushion cut diamonds actually went "out-of-fashion" in the last century when the modern round cut was introduced.
It was only in recent times where the vintage cuts came back in vogue. From old European cuts to old miner cuts, these long-forgotten retro designs are finding their way back into the mainstream market today.
Different Types of Cushion Shaped Diamonds in the Modern Market
As polishing techniques and cutting styles evolved over the years, variations of the cushion cut have been developed. When shopping for diamonds, you may come across the "Cushion Modified Brilliant" which usually feature an extra row of facets on the pavilion.
Old Miner Cuts – Vintage
Modern Cushion Cut – Present Day
Antique cushions are popular with customers because of their romantic and classic shape appeal. Steeper crowns, smaller tables, and larger culets are all characteristic features of the vintage cushion cutting style.
On the other hand, modern day cushion cutting styles typically have small or no culets at all and take on an appearance that is closely associated with the round brilliant cut.
Instead of broad chunky facets patterning seen in older cutting styles, modern cushion cuts usually portray a more splintery looking appearance. Here's an example of a modified cushion brilliant cut that has good light return.
Feel free to click on the image below to interact with the diamond and examine it under magnification for yourself…
Recommended Proportions for Cushion Cut Diamonds
Unlike round cut diamonds, cushion cut diamonds aren't assigned a cut grade from GIA and this makes it harder for inexperienced shoppers to choose stones with better performance.
However, there are some specific proportions that you can use as a guide to avoiding poorly cut diamonds. You may refer to these parameters below:
Excellent
Very Good
Good
Fair/Poor
Table %
60% – 65%
57% – 68%
55% – 70%
Outside Ranges
Depth %
65% – 69%
62% – 71%
59% – 73%
Outside Ranges
Polish/Symmetry
Excellent – Very Good
Good
Outside Ranges
Length to Width
1.00 – 1.05
1.06 – 1.20
1.21 – 1.35
Outside Ranges
Girdle Thickness
Thin – Slightly Thick
V. Thin – Thick
Outside Ranges
Culet Size
None
Very Small
Small
Outside Ranges
* Note: The proportions table is meant as a general guideline for people who are buying blind. If you can see the diamond in person or via videos, that will always take precedence instead of trying to judge a fancy cut based on numbers. I also highly recommend that you use an ASET scope to check for optical performance and use this knowledge to help you make better decisions.
From experience, well cut cushion diamonds with better fire and brilliance tend to have depth ratios between 65-69% and table sizes between 60-65%. These numbers are much higher compared to those of round diamonds and that's perfectly fine because of the intrinsic facet structure of cushions.
To give you a better idea of the kind of diamonds that you should look out for in terms of cut quality, here are 2 examples of cushion cut diamonds with superb light performance and contrast patterning. For more real-life examples of poorly cut and well cut comparisons of diamonds, click this link.
How Much Does a Cushion Cut Diamond Cost?
Compared to round cut diamonds, the price of cushion diamonds are generally 20-30% lower and this means you get better mileage for your buck. Depending on the specific quality of the diamond (i.e. 4Cs), prices can vary significantly. Check out the price table below…
Price chart comparison of GIA certified 1ct cushion diamonds.
From the table above, you can easily discern that a diamond with better specifications in color/clarity would cost more. And the price increases in an exponential manner when you get to the higher tiers of clarity and color grades.
But here's the thing.
Diamonds are priced according to their material properties and you don't require a D/IF rating to get a beautiful looking diamond. If you are on a budget or don't need the symbolic meaning of a D/IF grade, you can save a lot of money with a lower color/clarity diamond which can look just as good.
Length to Width Ratios for Cushion Cuts
Cushion brilliant cuts can exist in a variety of shapes ranging from squarish to rectangular shapes. This is largely a matter of personal preference and also dependent on the type of ring setting to be used.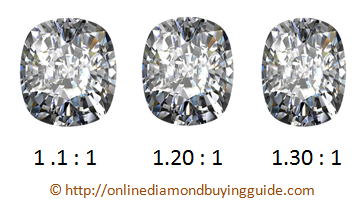 The most popular l/w ratios for a cushion cut lie between 1.00 to 1.05 where the diamond takes on a squarish looking appearance. If you are someone who likes a more traditional appearance, stick with ratios close to 1:1.
Recommended Clarity And Color Ratings for Cushion Diamonds
When it comes to color and clarity grades, you need to understand that it is entirely up to personal preference on what you prefer. Speaking from a practical perspective, eyecleanliness is the most important thing I look out for when buying a diamond.
For cushion cut diamonds, the majority of VS2 and SI1 diamonds will be eyeclean and have their inclusions masked by the sparkle and scintillation of the diamond. The caveat here is that the diamond MUST be well cut and that you utilize a video listing to check how the inclusions look like.
To illustrate this, I want you to click on the following images and check out these 2 SI1 diamonds graded by GIA. With the interactive videos, can you tell which would be the better diamond to get?
Video listings from James Allen easily reveal the eyecleanliness of SI1 diamonds.
As for color, I recommend at least a G color for people who are color averse and are looking for an icy white appearance. Again, I want to stress that the choice of G color is largely subjective. If you like warmer tones or yellow colored settings, lower color grades like J or K would be perfectly OK for you.
Speaking from experience, most people who buy cushion cut diamonds actually prefer warmer colors over cool colors. The most popular ratings that people buy cushion cuts in are G, H and I colors.
Case Study: How I Bought a Halo Cushion Cut Engagement Ring
Buying cushions can be a tricky affair due to the lack of cut information that you can obtain from the grading report. You see, when it comes to fancy cuts, 2 diamonds with the same depth/table proportions can look totally different from each other.
That's why it's extremely important to have factual information like videos or ASET scope data to help you assess the diamond. I've recently purchased a cushion cut halo diamond ring from James Allen and the shopping process is very straightforward.
Using James Allen's video technology, I could easily cherry-pick the BEST diamond in terms of light performance out of 100s of available options. I ended up with the 0.52ct E color VS1 cushion cut diamond below.
To complete the ring, I selected a pave setting design with a halo to enhance the overall bling factor of the ring. The choice of metal was 14k white gold for practical reasons; lower costs and higher durability.

Video Reviews of the Cushion Cut Diamond Ring I Received
Separately, I've made 2 videos to showcase the craftsmanship of the engagement ring and how the diamond looks in real life. If you want to see how the cut quality of the diamond translates into real life sparkle and brilliance, make sure you watch them in full below!
Best Engagement Ring Settings For Cushion Diamonds
Classic and versatile, the cushion cut diamond looks good in many different types of setting designs. Whether it is set as a solitaire or mounted in a halo setting, there are plenty of great looking designs to pick from. Here are some of my favorite designs…
The thin shank is studded with melee diamonds which accentuate center stone and increases the sparkle factor.
---
This luxurious design features a split shank and halo to add multiple dimensions of brilliance.
---
A simple and evergreen 4 prong solitaire ring design that showcases the classic appearance of the cushion cut.
---
A beautifully crafted platinum ring that showcases a reverse split shank with melee diamonds.
If you want to look at more designs, head over to Blue Nile and James Allen to explore their extensive selection of cushion cut engagement rings. There are more than a hundred ring settings that include romantic, antique inspired designs and classic solitaires to choose from!
Summary: Where to Buy Cushion Cut Diamond Rings
A modern 1 carat cushion modified brilliant diamond.
To recap, here are my recommended guidelines for buying a cushion cut diamond:
Depth: 65% to 69%
Table: 60% to 65%
Polish/Symmetry: Very Good or Excellent
Length to Width Ratio: Within a range of 1.00 to 1.05
Color: G or better
Clarity: SI1 or better
Just like other fancy shape diamonds, the proportions and parameters are just a tool to help you weed out poorly cut diamonds. And as I said before, there is no guarantee you will get a great looking stone even if the "statistics" on a grading report look promising.
Nothing on a certificate would tell you whether the cushion diamond has a vintage appearance or a crushed ice appearance. The certificate also can't tell you if the shape is off. Ultimately, you will need to rely on visual data like videos to help you make the final selection.
Now, in my opinion, physical retailers are some of the worst places to shop for a cushion cut diamond ring because of their limited inventory and poor curation standards. With fancy shapes, you need a larger pool of selections to cherry pick from and that is something that only the online retailers can provide.
With cushion shape diamonds, the best places to buy your engagement ring would be Blue Nile and James Allen. Both are highly reputable and offer HD videos that allow you to inspect your diamond upclose. More importantly, they have excellent risk-free sales policies and provide a superb selection of GIA and AGS graded diamonds.
I hope this article has helped and if you have any questions or need a second opinion on a diamond, feel free to leave a note below or get in touch via email. Good luck!
Related Articles