Should you shop for a diamond engagement ring on eBay?
I'm sure most of you are familiar with the online auction giant, eBay. From story books, stuffed toys to electronic gadgets, you can literally get anything imaginable there. And that includes diamonds and fine jewelry.
Word to the wise, there are many eBay sellers who blatantly mispresent or cheat the uneducated buyer and it's a shark tank out there. The short answer to avoid getting scammed in eBay purchases is to buy your diamond jewelry elsewhere.
But what if you still plan to make your purchase there despite all the warnings given? Well, that's the purpose behind writing this article – to help you understand how these scams work and why eBay is such a bad idea when it comes to buying diamond rings.
The Devil is in the Details And Fine Print
One of the key problems of shopping on eBay is that it is almost impossible to know exactly what you are buying. If you are a complete beginner, you might be easily fooled by what you see on eBay because a lot of sellers use stock photos for their listings instead of actual pictures.
Don't expect your diamond to look flawless like the image above.
If you do a quick browse on eBay through their fine jewelry section, you will see plenty of listing titles that scream diamonds, fancy gemstones, platinum or white gold rings being sold at impossibly low prices.
But once you take a closer look at the description details, you will find that their meaning of platinum is actually brass plated rhodium or the diamond being cubic zirconia (CZ). What's even worse is that important information like this is hidden in fine print or thick walls of text to make it hard to read.
Practices like these should be made illegal and yet, the lax rules and regulations on eBay only encourage blatant, misleading conduct to flourish on the website. The fact that you are required to navigate a minefield of misleading sales tactics just to find something remotely decent makes the entire shopping experience a big turn off.
---
The key to making educated purchase decisions is to base them on tangible data. When it comes to buying a diamond, a vendor with transparent business practices will offer clear sales policies and data like HD videos/images to help you understand exactly what you are buying.

A typical listing on James Allen allows you to see full details of the diamond.
Diamond Prices Aren't Cheaper at All!
People often have the misconception that eBay offers deals and bargains for diamond jewelry because they only compare prices on the surface. The biggest mistake they make is to compare an uncertified diamond on eBay against a GIA certified diamond sold by a retailer and assume that the cheaper diamond is the better deal.
It's not!  The fact is, when you start comparing apples to apple, the majority of listings on eBay are actually more expensive than buying from a proper retailer. And let me tell you why.
Sellers on eBay are not able to offer a competitive price because of the high fees that are charged when a transaction is made. FYI, eBay charges a fee of 9-12% depending on the value of the item sold and we haven't even taken into account the seller's margin, payment processing and shipping fees involved.
In contrast, online retailers typically work with a 10-20% markup and that is inclusive of all the expenses they incur from buying the inventory, customizing the diamond ring to shipping it securely via FedEx/UPS to your doorstep.
Price Comparison Between eBay vs James Allen
Let's take a look at real life listings to illustrate this.
This is a well cut GIA certified diamond I found on eBay that costs $15,300 with F color and VVS2 clarity. Now, this particular seller is actually one of the better ones that provide photographs and images of what they are selling. After adding up the postage fees, the purchase would cost you around $15,360.
To perform the price comparison, I searched for diamonds with similar qualities on James Allen and here's a screenshot of what I found. For $13,000, I could easily find 4 options with better color/clarity specs. In fact, I could still add in the cost of a beautiful setting to complete the ring and the total costs would still be less than the eBay diamond.
But, here's the kicker. Not only are the prices significantly more expensive, but the sales policies on eBay are also terrible and don't protect the interest of the shopper. Case in point, if you were unhappy with the diamond purchase above, you are required to incur the shipping fees to send back the diamond and even a 20% restocking fee.
If you asked me, that's absolutely ridiculous in this day and age. With a proper vendor like James Allen, you don't get nonsense like this and get to shop with complete peace of mind.
"Stellar" Reputation of Sellers Can Be Manipulated
While there are liars and scammers aplenty, there do exist sellers who make an honest living on eBay. But here's the thing. The only way to finding value on eBay is to manually sift through thousands of listings and reading all the fine print.
One of the first things to check on EBay when purchasing ANY item is the reputation of the seller. How long have they been selling on EBay? Do they have any negative feedback and how had they handled complaints? How long have they been selling jewels or is this the first deal they made?
Unknown to many eBay shoppers, a seller's reputation can be easily "faked" and improved with the correct tricks. One good question to ask yourself when doing research on a seller is what did they built their reputation on? Could it be that they primarily sell other low priced items in an attempt to build up a good feedback score?
In either case, it is helpful to get a full scope of the seller about who they are and what they are about. Sometimes, you may even come across individuals who are selling unwanted jewelry or their Great Grandmother's diamond ring. In such scenarios, you should ask for a lab report of the diamond (and obviously, verify it with the lab) as they may not know enough to provide you with what you need.
Identifying a good seller is just the start of running down the rabbit hole. Unlike buying from proper jewelry retailers, you will be sacrificing trade-in options, money back guarantees, warranties and your peace of mind when shopping on eBay.
My Personal Experience With Misrepresented Auctions And Scams
Photograph of vendor's listing vs. the photograph of the stone I received.
Because of running Beyond4cs.com, I purchase diamonds from different sources all the time to collect samples and material to write about. In this particular transaction I made on eBay, the diamond was irradiated for color enhancement and it was stated clearly in the listing.
That's fine, because I wanted to purchase some treated diamonds (i.e. laser enhanced, HPHT, radiation) as part of an on-going study. For this particular diamond, the stone wasn't certified due to its small carat size. I took the word of the vendor about the diamond's quality since a photograph of the diamond was provided in the listing.
The pictures above showed the vendor's listing of the diamond and the one on the right showed a picture that I captured with my 10X loupe. In the side by side comparison above, do you see how obvious the inclusions are the picture I captured and how "clean" it looks on the vendor's listing?
Needless to say, I got a rude shock when I discovered how the diamond was severely included when I received it. And mind you, the photo provided by the seller actually shows a diamond with similar cut qualities and patterning.
This tells me that the vendor didn't simply use a stock image to misrepresent what they were selling. They actually put in the effort to photoshop the image in an attempt to rip off unsuspecting buyers.
Don't Want to Get Ripped Off? Shop Elsewhere!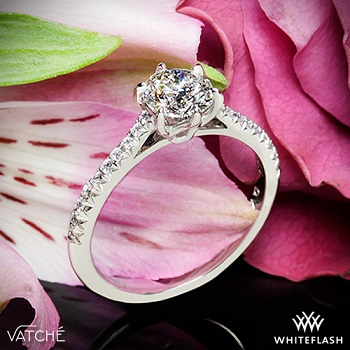 I bought this fantastic looking Vatche designer ring for only $4,000!
My advice to new shoppers is to avoid eBay all together.
It is a shark tank out there for inexperienced shoppers who are lured by the fake prospects of finding a bargain. It's just not worth it to put your money at risk. And you don't have to punish yourself with their terrible search filter interfaces and poor selections of ring settings.
Instead, you should work with REAL reputable online vendors to purchase diamonds or engagement rings. This way, you can always be sure that you get the correct stone that you paid for. Nothing more, nothing less.
Related Articles