Cosmetic wear and tear is common.
Every once in a while, I will receive emails from concerned readers who had just damaged their diamond ring by accident. I often get asked what they should do next and what type of damage could be rectified via repolishing and recutting.
Technically speaking, if the stone is large enough such that the affected area can be removed completely, the damage can be repaired. However, when it comes to whether the decision makes economic sense, it becomes a different matter altogether.
It is a common routine for diamonds to be sent to cutters for repolishing. Usually, the purpose of a repolishing job is to touch up a second-hand diamond or to repair a chipped diamond. The carat weight lost in such repair jobs is typically very small (0.02-0.10 carats) and depends on the nature of the damage.
Major Recuts Should Always Be Approached With Prudence
I had also come across a couple of cases where someone wanted to have an inclusion close to the surface of the diamond removed. Compared to removing surface scratches, the removal of an inclusion might require a total redesign of the stone. I generally won't recommend such major reworks as you can lose a lot of value from the original stone.
However, if removing the inclusions can elevate the diamond to a better clarity rating and give you a better enjoyment of your jewelry, it might be a plausible solution compared to replacing it with a completely new diamond.
* You should always consult a professional cutter for advice before undertaking such a process. Not all types of inclusions and diamonds can be suitable candidates for a re-cutting process. Also, there is always a risk that the diamond could shatter during a recut.
Sometimes, Personal Preference is Stronger Than Material Principle
In some cases, money is not as important when sentimental values are involved. If the damaged diamond is inherited from your grandmother and you want to protect the family heritage, it is clear that a repair will be needed.
Leaving a damaged diamond in its current state isn't a good idea unless it's locked away in the safe. Since there is always an extra risk of aggravating the damage, re-polishing a diamond is a good preventive measure to undertake.
Probably the most famous diamond that had undergone the knife is the Koh-I-Noor. It is currently in the possession of the Royal Family. In its heyday, the stone originally weighed 186 carats and was the biggest flawless diamond on Earth.
The Koh-i-noor – One of the Most Highly Sought-After Gem in History
However, due to common public distaste and Prince Albert's personal dislike of the diamond, it was recut to 105.6 carats and lost about 43 percent of its weight. That's equivalent to millions of dollars in today's value! As you can see from this example, numbers can sometimes be outweighed by subjective beauty.
Re-cutting Your Diamond to Something New
It is common to see overly deep or shallow cut diamonds with dismal proportions in estate jewelry and vintage cuts. Most of the time, these stones are cut for weight retention and the dazzling potential is still hidden within the diamond. Here's what happened to a dull looking AGS7 diamond which was completely transformed into a breathtaking AGS0 ideal cut.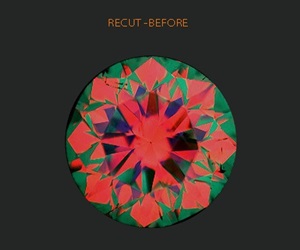 An Unbelievable Change In Optics After Recut – The Diamond Only Lost 0.19 Carats
As seen in the example above, they have the experience and expertise to carry out such jobs. They had done extensive recuts before and have tons of raving reviews from past customers. Till now, I still find it amazing to see clients bring in badly cut diamonds and get them transformed completely into stones with superb optics.
If you have any further questions, feel free to leave a comment below or email me.
<< Prev Page
Related Articles