Did you know that the vast majority of high-quality diamonds are sold loose and not already set in a ring? Yes, you've heard that right. That's because buying a loose diamond gives you complete control and more choices for you to select the exact shape, specifications, size & cost compared to a pre-set diamond ring.
Now, I know lots of people get nervous and think that it is a hassle to buy a loose diamond. That's because they don't know what to look out for or how to pick one correctly.
But, it really isn't that hard. The worst thing to do is to blindly rely on a jeweler's recommendation or a seller with a vested interest to make the decision for you.
In this article, I'm going to reveal the insider tips for buying a loose diamond and show you how you can save thousands of dollars by shopping smart! Let's jump right in!
Here is a list of topics we will be covering:
What is a Loose Diamond?
A loose diamond is a diamond that is available for sale and ready to be mounted into a piece of jewelry like an engagement ring or a pendant. Some people also buy and hold loose diamonds as a form of investment.
Set a Budget And Determine How Much You Want to Spend
Before you go shopping for a loose diamond, the first thing you want to do is to set a budget that you are willing to spend. Having a budget in mind will help you narrow down your choices and prevent you from overspending unnecessarily.
Most people have a "standard" budget of 2-3 months' salary and this arbitrary rule is a result of a marketing campaign spearheaded by De Beers to boost diamond sales.
In my opinion, you should spend whatever amount you are comfortable with and never feel obligated to spend above your means – especially if it will land you in debt. Whether it is a $1,000 or $10,000 budget, you should make this decision based on your personal situation instead of being influenced by someone else.
Having Good Fundamental Knowledge of the 4Cs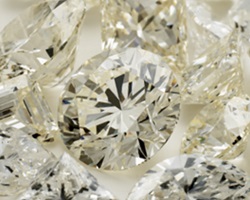 So, what do you look out for when buying a loose diamond? Whether you intend to buy a diamond as an investment or for an engagement ring, you need to have a basic knowledge of how diamonds are graded and assessed for their quality.
In order to do so, I encourage you to read up on the four main characteristics of the 4Cs: "color", "carat", "cut", and "clarity" in the corresponding sections of Beyond4cs.com. Once you understand how each of these characteristics affects the appearance and value of an unmounted diamond, you will be able to make better shopping decisions.
The benefits of doing your due diligence and research are two-fold. Instead of listening to erroneous sales pitches in local stores, you would have a better understanding of what you are buying and even save money in the process.
For example, instead of buying a D VVS1 loose diamond, you could save more than 20% of the costs by buying a G VS2 diamond that is eyeclean as both diamonds will actually look identical to each other in the face up view.
Buy Only GIA or AGS Certified Loose Diamonds
A GIA report accurately represents the quality of the loose diamond being sold.
The importance of a reliable grading report cannot be overstated when you are buying a loose diamond. This is because the certificate provides an accurate assessment of the diamond's quality and serves to protect your interests as a consumer.
GIA and AGS are the gold standards when it comes to reliable and consistent grading standards. Even as a trained professional grader myself, I would only buy a GIA or AGS certified diamond and that should speak volumes why you should NEVER buy a diamond without a proper grading report.
Here's something you need to be careful about.
Many unethical jewelers in the industry sell uncertified or diamonds with dubious grading reports on the false promise of cheaper prices. But if the diamond isn't graded by GIA or AGS, the jeweler could call it anything or make outlandish misrepresentations of the diamond's quality.
A reliable grading report from GIA or AGS resolves issues like these and removes the jeweler's opinion from the equation to keep them honest. This is because a reliable report gives a true, independent evaluation of the diamond you are buying.
Best Places to Buy a Loose Diamond
Contrary to what some people may think, physical jewelry retailers and mall jewelers are some of the worst places to buy a loose diamond. In fact, the best place to buy loose diamonds is to go online.
Why?
That's because buying loose diamonds online would give you access to thousands of diamonds for you to cherry-pick from. Online diamonds can also be 30% to 60% less expensive than buying from a brick and mortar store.
More importantly, the best online vendors have transparent business practices and provide a streamlined shopping experience to help you understand what you are buying.
You don't have to deal with pushy salespeople and would be in an environment that enables you to make calm, rational decisions. To top this off, you get risk-free sales policies like 30 day money back guarantees and generous upgrade plans too.
In short, buying online means you won't have to compromise on the exact diamond you want and will be able to find the best diamond for any given budget.
Recommended Diamond Retailers to Buy Loose Diamonds
If you want to save yourself time and the effort of vetting a vendor, work with the list of online diamond vendors below. These are highly reputable jewelers who have been in business for more than a decade and have worked with hundreds of thousands of customers.
In order to make it to our list, we had hand-picked them based on their service standards as well as competitive pricing. In fact, I had personally purchased multiple loose diamonds and engagement rings from them over the years.
James Allen – Revolutionary 360 Degree HD Video Listings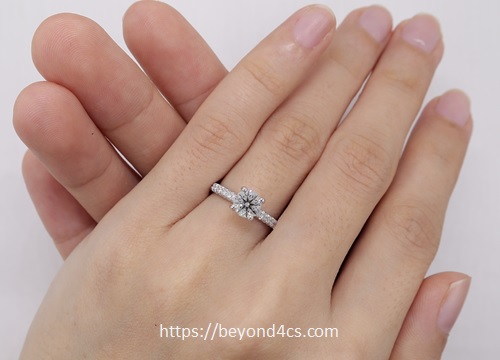 A recent engagement ring that I had purchased from James Allen.
James Allen is one of my favorite retailers for buying loose diamonds and they stand out for their fantastic shopping experience and customer service.
By offering HD videos for all their listings, you are able to see and scrutinize diamond details up close.
This is all done via superb user-interface which makes browsing and selecting a diamond really easy. At the time of writing, James Allen has more than 200,000 loose diamonds in their inventory and these are all priced competitively because of the low overheads they have.
When it comes to sales policies, James Allen is top notch and they offer a no-questions asked 30 day money back guarantee. On top of that, they even offer free return shipping (for US customers) which is a sign of how confident they are when standing behind their products.

White Flash – Ideal Cut Diamonds & Designer Ring Settings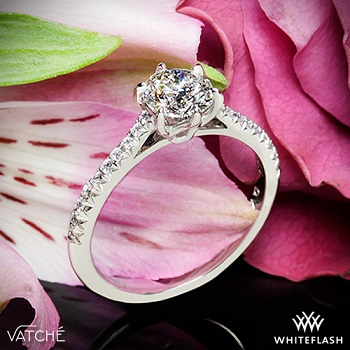 A designer Vatche diamond ring I bought from White Flash.
White Flash is a reputable online vendor who has a physical showroom in Texas, Houston. They hold the largest selection of super ideal cut diamonds in the world which includes their widely acclaimed A Cut Above diamonds.
One of the key features which make White Flash a great place to buy a loose diamond is their transparent business practices and exceptional customer service. In each of their listings, they provide a magnified video, idealscope, ASET, hearts and arrows images and also an assessment of the diamond's eyecleanliness.
This allows you to see exactly what you are getting and gives you the ability to perform your own analysis easily. On top of that, they also provide additional data like a Sarine report and comparison videos on request.
White Flash has a 30 day money back guarantee and a 1 year buy back program so that you shop completely risk-free. They also have one of the most generous upgrade policies in the industry which only requires you to spend an additional dollar (instead of twice the amount) if you want to trade in your diamond.
Brian Gavin – The Pioneer of Hearts And Arrows Diamonds
Brian Gavin is a 5th generation diamond cutter and a pioneer of super ideal cut hearts and arrows diamonds. Their carefully crafted signature diamonds displays some of the most beautiful sparkle and cut precision in the world.
In fact, the cut quality of their diamonds represents the top 0.01% of the world's polished diamond inventory and yet, they are priced affordably. Interestingly, Brian Gavin offers several unique collections of loose diamonds that are targeted at various niche segments of the market.
For the cut connoisseur, their signature Black diamonds are some of the rarest and finest cut diamonds that are engineered for sparkle and brilliance. They also offer ideal cut diamonds in various shapes such as princess, cushion and emerald cuts.
One of my favorite collections is the Brian Gavin Blue which features ideal cut diamonds with medium to very strong fluorescence. The cool effect displayed by fluorescence helps diamonds look whiter and also significantly lowers the price points of the diamonds.
The listings at Brian Gavin Diamonds typically come with a 360 degree magnified video and tangible data like idealscope, ASET and H&A scope images for you to easily analyze their diamonds.
Brian Gavin has a 15 day money back guarantee and a lifetime upgrade policy. If you want to upgrade your diamond in the future, you can always trade-in your diamond for a larger sized or better spec diamond.
Other Related Topics on Buying Unmounted Diamonds:
Related Articles