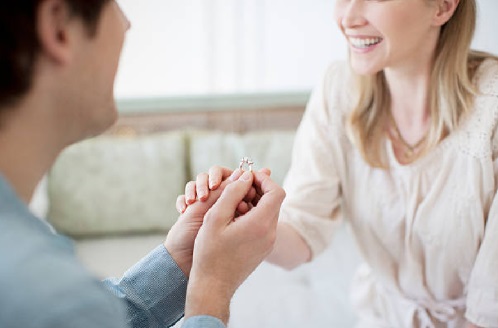 Fact: More than 85% of American women receive a proposal ring when their boyfriend gets on their knees. In a recent study performed, the average size of a diamond ring is around 0.9 – 1.0 carats and the average cost of an engagement ring is between $5000 – $7000.
While statistics like this may come as a surprise to you, it is by no means an indicator of how much you should spend on a diamond ring. This is because everyone's financial situation is entirely unique and the most important thing is the marriage, not the items that accompany it!
If you had been shopping around, you might have heard that you are supposed to spend roughly 3 months of your salary on your diamond engagement ring.
Well, this "tradition" dates back to the early 20th century when De Beers created the 'Diamonds Are Forever' marketing campaign.
In fact, this ad campaign was so successful sales figures exploded and people started spending 2-3 months of their salary on diamond rings as "proof of love" for their bride.
Should You Care About What Others Are Spending?
People often ask me how much they should spend on an engagement ring and the truth is, I don't have the answer as it really depends on your personal preferences.
For a guideline, we can look at the median cost of a diamond ring and use the average figures that people are spending as a benchmark. Here's the latest data I've compiled based on different countries around the world:
| Country/Region | Average Cost of Diamond Ring (USD) |
| --- | --- |
| United States (US) | $6,000 |
| United Kingdom (UK) | $2,600 |
| Europe | $1,500 |
| China | $2,000 |
| Hong Kong | $4,000 |
| Malaysia | $1,500 |
| Singapore | $2,000 |
Now, there's keeping up with others, and then there's…not keeping up with others. Your engagement is not about everyone else! It is about you and your beloved becoming a family and spending the rest of your lives together.
Therefore, the statistics and averages are just numbers, and should probably not be taken into account when you decide what to spend. The only rules that apply should be what she would like to wear, and your own budget.
Factors You Need to Consider Before Spending on a Diamond Ring
The key is to enjoy the process of shopping and be happy with the purchased piece of jewelry.
Budget is one of the biggest factors that will determine and shape your entire shopping process.
Setting unrealistic expectations for the 4Cs or taking up debt to finance the purchase are things that I definitely would not recommend. On the other hand, you don't want to set your budget too low and end up with an inferior product or get ripped off by unethical businesses.
It's a delicate balance to determine a budget against your wants. And since this is entirely subjective to individuals, you'll need to find answers for yourself.
So, let's get back to answering the question: how much should you spend on a diamond? These are the main governing factors for consideration and there are more questions to ask yourself:
How much do you have at your disposal to spend? – A piece of advice I frequently dish to readers who email me for help is to live within your means. Is it worthwhile to go into debt for the sake of what others might think of you? If love be true, then size or type of gemstone should not count all that much.
What are your feelings governing the purchase? – You should feel good about it. This is your guide to ensure you are on the right track. If you don't feel good, it is your wise intuition trying to tell you something. Listen.
Check in with your belief system – Do you place much value on the material or are you a more spiritual person? Does public opinion matter a lot to you?
Think long term. A huge deciding factor will be how you are going to feel about your purchase 6 months from now. Will you/her still enjoy wearing the ring? Or will the ring end up in some obscured drawer?
Think resale value. – There is very little demand for smaller stones of less than one carat. Should the need of selling your diamond arise, be prepared to lose a significant amount of the money paid for the ring.
Interest payments can quickly add up if you buy on credit.
This is very important! Do not – I repeat – do not – buy something that will require you to spend the next three years paying off. It isn't worth it in the long run, especially when you will have so many other things to buy after your marriage.
If you think you can only afford half a month's money, then stick with that. The important thing is getting engaged, and finding something unique and pretty that she will treasure; which you can certainly do on a budget!
How to Save Money on a Diamond Engagement Ring?
For people who are shopping with a tighter budget, here are 3 tips you can use to get a bigger bang for your buck.
#1 – Choose a Halo or Pave Style Setting.
The bulk of an engagement ring's cost comes directly from the center stone and the price of a diamond is directly proportional to its carat size. If you can only afford a small diamond, you can still make a big visual impact by setting it in certain types of settings.
For example, a halo setting surrounds the center stone with an outline of tiny diamonds to make it appear a lot bigger than it really is. On top of that, you get more bling and a trendy looking ring as well.
#2 – Go For Other Diamond Shapes.
The round brilliant cut is the most common shape found in engagement rings because of the brilliance and fire they possess. They are also the most expensive shape because they require more rough diamond to be polished away. Choosing other shapes like the princess cut or oval cut can result in a 25-30% difference in prices.
#3 – Buy Your Diamond Ring Online.
Shopping online means minimal overheads (like staff & rentals) and no commissioned salespeople who may pressurize you into making a bad purchase. Buying a diamond ring at a reliable retailer can be as much as 50% cheaper compared to jewelry stores in the malls.
Besides lower prices, you also get higher quality diamonds to cherry pick from and risk-free sales policies. James Allen and White Flash are two highly recommended vendors you should check out. They both offer ideal cut diamonds and settings made with great craftsmanship.
---
In fact, I have personally used these tips to shop for diamond engagement rings. Here are 2 of my most recent purchases and if you are interested to see full details, simply click on the links below.
So, How Much Should You Spend on an Engagement Ring?
In closing, here are some final thoughts to file away for that special time when you want to propose.
Personally speaking, the 3 months salary "guide" is a marketing gimmick. Why should you let someone with interest in selling you diamonds dictate how much you should spend on a wedding ring?
Don't be misled by what the "experts" or jewelers say to make you spend more money in order to maximize their own profits. You are the expert when it comes to spending your own money.
Remember to crunch those numbers and work out what you can afford in your own financial situation. You can play by the "rules of the game" if you want and save a few months' worth of cash – or don't – and never be afraid to look into alternative ring options for the bride to be.
Ultimately, it boils down to this: spend only what you can afford and still feel happy about it. After all, it doesn't make sense to start your new life together in debt. In my opinion, the symbolic meaning behind the ring is much more important than carats or color. Period.
Related Articles