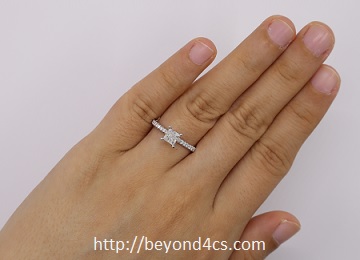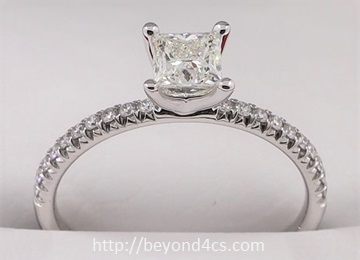 My wife wearing an elegant princess cut engagement ring which only costs $2000!
You have decided that the next step in your journey as a couple is marriage. Congratulations! Now comes a trickier part of the operation – proposing – and, consequentially, choosing a fantastic ring without spending a fortune.
In this article, I want to showcase some of the most stunning diamond ring ideas that cost less than $2,000. Also, I will reveal the exact steps for choosing an engagement ring under $2000 and show you details of the beautiful diamond ring seen above.
For your convenience, here's a table of contents on the topics we will cover in this writeup.
7 Dazzling Diamond Engagement Rings Under $2000
Let's be honest here.
A budget of two thousand dollars for a diamond ring isn't exactly high but it's still a decent price range to find something nice. While it is possible to find affordable options that are both beautiful and elegant, you shouldn't harbor any unrealistic expectations like buying a 1 carat diamond ring with a 2k budget.
With that, let's check out some of the most gorgeous rings that you can possibly buy with $2,000.
Tiffany Style Engagement Ring Under $2000
The evergreen Tiffany engagement ring design is one of the most cost efficient ways to save money while getting an elegant looking ring. Besides the lower price, the Tiffany design is also easy compatible with many styles of wedding bands.
In this example, an 18k setting is used in conjunction with a half carat round diamond.
---
Emerald Cut Engagement Rings Under $2000
A variation of the classic Tiffany design, this comfort-fit 4 prong solitaire ring houses an emerald cut diamond that creates an aura of elegance and sophistication at the same time.
---
Solitaire Princess Cut Engagement Rings Under 2000
For budget shoppers, solitaire rings will offer the best value for money and the cool thing is, there are design features that you can take advantage of. In this particular example, the knife edge design helps draw the viewer's attention towards the center diamond.
---
Magnificent Vintage Engagement Rings Under 2000
This vintage style diamond ring features a clean outline of a trellis design and features a pavé halo encircling the center stone. It's perfect for people looking for a vintage charm in their rings while being affordable.
---
Grandiose Halo Engagement Rings For Less Than $2000
This majestic ring has a halo to accentuate the size of the center stone and a cathedral style mounting for a slightly higher elevation. The halo creates an effect that makes the center stone look larger than it is when seen from far.

---
2 Thousand Dollar Engagement Ring in Trilogy Design
This romantic setting features 2 hand-selected marquise diamonds that flank the center stone. If you are looking for an affordable three-stone ring option, this is one that fits the bill (pun intended).
---
Unique Engagement Ring Under 2000 Dollars
Using a series of carefully selected melee diamonds in ascending sizes, this scalloped 6 prong head assembly packs a punch in the sparkle factor. A perfect ring design that is suitable for a bold fashion statement.
---
Guidelines to Buying a $2000 Engagement Ring
Photograph of $2000 princess cut diamond ring taken in a park during the afternoon.
Here's my proven strategy of shopping for an affordable $2000 engagement ring the smart way and logically. The first thing you want to do is to decide on the shape of the center stone (round, princess, cushion etc…) and the type of setting you want.
Depending on the choice of setting, you can immediately work out the balance of your budget for the center stone. For example, if you like a simple solitaire design that costs $350, it leaves you with $1650 for the center stone. If you choose a fancier setting like a pave setting that costs $700, it leaves you with $1300 for the center stone.
Once you decide on the setting, it immediately helps you narrow down your diamond choices and prevents you from shopping around aimlessly. The second thing you want to do is to choose a center diamond based on your preferences of the 4Cs.
Personally, I place the highest emphasis on cut quality as it directly affects the diamond's sparkle and beauty. I would also recommend a G or H color diamond with eyeclean VS2 or SI1 clarity and simply get the largest carat size you can afford.
2K Diamond Ring Review – Close Up Video of Craftsmanship
Here's a real life example of a ring I created at James Allen simply by applying the guidelines above. For detailed listing information, click on the images below…
The total cost of the completed diamond engagement ring comes up to be $2,010 (800 + 1,210). And mind you, I'm getting excellent craftsmanship on the ring as well as a diamond with top-notch performance for just two thousand dollars.
Here's an upclose video review I made of the diamond ring's sparkle and superb craftsmanship.
Let's Wrap Things Up And Go Shopping
So, there you have it. I've shown you a range of beautiful diamond rings spanning across various styles and price points. Which one of them did you like the most? Did I miss something out? Let me know in the comments.
I've also revealed two important shopping tips for staying in a 2 thousand dollars budget. If you stick with the guidelines that were laid out, it should put you on track to saving hundreds of dollars.
And think of what you can purchase with the extra money! Perhaps, you might be able to add another day to the honeymoon or use it towards furnishing a new home.
Anyway, have fun during this process and take your time to research. You probably know your fiancé better than anyone and with some effort, I'm pretty sure you will find the perfect engagement ring of her dreams.
Related Articles